Pierre-Emerick Aubameyang made it a record-breaking start to his Arsenal career by scoring in their 3-2 win over Southampton. He cannot play in the Europa League but there are signs that Aubameyang can become very important to Arsenal, writes Adam Bate.
Arsenal's Premier League season seems destined to be played out against a backdrop of empty seats and apathy but Pierre-Emerick Aubameyang is doing his best to breathe life into the Emirates Stadium every other weekend. The January signing from Borussia Dortmund was on target again in Arsenal's 3-2 win over Southampton on Sunday.
Aubameyang has now scored in each of his last four Premier League appearances for the Gunners and even broke a record against Saints. With six goals and one assist in total, he has now been directly involved in more goals in his first seven Premier League games than any other Arsenal player in the competition's history. It has been an encouraging start.
It must be strange for Aubameyang. The Premier League move that had long been mooted has finally happened for him at the age of 28. He has joined Arsenal, one of the most famous clubs in Europe, for a record fee. But despite the excitement of his arrival, he is now playing in front of unenthused crowds and - on Sunday at least - as part of a second-string side.
Understandably, Arsene Wenger has switched the focus to the Europa League. Not only is it Arsenal's best chance of picking up a trophy this season but also their best chance of returning to the Champions League stage next season. With Aubameyang ineligible to play for the club in the competition, it has made for a low-key start for the highly-rated forward.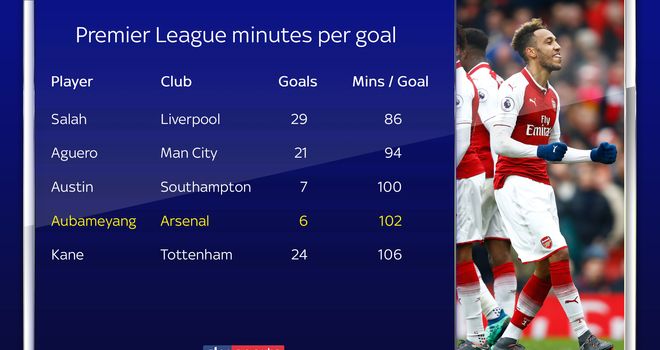 But what his form does offer is optimism. Aubameyang's six goals have come at a rate of one every 102 minutes, a record that puts him among the very best in the Premier League this season. There should not be too many fears about the small sample size. His record at Dortmund was similar. Indeed, his strike rate is almost identical to Harry Kane's this season.
Of course, Arsenal fans are accustomed to hearing talk of Olivier Giroud and his impressive strike rate. It did not help take the club to the next level. However, Aubameyang's pace, evident in latching onto Danny Welbeck's pass for his equaliser on Sunday, makes him a different proposition - someone who can stretch opponents and create space for Arsenal.
The tracking data shows that Aubameyang has been Arsenal's fastest player in each of their last four games - clocked at a top speed of 35.3 kilometres per hour. "He arrived here not completely ready and we worked very hard with him," Wenger told Sky Sports before kick-off. "Now he is at the level physically of what is needed to play in the Premier League."
He also brings some flexibility to the front line too. Regarded by some as a replacement for summer signing Alexandre Lacazette, Aubameyang could yet help to bring out the best in the Frenchman. "He is a good, interesting option because he likes to play on the left as well so we can play Lacazette and him or Welbeck and him," added the Arsenal manager.
Wenger is yet to start his record buy alongside Lacazette, although they did get on the pitch together against Stoke, with Aubameyang passing up the chance to complete his hat-trick by allowing his team-mate to take a late penalty. "That showed how he is as a person," Hector Bellerin told Sky Sports. "He is an amazing guy. He has settled in so nicely."
Making a positive impression on team-mates and breaking records for his new club. There is not much more he can do to make a success of his first half-season with the Gunners. The real test will come next term, of course. But the advantage of getting this period in which to adapt to life in north London, could work out very well for Aubameyang and Arsenal.