Theo Walcott told Goals on Sunday that Arsenal have curbed some of their attacking instincts this season and focussed on keeping things tight at the back.
The Gunners have suffered heavy defeats to some of their title-chasing rivals - they were beaten 6-3 at Man City, 5-1 at Liverpool and 6-0 at Chelsea - but have been kept 13 clean sheets in their 32 Premier League games so far.
And Walcott - who is currently sidelined with a ruptured anterior cruciate ligament injury that will prohibit him from playing for England in the 2014 World Cup - says Arsenal assistant manager Steve Bould can take much of the credit for the club's shut-out record.
"We still like to be positive but you want to be winning games 1-0 and digging out results and Bouldy [Steve Bould] has been working on the defence a lot," said the 25-year-old.
"He's not just been with the back four and the goalkeeper, though, but the whole squad, as if one member of the unit is not working well it can mess up the whole team.
"We have learnt to press as a team and not commit too many bodies forward and that has meant we haven't conceded many goals.
"But our centre-backs, Laurent Koscielny and Per Mertesacker, have been fantastic and so solid for us, and so has Thomas Vermaelen whenever he has come in."
Blossom
Walcott has yet to appear in a World Cup match, after he failed to take to the field after heading to the 2006 tournament as a 17-year-old under Sven-Goran Eriksson and was then not picked for the 2010 competition by Fabio Capello.
The winger will have to watch the summer showdown again this year but hopes his former Southampton team-mate Adam Lallana figures in England's starting line-up in Brazil.
"Adam has gone from strength to strength," added Walcott, who made 21 League appearances for the South Coast outfit.
"When Southampton went into the lower leagues, I'm sure a lot of clubs would have wanted to grab him, but he made a great decision to stay and has helped the club blossom.
"I would like to see him in England's side as with his left and right foot he has showed quality and has worked on his pace - which he didn't have when I was there! - and he is a great lad, too.
"He could also be the next Matt Le Tissier at his club."
Walcott also discussed many other subjects in the Goals on Sunday studio when he dropped by for a chat with Ben Shephard and Chris Kamara, including:
INJURY NEWS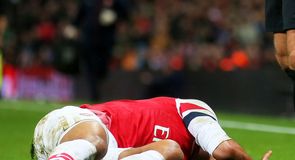 THEO SAYS: It was difficult to take the news at the start and it hit me quite hard but I couldn't do anything other than get on with it because life's too short, and the knee is coming along really well now. It is a long, tedious, six-nine month treatment that I've got to come through but I'm three months in now and taking it week by week because I don't like putting monthly targets on it. I am, though, hopeful of being involved in pre-season and as I am still young, I know my time will come in a World Cup.
HIS MOVE TO ARSENAL
THEO SAYS: I knew Arsene Wenger developed young talents and gave them opportunities to show what they can do, and while I didn't really play for the first seven months, I got great experience learning from people like Sol Campbell - who put me up in the air in my first training session and said 'Welcome to Arsenal - and Dennis Bergkamp. But Thierry [Henry] was my idol and he looked after me, showed me support, worked with me in training on finishing and I will never forget that.
MAN UNITED
THEO SAYS: The way they won the league last year was unreal but they have been hot and cold this year with lots of changes taking place. It is going to be a slow process and take time for everyone to get used to David Moyes' tactics so I think everyone is going to have to be patient, but they are getting better, Juan Mata is a great signing, and I think you will see the real Man United next year when they get a bit more time in the transfer market, as I think it was all a bit rushed last summer.