Nigel Benn ventured into the Ringside studio recently to lift the lid on his extraordinary life, both in and out of the ring.
The former middleweight and super-middleweight world champion discussed how he made his way in the fight game and his bitter rivalry with Chris Eubank, whom he lost to in 1990 and drew with in 1993.
Benn also spoke candidly about his victory over storied American puncher Gerald McClellan - which saw the Englishman retain his WBC super-middleweight title and his opponent left paralysed, blinded and all-but deaf - and how religion and his wife helped him beat his addictions.
Read below to see what the man previously known as the Dark Destroyer had to say...
Early fighting days
NIGEL SAYS: "My life was out of control so if I didn't join the army - which I joined because I wanted to be like my brother John, who I loved very much and wanted to be like - I don't know where I would be today. I spent four years, 256 days, in the army and it was the best move I ever made - and that's where I really started boxing. I became a security guard after I left the army, but thought I wasn't bad at boxing, and gave it a shot. The only thing I ever wanted out of boxing was a terraced house like my dad and a BMW, I was happy with that, but then I had 22 fights and 22 knockouts and was like: 'Wow, I can make a lot of money from knocking people out - and might have a shot at the British title'."
Dislike of sparring and how time in Miami helped him
NIGEL SAYS: "I really could not stand sparring whatsoever, but out there (in Miami) the guys come in, and fight you for nothing; they're great. But I used to think: 'Lord, break my leg or something because I don't want to go in and spar! I didn't want to have a war in there and I wasn't paying people to bash me up. I just wanted to go the distance and in Tenerife I was able to do all of that, but in Miami you get in a war whether you like it or not - and that's what really made me; I didn't believe that I could ever do 10 rounds, so once you have done your first 10 rounds that was it."
Rivalry with Chris Eubank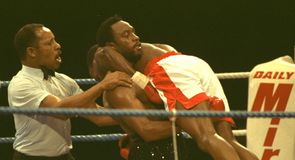 NIGEL SAYS: "I just couldn't stand him - at all. Everyone said 'was it a joke?' but it was real. Why? He should have been living Buckingham Palace. He was coming with his Jodhpurs, his monocle and his cane, and he was looking down on me and I just couldn't hack it. He was the sharpest dresser going, got to give him that! I've got nothing against Chris now, though. He was a great ambassador for the sport and I thank the Lord for putting him in my path."
Two bouts with Eubank
NIGEL SAYS: "It was his night in the first fight (when he won the WBO middleweight title), which was great and better than the second. He got me with a thumb - I don't know if it was an accident - but he was tough, muscle upon muscle; his jaw was like granite and my punches were just bouncing off, and I remember thinking I wish I had that Joe Calzaghe power to put him down. But I didn't want to lose to him again and I really, really wanted to do him. I was a bit apprehensive, but the atmosphere at Old Trafford, at the mighty Man United was electrifying; 47,000 were going crazy. It was an okay fight - but I kept the belt around my waist and got a million pounds."
Gerald McClellan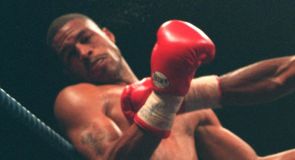 NIGEL SAYS: "McClellan was by far the hardest hitter I fought and when he put me down in the first I had to do a funny walk to get back to the corner, but Dennie Mancini said: 'Look at the state you've got him in'. If you watch in the second, I was chasing him around, because Dennie got in my head and changed the way I was thinking, whereas if Kevin Sanders had said: 'You're getting a battering in here, I'd have sighed and lost heart. I can't say it was my best fight, though, because he came out in a wheelchair, blind and 80 per cent deaf - not that I cared at the time because I wasn't a Christian at the time and thought everybody had to be knocked over."
Transforming his life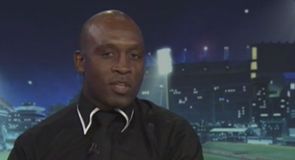 NIGEL SAYS: "I think it was my wife who changed my life; she stood by me through thick and thin, as I was addicted to drugs all through my career, and the party lifestyle and in a very dark place. She went to church and cried her eyes out and asked for help from the heavens and told me Jesus said it was going to be alright and I found peace when Jesus came into my life. I confessed to 16 years of affairs and now our marriage is much stronger and we go around and help married couples. It's now my joy to help people get off drink and drugs and repair marriages."
Legacy
NIGEL SAYS: "I want to be remembered as someone who gave value for money and made the people say: "Woah, that was a good night and money well spent'. I wasn't a better fighter than someone like Michael Watson, but when I was on people were like: 'Quick, get the drink because here comes Nigel Benn and it could soon be over. You knew with me that it was never going to be a drawn-out fight, but that you would get excitement and have a good time - and if I could hit the body like Ricky Hatton could in his heyday, I would STILL be world champion, even at 49."
His son Conor, who has entered the fight game
NIGEL SAYS: "He's 16 and has everything.. We were sparring the other day at home, and he's got raw power and it's frightening, and he can take a good shot, too. He threw a shot, and it missed me, but I actually felt the wind. And I know if he'd have hit me, he'd have hurt me. If he just continues to dedicate himself to what he's doing, then wow. I don't want him to follow in my footsteps thinking he can be me, I want him to find his own image and be his own man and be better than me - and if he continues to dedicate himself, he can be better than me. I don't mind him knocking people out, but I don't want him to do the things I did that were all wrong."
(Ringside Special Nigel Benn was first recorded in 2013)