Heard the story about the team who lost 15-1 but still got a point?
No?
Well neither did they.
United Counties League One side Irchester United gained national notoriety last weekend when it was announced by Jeff Stelling on Gillette Soccer Saturday that they had been well and truly hammered.
"Now there's always someone's side that does worse than yours," Jeff said wrapping up the show. "Cherry Red Records Division - Redhill 10-0 Cove, but, in the United Counties League One, Irchester 1… Blackstones… FIFTEEN!" Cue gasps from the panel.
"My phone went about 6pm," recalls coach Ben Thomas, the caller rubbing it in: "I see you've been hammered again!"
Cue much confusion.
"I said 'no we haven't'. We had drawn 1-1. It was then I was told 'I think you should watch Soccer Saturday.'"
By the time Ben had the chance to check the clip 15 minutes later on Facebook, it had already had been viewed more than 10,000 times. Irchester United of Northamptonshire had suddenly, and unexpectedly, become an internet hit.
But what had happened?  
Was this in fact a rare lapse by Soccer Saturday's all-knowing anchor-man?
'The Romans' as they are known, didn't have to look too far for the guilty party, and the Sky Sports cameras were there on Tuesday night for Irchester's home game with Stewarts & Lloyds of Corby to hear a confessional.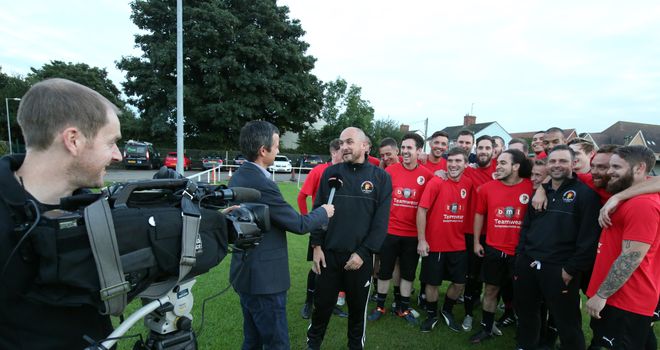 "I have to text in the result to the FA's automated system," confesses manager Steve 'Sarge' Sargent. "I texted in 'Irchester 1' and then our scorer Ty Clark in the 15th minute, and then I put 'Blackstones 1' but the computer must have read it as we lost 15-1."
Not that Sargent jumped at the chance to hold his hands up: "It took the gaffer a while to come clean. He was hoping someone would take the blame for it. But he owned up a few hours later," admits his managerial sidekick.
His teammates weren't too sympathetic either. "The lads want to fine the gaffer. It can top-up the end-of-season tour fund," says Ben, as players tease Sargent with shouts of 'what was the score gaffer?'
The manager, who is a primary school teacher away from the pitch, even had to face the wrath of his mother who chastised him for losing so heavily. Meanwhile, opponents Blackstones of Stamford manager Phil Gadsby was alerted when he was inundated with text messages reading 'Unbelievable Jeff!' during his 'after-match analysis.'
"I thought it was a wind-up and was more fearful of getting caught on my phone by the lads and facing a post-match fine! It's a shame it wasn't that result. We could have done with a 15-1 away win!"
It's not the first time 'The Stones' have been denied a huge win. Last season they won 13-1 against St Neots Saints only for their opponents to drop out of the league and the result be expunged. "So it's been taken away again!" complained Gadsby, tongue firmly in cheek, after securing what he admits was a hard-fought point rather than a club record win.  
"But it's been fantastic publicity for the league and hopefully we will both get a few more fans along," Gadsby sums up, although stopping short of promising over a dozen goals a game.
"If we ever lose 15-1 we are all resigning," boldly threatened Ben Thomas pre-match on tape.
So just how did Irchester United get on against Stewarts & Lloyds in front of the Soccer Saturday cameras?
And most importantly, did 'Sarge' Sargent text in the right result this time?
The players left nothing to chance… They won 1-0.