Sky Sports News HQ's Jane Dougall reflects on gold medal triumph for Great Britain's women's hockey team and hopes they will boost the sport's profile.
You should never drink and tweet. I did while watching the women's hockey final and, although their gold medal win over world number one Holland was an incredible achievement, it didn't warrant the tear-stained gushing that I gave it on social media!
However, I've played hockey since I was 11, always loved the game and there's not much coverage of it outside the Olympics. So I could be forgiven for blubbing onto my tablet after watching a British team, not just get to the final but win it too.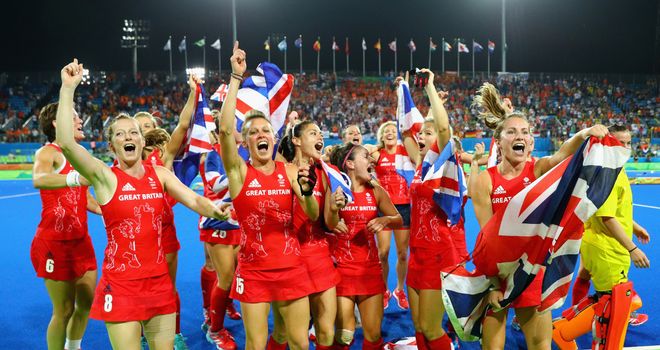 And yes, Team GB won on penalties! No matter whether you're English, Welsh, Scottish or Northern Irish - we know how seldom that happens with our team sports. So when Hollie Webb scored that last one, I nearly kicked the wine over, jumping up and down as much as she was.
A few days later, I was told that several members of the team were coming into our studio for Sportswomen, I was giddy with excitement. Then I heard there would be nine of them for me to interview!  I didn't sleep the night before. 
When our guests arrived the make-up department was packed. Nine hockey girls for make-up and hair, plus we had double Olympic Champion rowers Helen Glover and Heather Stanning on the programme. Also swimmer Siobhan-Marie O'Connor was coming in so 12 medallists in all. How was I going to get round everyone?
One question I was particularly keen to ask the hockey squad was, what would be left after the Olympics? They had shiny medals around their neck and guaranteed lottery funding, so we knew the training programme at Bisham Abbey was working. As a player myself, I wanted to know what could the sport as a whole gain from their success, especially at grass roots? 
London 2012 was all about legacy - that's one of the reasons the city was awarded the games - but after a peak in the uptake of many sports, participation fell away. What would Rio give back?
Several of the hockey girls said they had already taken their medals to open days at smaller clubs, to help inspire younger people and to encourage older people to come back to the sport. They had, anecdotally, noticed more people coming up to them in the street and asking questions about getting into hockey.  Plus GB hockey had anticipated a "bounce" after the games and had already put "Hockey fest" in place, a weekend of celebrations held at clubs around the country.  Many of the players now have a large following on social media, encouraging others to play and advertising upcoming events.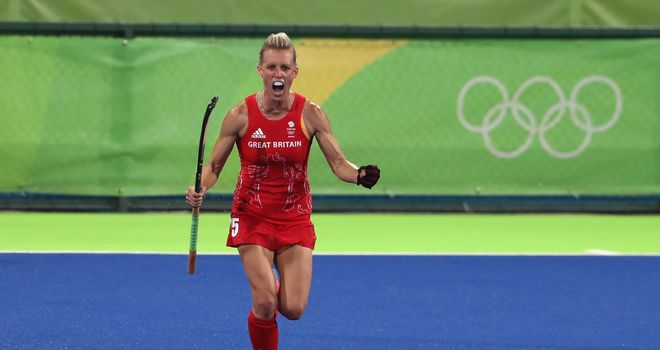 So, we have all the ingredients to attract people to the sport, however, someone I work with has been inspired enough by the Olympics to contact his local club and ask to join, but he's mentioned the expense of a stick, possibly buying shin-guards and a mouth guard, and it's put him off.  If people turn up wanting to play but have no equipment, we've lost the battle. Perhaps some lottery funding could go towards grass-roots clubs providing a stack of cheap sticks for those wanting to try before they buy? It'll eventually mean a wider base, more subs for clubs and another generation of hockey players will emerge.   
In Holland - the country Team GB beat in the final - hockey is a family event. Mum and Dad play and take the kids along to their local club where hockey is played all day on state of the art hockey pitches, then back to the clubhouse for dinner etc. It's a lifestyle. Perhaps why Holland have been number one in the world for so long and were Olympic champions in London and in Beijing.     
Success breeds success and this is the first time the women have ever won Olympic gold.  Attention is fleeting and this is the time for GB hockey to harness the momentum and showcase the sport that I love, which has brought me so much happiness, so many friends and most importantly, a moment in history to point to and say: "this is my sport and right now we are the best at it."