The equator is a major milestone and is steeped in tradition for seafaring folk.
Those uninitiated have a rite of passage to enter the southern hemisphere and have safe sailing, in an audience with King Neptune.
King Neptune and his trusty Shellbacks, those who have entered before, can pass charges and sanction rituals of humiliation, shame, disgust and general embarrassment, usually involving hair loss or flying fish.
I am proud to say, that of my six southern hemisphere-sailing virgins on board no one disappointed. In fact, I was impressed at just how far these guys were prepared to go. They are all now worthy Shellbacks.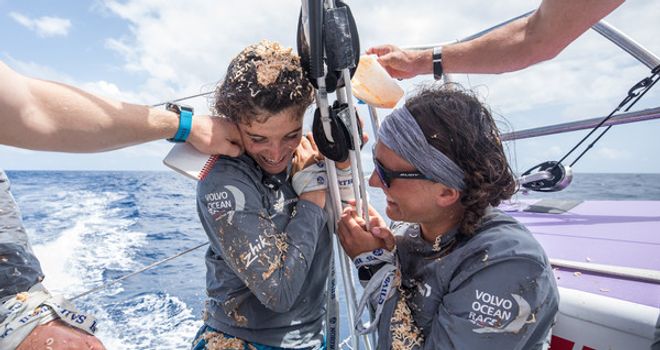 Conditions as we continue south are amazing. We are fast-reaching with spray flying everywhere and living at an extreme angle of heel.
The weather is hot and sunny and conditions below deck are hot and sweaty. But fast sailing is lots of easy miles. In fact, if you look at the tracker then you can see we recently overtook SHK Scallywag and are fast approaching our next victim in the fleet, AkzoNobel.
Good position reports make for a happy crew and we are more determined than ever to close the gap between us and those in front.
If you are looking on the tracker do not worry that we have all got confused and think we are heading to the Brazil stopover and not Cape Town!
In the southern hemisphere, there is the St Helena High Pressure and we have to sail all the way around it to get to Cape Town. It is a long way round but much faster sailing.
If we go too close to the centre then we will get light winds and if we stray too far away our competition will cut the corner on us. We are checking the movement of the St Helena High every day, twice a day, to check our route.
We also are looking for little bits of good pressure to help us accelerate to Cape Town. Between us and the finish line is still the same amount of sailing to go again. We are approaching the halfway point and lots can happen.
One thing for sure is the warm conditions we are enjoying now will be a distant memory in the final few days as we experience a little bit of what the Southern Ocean has to offer before we arrive.
Dee and Team Turn The Tide On Plastic.