"When we have our strongest group, we're going to be challenging the top teams and we could go on and win the World Cup," Sky Sports' resident netball expert Tamsin Greenway believes Tracey Neville is still putting her strongest squad together ahead of the World Cup.
England fans turned out in droves to support the Roses during the three-match series in Liverpool and London, witnessing a perfect homecoming as they swept to an impressive clean sweep.
Neville's side were playing on home soil for the first time since winning gold at the Commonwealth Games, and they responded to their 3-0 whitewash against Jamaica in October by defeating the She Cranes.
But what did former England star Greenway make of the series? And are the Roses heading in the right direction as they prepare for the World Cup on home soil in Liverpool next year?
Did England Roses learn from losing 3-0 in Jamaica?
Uganda are not as big a threat as Jamaica, so this series was always going to be an expectation of a three-nil win and also I think there was a lot more experience in this squad across the board while Jamaica was an opportunity to try out players coming through the England full-time programme. They didn't take as many experienced players so it was always going to be difficult to go away to Jamaica and win when you haven't got that bulk of a squad.
This series was really different. There was a far more consistency across the three games, but that was more the squad rather than the opposition.
Is there strength in depth?
It's difficult when you're playing against the top three or four nations. You kind of have to play your strongest side. It's not an opportunity to change four or five players but an opportunity to change one or two and I think that was definitely seen against Jamaica - that's just the way the game is going.
Yeah, of course we've got depth, but it's how those players get exposed and I think over the next 12 months it's going to be a fine balance between how many to expose but also how many of the main players get court time heading into the World Cup. It's just around the corner now and you want to make sure you've given those 12 players enough court time and access so that they're able to hopefully go on and win it.
What did Tracey Neville learn from the Uganda whitewash?
It was an important game for them because you don't want to go into the World Cup underprepared. They're playing Uganda in the group stage of the World Cup so it showed from that first test in particular that you can't be sleeping against any of these teams now.
It's not just a given that you're going to beat them, so I think she would have recognised the physicality from the Uganda side and how lethal some of their shooting combinations are and how many goals they can score. It's given England lots of information going into the World Cup so they have absolutely no slip-ups against the teams they're expected to beat.
Do you believe the Roses are heading in the right direction?
Of course I do. Without a doubt when we have our strongest group together we're going to be challenging the top teams in the world and we could go on and win the World Cup. We've got some of the best players in the world at the moment and when you have Geva Mentor and Jo Harten back in there, they are going to be absolutely lethal and they will challenge on the world stage.
I think what we have got to look at is how much exposure are you giving players that are going to carry that on afterwards, but enough that you're still getting a group together that will go and win you the World Cup.
Who was Greenway's player of the series?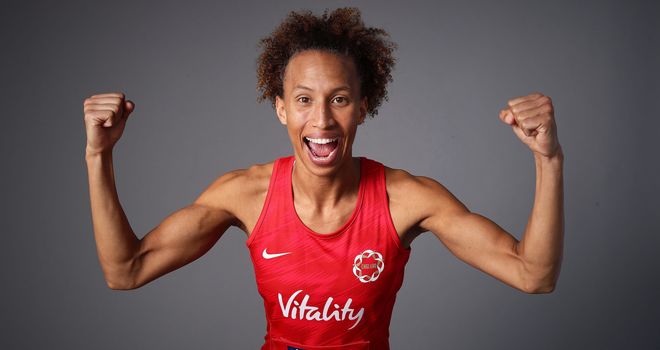 You can't go past Serena Guthrie. The opportunity to captain a side, which she's never done, and she just showed why she is the best centre in the world at the moment, especially in that first game. It was so gritty and tight, she literally dragged her team through to victory from not only a skill level but also the mental side of the game. She was constantly on her toes and making sure her team were making the right decisions. She was also incredible in attack and defence and deserved player of the series.
Does the future look rosy for the Roses?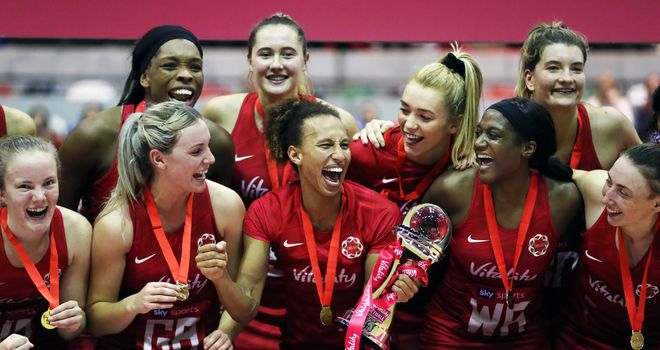 What a year they've had coming off that win at the Commonwealth Games and it's great that they're winning awards, rightly so and thoroughly deserved too. This is a massive year for Netball and what I hope is that they keep it going.
The word legacy gets bandied about a bit, but this team have put down a real starting point for our sport and regardless of what happens at the World Cup, it's a really big time for the Superleague and the world of Netball to jump on board and make sure we really push the sport forward.
It's really important to recognise the players, the future talent that's going to come through, and we start creating some stars because I think Netball has really got a really exciting future ahead.
Tamsin Greenway was speaking to Sky Sports' Raz Mirza. The Roses will be back in action in January 2019 when they face Australia, New Zealand and South Africa in the Vitality Netball International Series, as part of the Netball Quad Series.
Sky Sports will also show every game live of the 2019 Vitality Netball World Cup, July 12-21
A huge 2019 will feature another thrilling Vitality Superleague which is just a month away and starts with the Super 10 on Saturday, January 5, live on Sky Sports
You can now receive all the latest Vitality Superleague news and more on your personal devices. The Sky Sports mobile app will keep you up to date with the latest news from your favourite sports, including netball - here's how to receive the alerts you want.