England netballer Pamela Cookey gives you 10 tips to improve your shooting and answers your Twitter questions...
Pam, who is in rehabilitation for a ruptured Achilles tendon she suffered earlier this year, was a guest on this week's edition of Sky Sports News HQ's Sportswomen. The Team Bath Goal Attack, who captains the national side, spent some time after show answering your Twitter questions and giving some hints and tips on improving your game. 
10 tips for shooters
1. Practice!
2. Watch videos of yourself shooting with someone else to critically analyse. You'll see the differences in your style between when you score and miss.
3. Shoot when fatigued – get your heart rate going, in a game you're knackered and you have to shoot so get used to it.
4. Numbers – do different things, step back and shoot, go further out the circle and come back in. Give yourself pressure games – we shoot in partners sometimes and play the first to score 20 goals – you're trying to simulate a match situation.
5.  Practice step-backs and jump-shots when you're playing against tall defenders.
6. Get your whole body working together – it's not just your arms you have to get the momentum and rhythm.
7. Practice your work in the circle including your offloads and getting free.
8. Keep your shoulders supple and mobile – you lose your height when you're tight in your arms.
9. Lay-ups – if you've done a really good job at selling your defender out the circle it's important to get in there quickly and put your shot up before they get a chance to defend.
10. Rebounds  - If you've got a penalty pass or shot against a defender, step in front of them to take your shot so that when the rebound comes back you're in front already.
PAM ANSWERS YOUR TWEETS!
@SkyNetball @PamelaCookey Will you be fit enough for the New Super-league season?x¿¿

— Neve Morton (@Neve_Mx) September 14, 2014
PAM: That is definitely the plan – I better be fit by then! Rehab has been going really well and my physio is really pleased with the stage I'm at. I'm not quite running yet but hopping and doing little jumps. At the weekend I was able to go back with the squad and do some ball skills so I'm slowly getting back in to the netball side of things but mainly building on my physical fitness.
@SkyNetball @PamelaCookey how do you juggle netball training, work and everything else? I know I couldn't!

— Geraldine (@Gellybean0405) September 12, 2014
PAM: It can be quite tough but I've been juggling it all for the last couple of years now with school, then uni and now work. My time management has had to become pretty slick. It's great because I can train in the morning and then go in to work, or go in to work earlier and train afterwards. At the moment I've balanced it all out and it's working. I'm down to training four days a week to make it that a bit easier. And yes, sometimes I wake up and think 'can I just have one more hour in bed' but I love to be able to compete and to compete at this level you have to do the training and that gets me out of bed.
@SkyNetball @PamelaCookey any tips for improving on getting free in the circle ? Thanks !

— Lisa O'Reilly (@oreillylisa) September 12, 2014
PAM: When I was around 14 or 15 I was training for a club and one of the coaches said I'd never make an England Goal Attack, I thought to myself, 'how do you know that now?' That comment spurred me on and I always love a challenge. It's a bit out of order that someone can make that kind of a statement so early on but that may have been the catalyst for me to prove her wrong.
Do you have any advice for young players trying to take that step up?
PAM: Young girls should definitely get in to club netball. You've got to get as much practice as you can when you're young, also make sure you do all the conditioning. When I was young I just wanted to play and missed out all the running and training and that can have an effect later on. Listen to your coaches and do all the physical side of things as well as playing and that  will stand you in good stead later on in your career.
@SkyNetball @PamelaCookey any tips for improving on getting free in the circle ? Thanks !

— Lisa O'Reilly (@oreillylisa) September 12, 2014
PAM: Footwork is key – you want to hammer your quick feet drills. Get cones out and do slaloms and then when you get out on to the court get the defender in so your challenging them. In the circle it's all about body momentum, you have to make the defender move before you can hit the space you want to achieve. You need to make them go one way so you can go the other; you've got to sell that first move and go hard.
Who's been your best shooting partner over the years?
PAM: I really enjoy playing with Jo Harten at the moment, she's very reactive which means we can feed off each other. Rachel Dunn is a different kind of shooter to Jo but it's all about finding what works for you. When Rachel and I played together she's more of a holding shooter and will pop out just to release the pressure in the circles – that's what you need in that combination. I love playing with shooters who can react off each other so it's not just one person always leading; you're working off one another and twisting up the defence.
Does that relationship happen automatically?
PAM: Sometimes. There will be times when you have to work at the basics in terms of the principles of the circle and then there are other times when it just happens and your surprised at how things just click.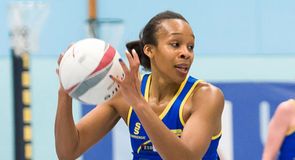 PAM: I think boys should be able to play when they're older and it's great that they want to play in the first place because it creates a different dynamic. Some people will say 'oh, boys are more competitive and aggressive', but they just want to play and there are girls that are just as competitive and just as aggressive. It's sad that as they grow older they can't keep playing.
The Jamaicans, New Zealanders, Australians and others that we play against all have such different styles and bringing in the boys brings in another new style to test ourselves against. I used to play basketball on the boys team and the men's England netball team have come in to play us a few times as well which is fab.
What have we learnt from the Commonwealth Games disappointment?
PAM: It was only one goal in both games. There's a lot we can learn from that and a lot we can take and work on going forward. There's also some great positives because we've not been that close to Australia and New Zealand before – it's still not good enough because we need to be winning.
Are we at risk of losing our best players to ANZ Championship and the Superleague standard lowering?
PAM: Now Serena (Guthrie) has moved there it makes six players – pretty much half of our squad – that are playing the ANZ and there is an argument that could impact the quality of our netball, but the experience that they're getting by playing over there week in week out against the best in the world – they're gaining so much that they come back and share with the girls here. But still, we want to get to the stage where our league is so amazing that the players want to stay and play here.
Remember, Sky Sports is the home of Netball and will bring you more live netball than ever this season. Keep your eyes on ww.skysports.com/netball in the coming weeks for fixture announcements.