Should Gareth Southgate switch things up in midfield to help England from becoming over-reliant on set pieces?
That was the consensus on the latest edition of the World Cup Supplement podcast, as John Cross and Jonathan Northcroft joined Neil Ashton in Russia to react to England's penalty shootout victory over Colombia.
The journalists were jubilant after England booked their place in the quarter-finals with a first shootout victory since 1996 - their first on the world stage.
Although much welcomed, the method of the morale-boosting victory was unwanted, with a dominant England unable to put the game beyond Colombia in normal time.
The Supplement panel attributed this to Dele Alli's fitness concerns in a midfield that, despite England's success, is yet to hit top gear in Russia.
With a last-eight tie with Sweden next on the agenda for Southgate's men, the Daily Mirror's chief football writer, Cross, believes a change may take England to new heights.
"I would always put a fully fit and in form Dele Alli in my England team but I suspect he is not fully fit," he said.
"I was really surprised when he came out for the second half because it seemed to me he picked up an injury at the end of the first half. I thought he could have even come off before half-time in the 44th minute after the knock.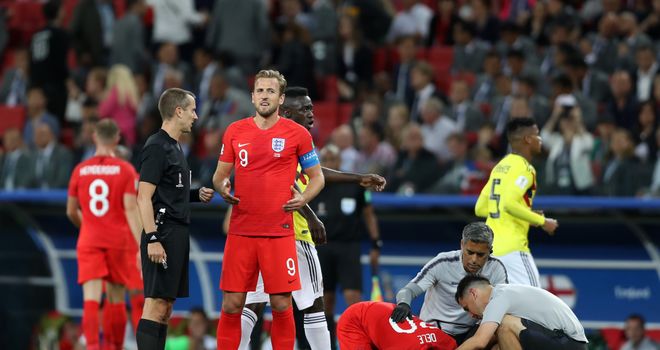 "I don't know if we saw Alli at his best. I also wonder if this slightly plays into the theory I have got that the midfield aren't quite clicking, moving forward into attack.
"Jordan Henderson is making things work, he's the glue that is holding things together, but with Alli not at his best in terms of fitness, I wonder whether Southgate will look into changing things.
"Obviously Fabian Delph has gone home to be with his wife for the birth of their third child, but he would have been a viable option if he hadn't. I wonder when he will come back.
"I'm sure Southgate will say Alli is not injured and that he wants to play, but I wonder whether the gruelling, physical nature of the Colombia game, where it appears Alli did pick up a knock, may just persuade Southgate to change it.
"As a whole, I'm not sure that this midfield is working or firing. The individuals are there but there isn't much rhythm and sometimes a change may be needed."
It has been suggested that shootout hero Eric Dier could replace his Tottenham team-mate Alli in the starting line-up for Saturday's tie against Sweden with a view to giving Jesse Lingard licence to roam further forward.
Sunday Times football correspondent Northcroft, however, believes such a change could have much greater benefits for England.
"Lingard has had to drop into a central midfield position behind Harry Kane and Raheem Sterling," he added. "If Southgate makes that change, it could also release Henderson to go and play as a number eight.
"There is a bit of a weakness in midfield. Southgate came to the tournament with one too many central defenders and not enough midfielders.
"He could have picked an extra midfielder, Lewis Cook perhaps. Now Delph has gone home, Alli is out of form, Dier out of form and suddenly England look a bit light in that area.
"There's a concern and it's a result of the midfield not firing, and they are still reliant on set pieces. The stats are there.
"They didn't create enough against Colombia, despite being dominant and superior for most of the game, there weren't a lot of great chances. Given that Sweden are going to be very organised, that would be a worry."