Are Tottenham stressed by their exertions this season or have they just suffered some bad luck? The Sunday Supplement panel discus.
Mauricio Pochettino's side remain the hunt for a top-four finish in the Premier League and are midway through a Champions League semi-final, but have lost five of their last six games in all competitions.
They had two players sent off against Bournemouth on Saturday before conceding late on, and Matt Dunn believes Spurs are suffering from stress after their efforts this term.
The Daily Express' sports reporter told Sunday Supplement: "I think the stress of trying to get them there [into the Champions League semi-finals] is what caused yesterday [against Bournemouth]. The players are at the end of their tether and they're not making rational decisions.
"At Stamford Bridge in 2016, a lot of demons were exorcised that night when they did self destruct, as Mark Clattenburg said, against Chelsea in losing the title.
"They have been a lot more solid mentally in recent weeks, but now, when they're run into the ground, they're tired, it's game after game and the results are going against them. They're just being human again and it's costing them.
"Imagine that stadium next season with the equivalent of Bate Borisov playing on a Thursday night. If they now miss out on the Champions League, people are suddenly thinking 'hold on, something doesn't add up'. If they don't get over the line and stay in the Champions League, then it is suddenly a very different project in the summer.
"This week, the black side of things has just come onto the radar a little bit and shown how quickly this can go wrong. I think Spurs will do it, I think they'll stay in the top four and I think they've still got a good chance of doing something in Amsterdam."
His fellow panellist, Jason Burt, had a different view and believes a lack of squad investment in the last few transfer windows coupled with some serious injuries has been a major factor in Spurs' recent decline.
The Daily Telegraph's chief football correspondent said: "Obviously we know they've over-stretched themselves in terms of squad, they haven't had much strength in the squad over the last year and they've tried to get away with it but I just think they've been really, really unlucky with the injuries and with certain things catching up with them.
"When you're fighting on all fronts the way they have, it's hard to keep going and the Manchester City tie [in the Champions League] has taken a lot out of them.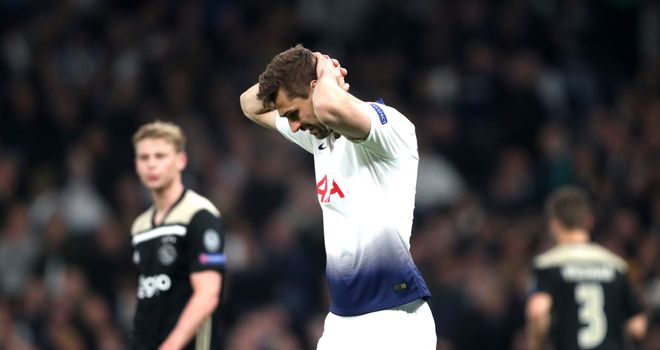 "Pochettino is right, they need to strengthen. Everyone knows what the problems are at Tottenham, it's a lack of investment on the pitch, that's all it is, but they've got this billion-pound stadium now and they need a team to reflect that.
"He's grown the team as much as he can but he needs some help from the transfer market. He also needs some help to convince the players who are there to stay and that this is the right team to be with."
Senior Football Correspondent for Joe.co.uk, Melissa Reddy, was also adamant that Tottenham need to bring in reinforcements and cannot scrimp on their targets.
She said: "It's non-negotiable - they have to [bring in new players]. Spurs have been operating in this fantasy world because of Pochettino's management and his ability to get the best out of the players in the most difficult of situations and scenarios and that can't be a norm - that has a limit. You can't continuously perform miracles or exceed expectations.
"I think the message Pochettino is sending is that it is absolutely ridiculous that Spurs are third in the league with a squad that had zero investment and in the Champions League semi-final. But if they really want to be properly competitive at this end and not just hanging on, they have to invest.
"Liverpool closed the gap on Man City by going out and getting world-class players. There was no going down the list and looking for what is fourth best or what's more affordable or what's more plausible. You've got to go all out and compete properly.
"They need to be serious over recruitment, not haggling over slight differences in wages or paying an extra £5m, you've got to do it if you want to close that gap."