Manchester United's transfer policy meant chief Ed Woodward took an "expensive gamble" on Anthony Martial, according to the Sunday Supplement panel.
Martial became the most expensive teenager in history when United paid Monaco £36m for the forward in the summer transfer window.
Speaking on the Sunday Supplement, Darren Lewis of the Mirror said the fee for the France international constituted an expensive throw of the dice by the executive vice-chairman.
"I don't think it is a risk as such but they have massively overpaid, whatever they say, for a player who has so far scored 13 goals for Monaco. He did not score any for Lyon before," Lewis said.
"They rave about him, they call him the new Thierry Henry. They can't speak highly enough of him in France. It's just an incredible amount of money to pay for a player who has done so little in his career.
The 19-year-old scored 11 goals last season as he settled into life at the Ligue 1 club after starting his career at Lyon.
And Lewis believes the huge fee highlights the new approach to transfers at Old Trafford.
"I think it is a signing that encapsulates the scattergun approach to their spending," Lewis added.
"[Real Madrid president] Florentino Perez had a little pop about Manchester United over David De Gea. He said maybe they do not have experience a dealing with these things.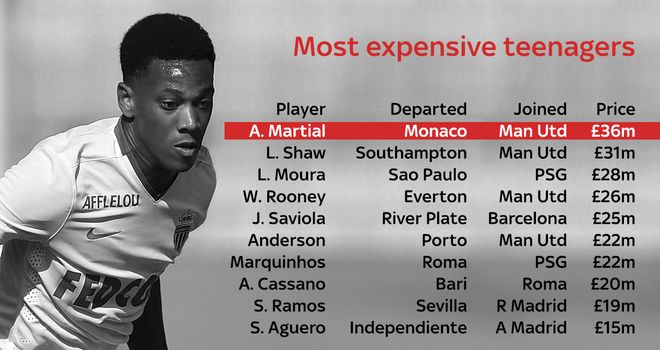 "I think that was pointed at Ed Woodward because some of his spending as he approached the window we would not have seen under the previous regime of Sir Alex and David Gill."
United have scored just three league Premier League goals this season and Lewis warned that United's dearth of strikers will leave Martial under scrutiny if United captain Wayne Rooney is sidelined.
"As far as Martial is concerned, if Wayne Rooney gets injured there is a massive amount of pressure on his shoulders to fill that gap," Lewis said.
"You have got him and you have got James Wilson but who else plays up front for Manchester United?"