WWE Monday Night Raw: Triple H added to Raw team for Survivor Series
By Jefferson Lake
Last Updated: 15/11/17 8:08am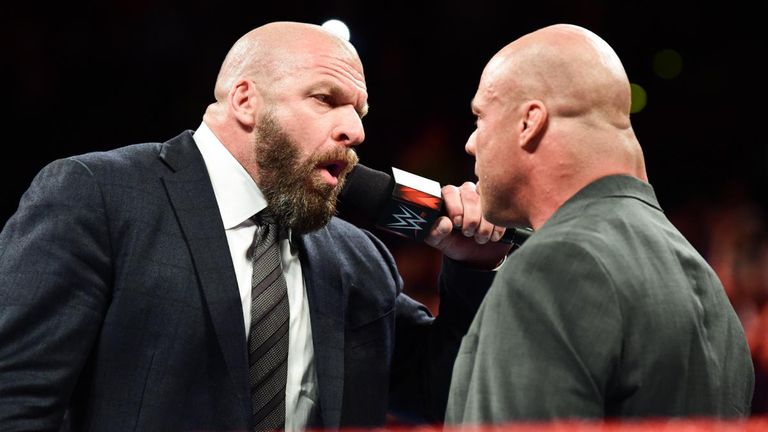 Triple H will line up on the Raw team when they go head to head with SmackDown at Survivor Series on Sunday night, live on Sky Sports Box Office.
The squad change was confirmed on another hectic Monday Night Raw which also saw The Shield lay down a challenge to The New Day to face them at this weekend's pay-per-view in Houston - a challenge which was accepted by the colourful trio on social media.
Suffering succotash! We, The New Day, accept the Shield's challenge at Survivor Series but request that all shock-absorbing body armor including (but not limited to) protective vests, shoulder pads, and heavy wool sweaters be disallowed for competitive use.

— ShinigamE (@WWEBigE) November 14, 2017
The Game replaces Jason Jordan, who was injured in his match against Bray Wyatt earlier in the episode, and his presence ensures it will be a family affair on Sunday night as the captain of the SmackDown side is none other than his brother-in-law, Shane McMahon.
Raw general manager Kurt Angle pulled Jordan from the match and although his visibly emotional son made a compelling case for his inclusion, Stephanie McMahon intervened and instructed Angle to make a change.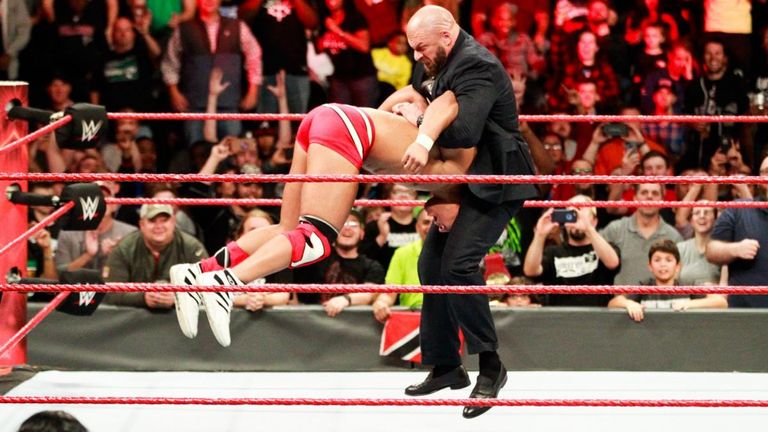 To a huge ovation from the Atlanta crowd, Triple H hit the ring and confirmed that the fifth member of the team - and Jordan's replacement - would be himself.
Jordan then plead his case to Trips but he was having none of it, and underscored his point with a vicious Pedigree as Angle watched helplessly.
New Day accept Shield challenge
Roman Reigns was back on Raw, and back teaming with Dean Ambrose and Seth Rollins for the first time in three years as they defeated tag team champions Sheamus & Cesaro, and The Miz in a six-man match.
After the match, the Hounds of Justice spoke about how The New Day were not "on their level" and vowed to send them "back to the B show".
All three members of The New Day then posted responses - to varying degrees of seriousness - confirming their acceptance of the challenge.
Bayley completes women's team line-up
The Hugger will be the fifth woman in the Raw team for Survivor Series after pinning Mickie James in a triple threat match which also included Dana Brooke.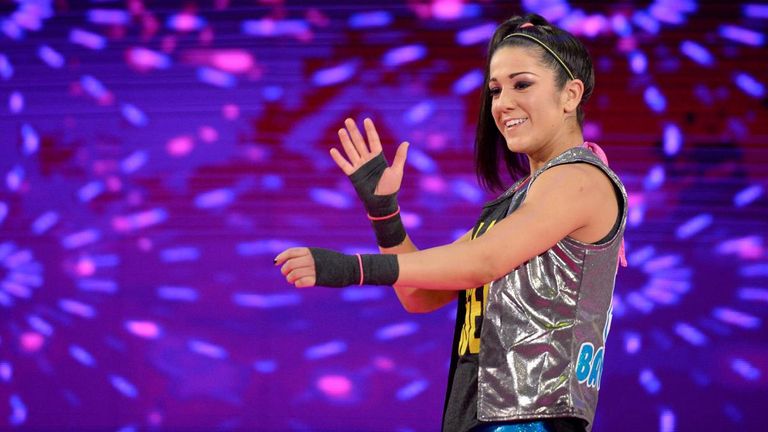 There was a worrying moment for Brooke towards the end of the match when she made the mistake of lashing out at Asuka, who was part of the Raw women's team watching the match at ringside.
Asuke wiped out Brooke with a spin kick for another demonstration of her awesome power.
Kane and Strowman cause more damage
Matches between these two are never likely to be anything but hard-hitting and the latest showdown was no exception.
Strowman broke a Cell and caused a ring to collapse in his matches with Big Show, and Kane emerged from the ring itself when he interrupted the Monster Among Men's recent contest against Roman Reigns.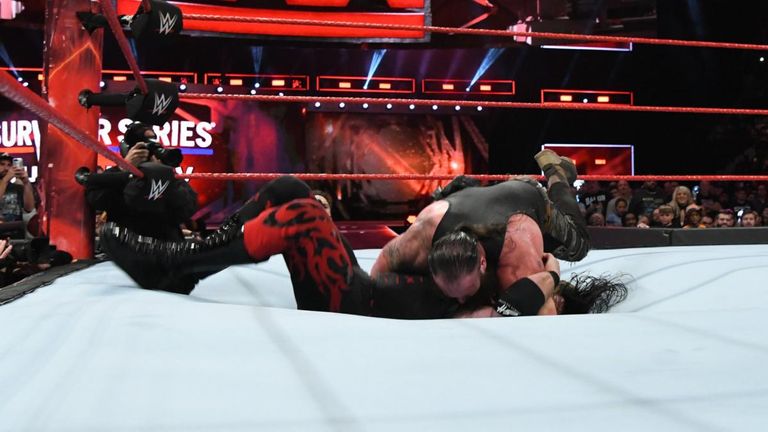 So it was perhaps no surprise when Strowman hit his running powerslam on Kane - and both men crashed through the ring to the floor.
You can book WWE Survivor Series by visiting this link: https://my.sky.com/orderboxoffice/ or by pressing the 'Box Office' button and following the on-screen instructions.
Viewers can also call 03442 410 888 to book the event, which is priced at £19.95 for UK customers, €24.95 for viewers in the Republic of Ireland.