WWE Hell In A Cell: What's at stake at Sunday night's Box Office event?
Last Updated: 16/09/18 11:12pm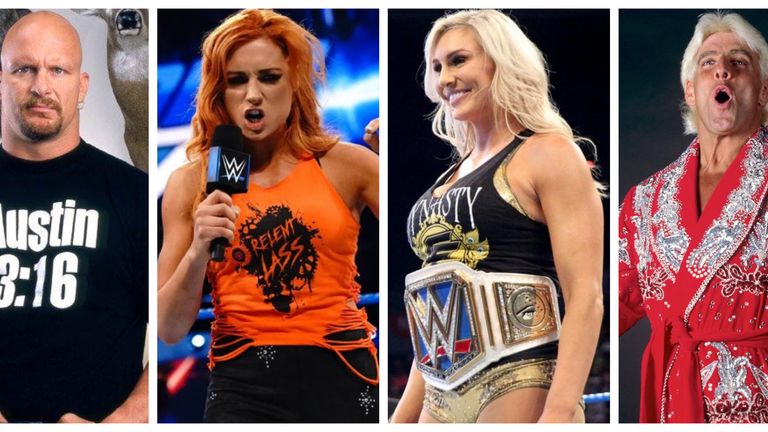 The physical wellbeing of the WWE roster and eight pieces of championship gold will be on the line at Hell In A Cell on Sunday night.
The most punishing structure in sports entertainment is wheeled out for the enjoyment of the paying fans at the AT&T Center in San Antonio and those watching at home on Sky Sports Box Office.
Two matches will take place inside the twisted steel itself, with Roman Reigns' first defence of the Universal title - against Braun Strowman - taking top billing.
But there is more at stake than merely titles on Sunday night, as we found out in our special event analysis…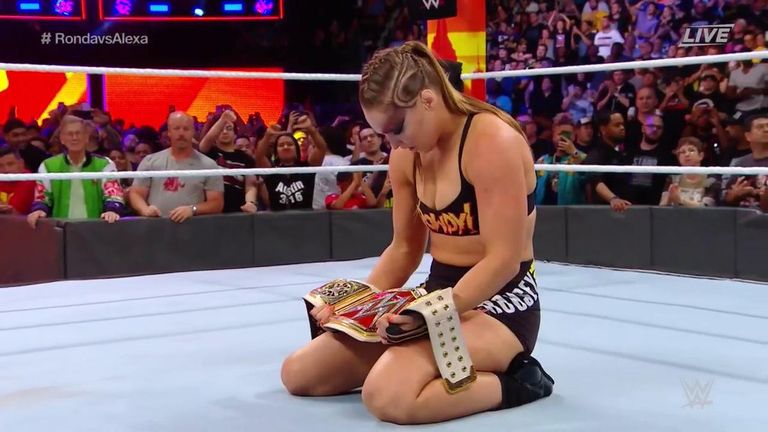 Can Ronda Rousey deliver?
WWE placed a major show of faith in Ronda Rousey when she won the Raw women's title at SummerSlam. Without a doubt, she is the biggest name on their roster, has an unrivalled background in legitimate sports and boasts a mainstream appeal very few others can.
But the win over Alexa Bliss came in only her fourth televised match and was seen by many as not being up to the standard she had set in her previous three.
That contest was kept short - running at just over four minutes - and there is every chance the return leg will be a similarly brief affair.
Rousey has made no secret of the fact she wants to be a fighting champion, which entails regular in-ring appearances on the house show loop and, more crucially, under the often-uncompromising glare of the Raw television cameras.
Such a stance should be applauded but also means she must consistently deliver high-quality matches on a regular basis. That will be in sharp focus on Sunday night.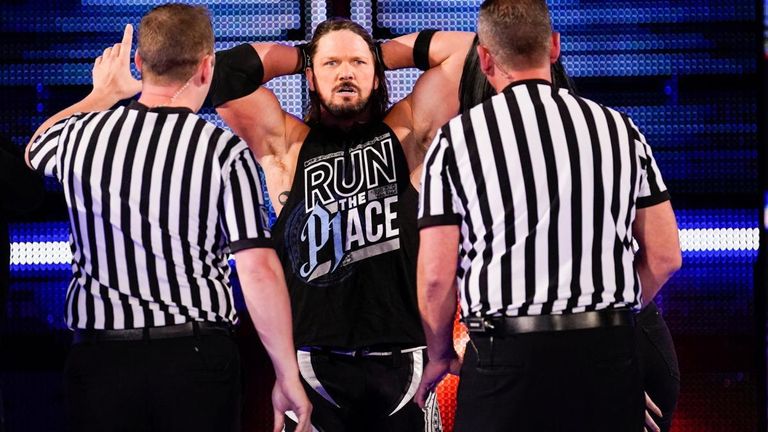 Is it time for Styles' reign to end?
AJ Styles recently passed the 300-day mark with the WWE title around his waist, having prised it from the hated hands of Jinder Mahal on That Night In Manchester back in November 2017.
It has been a strange reign, comprising a handful of excellent matches, a few which did not quite live up to the expectation levels, and a lot more in between.
Samoa Joe has been superb in his pursuit of the gold, underlining his reputation as the company's best mic man in an indelible ink that has been as dark as the tone of what he has said.
A very strong argument can be made for Joe to be the man to take the belt from Styles, especially as the natural 'next cab off the rank' in terms of the WWE title picture is SmackDown's star babyface Daniel Bryan.
But there could be much more mileage left in the feud, especially with some key overseas events on the immediate agenda, which will require high-profile matches that are guaranteed to deliver.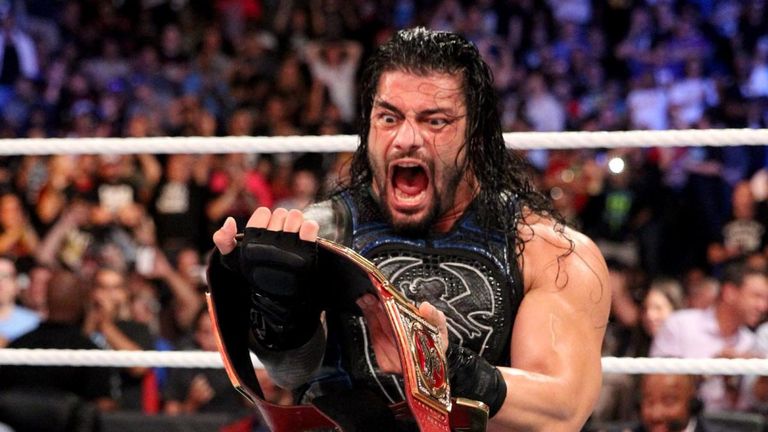 What will the first chapter of the Roman era look like?
The post-Brock Lesnar era begins in earnest on Sunday night, with the Universal title-holder present on the card of a major pay-per-view in the same way he is present on every episode of Raw.
It's the scenario many WWE fans wanted to see after Lesnar's 504-day reigns as a largely absent champion.
Braun Strowman has gone full heel in recent weeks, siding with Dolph Ziggler and Drew McIntyre - whose colours are nailed quite firmly to the mast of villainy - to wage war on the always-popular Shield, headed up by Roman Reigns.
Despite that, Strowman continues to get a mixed response, as does Reigns (a fate to which he seems forever destined). So which way will the match go on Sunday? And what will Mick Foley's involvement be?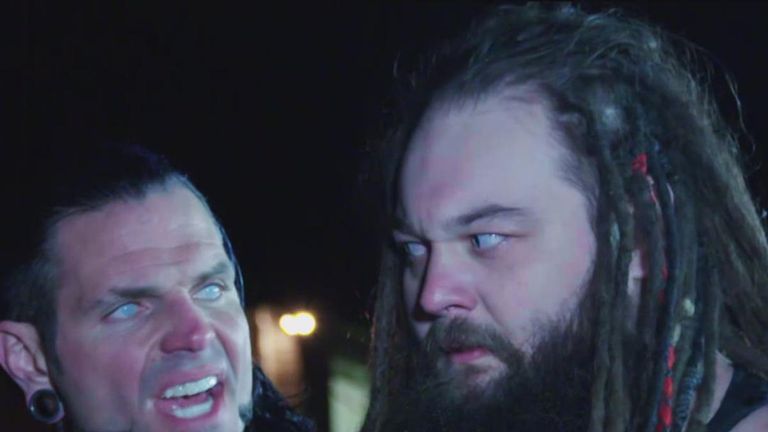 Will Hardy be Woken?
Jeff Hardy has vowed to give the fans "something they will never forget" when he steps inside a Cell for the first time on Sunday night.
With his brother Matt posting several 'clues' about a potential retirement on social media, it seems the storyline for the younger sibling is heading in a very clear direction.
Matt even referred to Jeff as 'Brother Nero' this week, the character he portrayed during Matt's 'Broken' run and one he briefly revisited during the Ultimate Deletion match against Bray Wyatt.
The Cell match has strange effects on people - could we see Jeff join Matt in becoming Woken as a result of its unique powers?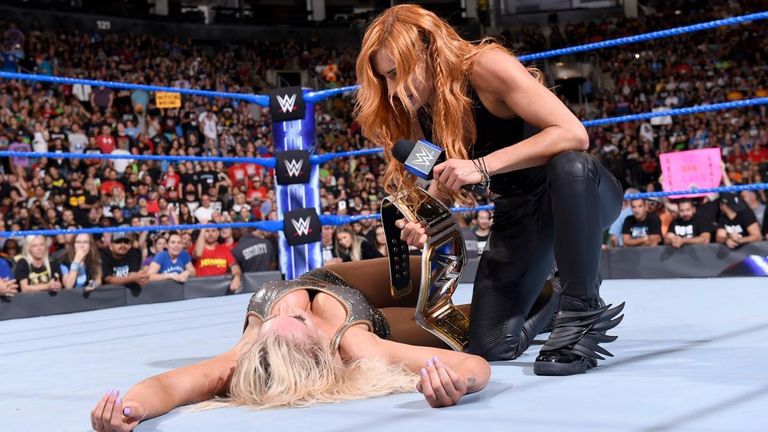 Will the Flair-Lynch battle lead to something huge?
As the ace of the SmackDown women's division, the conqueror of Asuka and the competitor seemingly primed for a WrestleMania mega-match against Ronda Rousey, Charlotte Flair goes into Sunday's match against Becky Lynch as the favourite.
Lynch is the battling underdog, fighting from underneath in pursuit of the title she unquestionably deserves, but at the heart of the contest lies a more significant struggle than a simple quest for the gold.
The Lass Kicker has been cheered to the rafters despite acting outside of the rulebook. Add in the black clothing, too, and there's more than a hint of the Stone Cold to her latest character developments.
Flair's booking has not changed that much since her return from injury and return to the throne but it would not take too many tweaks to make her into a modern-day version of her father.
Then we could see something truly ground-breaking in the women's division, a female version of an epic dream match: Steve Austin v Ric Flair.
Order WWE Hell In A Cell on Sky Sports Box Office HERE!