Jorge Linares overcame early hardship on his path to world title clash with Anthony Crolla
By Richard Damerell
Last Updated: 22/09/16 7:32pm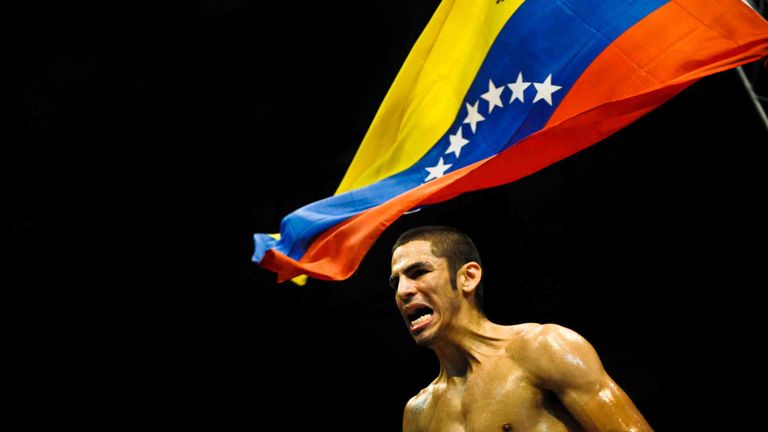 Jorge Linares had to overcome early hardship on his path to world title glory, says the man who nurtured the career of the 'Golden Boy'.
The Venezuelan three-weight world champion will challenge Anthony Crolla for the WBA title at the Manchester Arena on Saturday night, live on Sky Sports.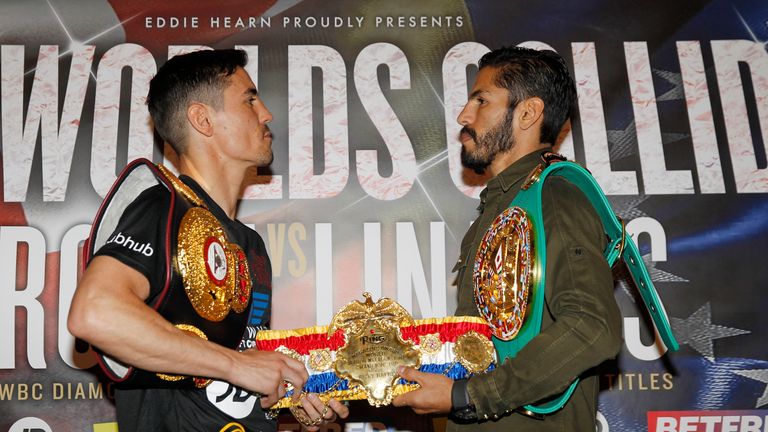 But the 31-year-old's first experiences of the sport started in a small town in his home country, which was better known for its cowboy 'gaucho' lifestyle, than successful fighters.
Gilberto Mendoza, the current WBA president, has guided the boxing career of Linares since he was a youngster and reveals how his talent stood out from an early age.
"There was a group of 60 fighters approximately that were good boxers, with high hopes, but he was the most talented of all," Mendoza told Sky Sports. 
"Linares was a little bit hyperactive to be honest, but very smart. He was very respectful, at some points quiet, but he was always very concerned about the welfare of his family. He has never changed that."
Linares was a natural sportsman who also excelled in distance running and volleyball, but decided to favour boxing on the advice of his father.  
A skilled amateur, he soon acquired national titles, and was offered the opportunity to pursue a professional career in Japan. 
"He comes from a boxing family. His father had a gym in front of the house," said Mendoza. "They do their homework, they run, they train. The discipline was there, the respect was there, but there was not the money.
"The family met with me and said they wanted to send the kid to Japan - he was just 15."
Linares was persuaded to put his professional ambitions on hold while he furthered his education, but remained determined to leave Venezuela and support his family,
I told him 'At this point I don't know if you're going to be a world champion', and he replied: 'I will be.'
Gilberto Mendoza on Jorge Linares
"At that time, I said you have not graduated from high school, I'm not going to allow that," said Mendoza. "I told him 'At this point I don't know if you're going to be a world champion', and he replied: 'I will be.'
"He came back with a high school diploma and said 'Now you cannot deny me, I have to go to Japan. Our refrigerator is like a fish tank - we only have water and light. I need to feed my family, I'm going to be a world champion.'"
Linares would return to South America to participate in the WBA's 'KO Drugs' campaign and won twice in Venezuela on his route to a first world title shot. 
The man named 'Golden Boy' or 'El Niño de Oro' in Spanish, will target yet another title triumph against Crolla, who remarkably revived his career after suffering serious injuries in a confrontation with burglars.
Mendoza will set aside his background with Linares when the first bell rings this weekend and admits that both men are worthy champions.
"This is very tough, because I love Anthony Crolla's story," said Mendoza. "I have to be impartial. The fight on Saturday will prove that good kids can fight. They are very disciplined, they are both family men, and their styles are alike.
"This moment in their career is critical for each other and they are the best lightweights in the world. Besides that, they are role models, and it shows that boxing has good values. It's going to be a very, very interesting bout."
Watch Crolla v Linares, Conor Benn, John Ryder v Jack Arnfield, Callum Johnson v Willbeforce Shihepo and Hosea Burton v Fernando Castaneda live on Sky Sports 2 from 7.30pm this Saturday.
Watch high quality boxing, including Crolla v Linares, with your Sky Sports subscription as part of our three months' half-price offer.