Tyson Fury goes head-to-head with Deontay Wilder in New York
By Andy Charles
Last Updated: 17/01/16 3:16pm
Tyson Fury confronted Deontay Wilder in the ring after the American retained his WBC heavyweight title in Brooklyn.
Wilder improved his record to 36-0 with the 35th knockout of his career before going head-to-head with the Briton while his Polish opponent Artur Szpilka was still being treated after a brutal ninth-round knockout.
"There's only one Tyson Fury," Fury yelled at Wilder as the potential rivals moved into a staredown.
"What have you got to say about that Deontay?"
The reply soon came from Wilder, who admitted he was still concerned about Szpilka's condition: "You're just a phony. This is just an act. You know where I am. You know what time, what place. I ain't scared of nobody, I'll come to your backyard, baby.
"I don't play this. You should have been an actor. When we do step in the ring, this ain't wrestling, this ain't the WWE, baby.
"When you do step in this ring with me - if you do because this should've been done a long time ago - you can run around like you're a preacher all that you want but when you step into that ring I promise you I will baptise you.
"Make the date Tyson. Make the date."
Fury is the WBA Super and WBO heavyweight champion after defeating Wladimir Klitschko in November. He is set to face Klitschko in a rematch next but there has also been a clamour for him to face Wilder in a unification fight.
Wilder struggled at times against Szpilka (20-2-KO15), who caught the American with a nice right in the opening round.
But the champion was soon into his rhythm and caught his opponent flush in the fourth, Szpilka's head rocking back but the Pole somehow managing to stay on his feet.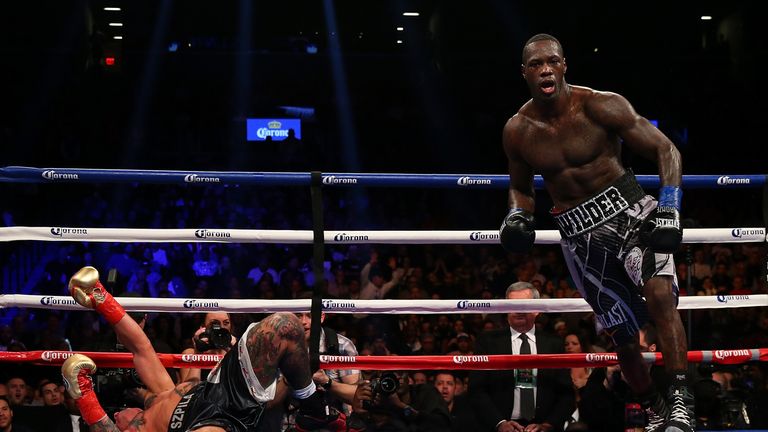 Wilder continued to dominate and the devastating punch came in the ninth when Szpilka left himself open on an attack and was caught on the side of his head by a glancing right that left him out cold on the canvas.
Thankfully, trainer Ronnie Shields confirmed soon after that Szpilka was okay, as he said: "He's doing good, he's awake. He knows exactly where he is right now.
"It's the best thing for him to go get checked out. He was conscious. He was talking. Better safe than sorry."