Dillian Whyte hopes Anthony Joshua beats Charles Martin
By Isaac Robinson
Last Updated: 16/03/16 3:08pm
Dillian Whyte is hoping Anthony Joshua takes Charles Martin's world heavyweight title and faces him in a rematch in 2017.
Whyte and Joshua fought out a classic for the British title at The O2 in December 2015 - the Brixton underdog rocking the Olympic champion in the second round before being stopped in the seventh.
Now Whyte (16-1-KO13), who is recovering from shoulder surgery, is relishing the prospective clash between Joshua (15-0-KO15) and IBF world champion Martin (23-0-1-KO21) on April 9, live on Sky Sports Box Office.
When asked if the news of Joshua's world title shot had come as a shock, Whyte told Sky Sports: "I'm not surprised. At the end of the day, before he fought me they were saying he was ready for Wladimir Klitschko and Tyson Fury.
"They wouldn't have taken the fight with Deontay Wilder or Tyson Fury. In their mind, Martin is the weakest of the world champions.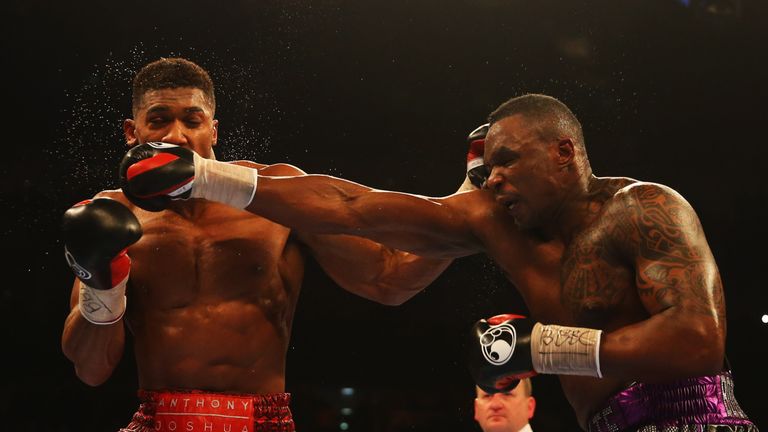 "We'll see. Martin is a big guy, 6ft 5in and a southpaw. He packs a punch but he's also untested at the top. His biggest fight was against Vyacheslav Glazkov and Glazkov got injured early in the fight. There's still a lot that's not known about him.
"I think it's a 50-50 fight because both of them are around the same level. They seem to have the same KO ratio. Charles is a southpaw and like I've said from day one, Joshua doesn't see punches coming from his right side.
"Off his left side, he sees the punches well and reads them well but it's not the same off his right side. Martin is a southpaw as well, so he'll try and use that to his advantage."
It'd be great if he won and we can get it on. A rematch would be mega for a world title.
Dillian Whyte on Anthony Joshua
On the possibility of facing Joshua again, Whyte added: "The rematch is something I want with or without a world title. If it's with a world title, that would be massive - especially as he went from our fight straight to the world title fight. Then we could have the rematch in the next 12-18 months.
"I proved I'm world class and I'm more than capable of winning a world title when the time comes. It'd be great if he won and we can get it on. A rematch would be mega for a world title."