James DeGale reveals doping fears ahead of title defence
By Peter Gilbert
Last Updated: 27/04/16 11:09am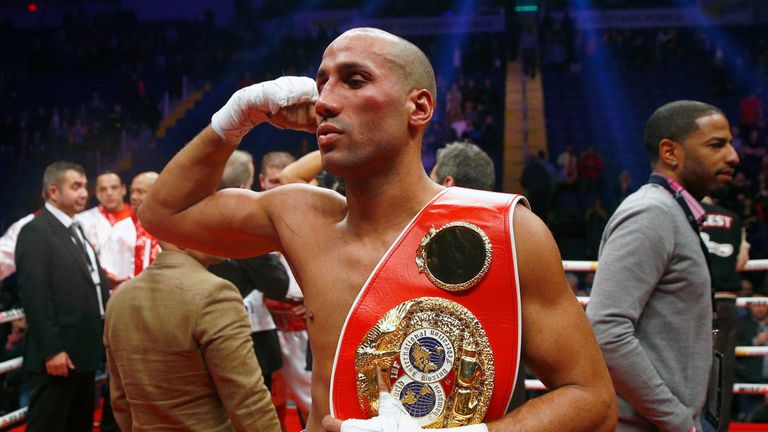 James DeGale has revealed he so paranoid about being drugged on nights out that he employs security to ensure his drink is not spiked.
DeGale will put his IBF super-middleweight title on the line for the second time when he faces Rogelio Medina on Saturday night at Washington's DC Armory, live on Sky Sports.
"I always have to be extra careful," DeGale said in the Daily Mail. 
"If I go to Ibiza or somewhere like that, drinks are always getting spiked in nightclubs so I can't let my drink out of my sight.
"'Today's generation is like that. You go out, to a pool party, everyone's drinking and then - bosh - someone could stick something in your drink, MDMA or something.
"'People think it's a joke - that's why when I go to Ibiza I have security.
"And now, even if I'm in Spain or Ibiza or wherever, UKAD will have people in the area able to come and test me.
"But I'm happy with that. It means it's becoming harder and harder for cheats to get away with it."
DeGale's title defence with Medina will be the first time he steps through the ropes since singing up to the UK Anti Doping's year-round programme.
"I've signed up to some crazy anti-doping system with UKAD - and I'm one of only 30 boxers who have," he added.
"I've got to pick an hour of every single day, 365 days a year where they can come and test me whether I'm training or not. 
"I picked between 7 and 8 every morning so they can come and test me at home - and they've already been. That's before I'm even up so they come and wake me up basically.
"It's madness - what if I was cheating on my Mrs and playing away from home? I'd be knackered! There's no chance of that.
"But they've had to go to these extremes to make sure there aren't any problems.
"They've only stuck the elite on it - only 30 of us so far - but hopefully it will force a major change."