Manny Pacquiao shows no signs of slowing down, says Freddie Roach
By Peter Gilbert
Last Updated: 09/09/16 10:10pm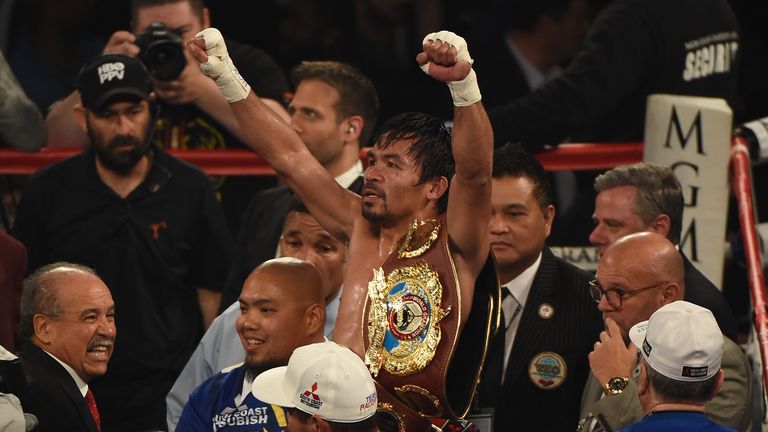 Manny Pacquiao still has "a lot of fight left in him", insists his trainer Freddie Roach.
Pacquiao has performed a U-turn on his decision to retire and will pull on his gloves for the 67th time when he challenges Jessie Vargas for the WBO welterweight title on November 5.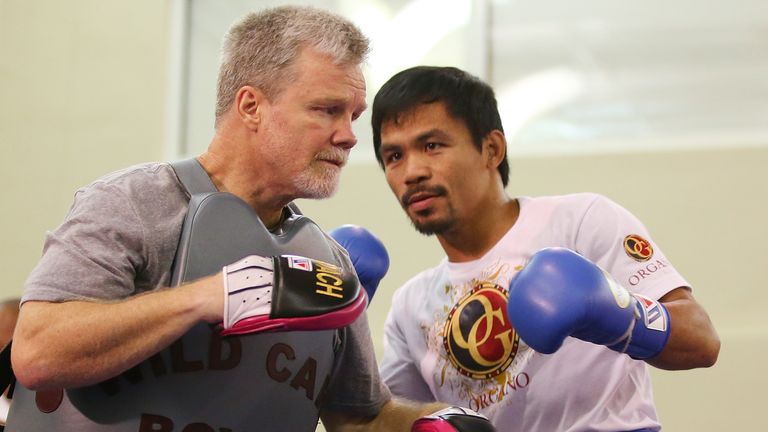 The Filipino superstar will be one month shy of his 38th birthday when he faces the American in Las Vegas.
Roach admits the eight-division world champion's age is a cause for concern but Pacquiao's long-term trainer has told his charge that the very first time he sees him a step slower in the ring, he will have to retire.
"I do have some concerns over his age. I put all the factors together and so forth and I have a deal with Manny," said Roach.
"I tell him, 'When you start slowing down just one step, I'm going to tell you to retire.'
"We have an agreement that he will retire when I tell him but I haven't seen that step lost yet. In his last fight, he fought a very good fight. We saw a lot of aggressiveness come out of Manny.
"He has the killer instinct coming back and I like that a lot. With his religion, [the killer instinct] got away from him for a little while but he is very dedicated to his religion also and that makes the training a little more difficult."
Pacquiao claimed a unanimous decision over Timothy Bradley in April in his first fight in nearly a year after losing to Floyd Mayweather Jr in a heavily-hyped welterweight showdown.
He retired afterwards to pursue a political career in the Philippines, but Roach never doubted he would make a comeback.
"He still knows what he does best, and that's boxing so him making a comeback this quickly wasn't a big surprise to me," added Roach. "I know he still loves boxing, he still has a lot of fight left him."
Asked if Pacquiao would be making a one-and-done comeback, Roach replied: "No. He will definitely fight a few more times after November 5.
"We would like to get a Mayweather re-match done before we are done. Manny thought we won that [first] fight but I didn't."
In what was billed the 'Fight of the Century' in May last year, Pacquiao lost on a unanimous decision to Mayweather Jr but said later he had been hampered by an injury to his right shoulder that he suffered during a pre-bout sparring session.
"The thing is, if Manny didn't hurt himself in the fourth round against Mayweather, I think it would have been a big difference," said Roach, who has been voted trainer of the year by the Boxing Writers Association of America on seven occasions.
"We would love to get Mayweather back in the ring and if Mayweather doesn't come, there is this young kid, Terence Crawford.
"He's a good fighter and he might be the next Mayweather," Roach said of Crawford, 28, who is the WBO and WBC light-welterweight champion. "He can run like hell. We'll see."
Watch Sky Sports' derby day extravaganza on Sep 10 - Man Utd v Man City and Celtic v Rangers - as part of our three months half-price offer.