Haye vs Bellew: David Haye weighs in almost a stone heavier than Tony Bellew ahead of heavyweight fight
Last Updated: 03/03/17 5:27pm
David Haye weighed almost a stone heavier than Tony Bellew ahead of their heavyweight grudge fight.
The feuding duo faced each other for the final time at the weigh-in for Saturday's fight at The O2, live on Sky Sports Box Office.
Bellew, who holds the WBC cruiserweight belt, has stepped up a division to share the ring with Haye and tipped the scales at 15st 3lbs 8oz.
"I thought he'd be lighter, I'm over the moon about his weight. He's going to gas," said Bellew. "I'm never going to look like that, he looks like an Adonis.
"I could have been heavier if I wanted to.
"He'll get hit back, for the first time in six years, and he won't be happy."
Haye came in at 16st 9oz, which was his second heaviest career weight, and the former WBA heavyweight champion believes he will display the punch power of a naturally bigger man.
"He'll find out what it's like to be hit by a heavyweight, it's a whole different sport," said Haye. "He's unprepared, and he doesn't know it.
"He's eaten a bunch of pies to get up to heavyweight.
"I'm a whole size bigger than him. 16st ripped, with nine per cent body fat."
On a packed bill, Sam Eggington is also taking a big step up in class against former two-weight world champion Paulie Malignaggi.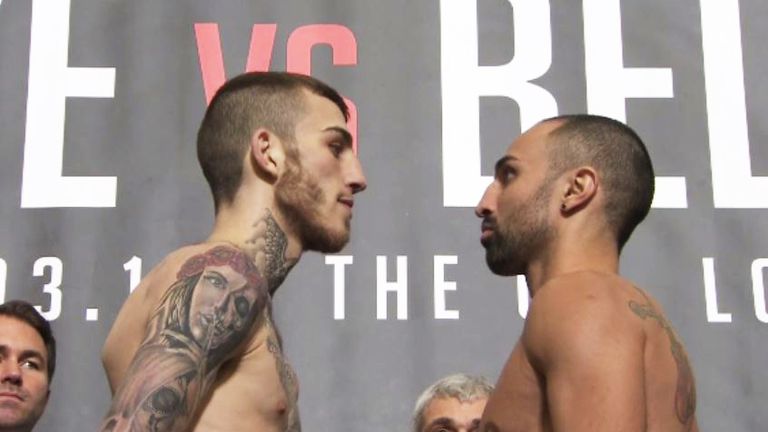 The Birmingham man weighed in at 10st 6lbs 80z, while Malignaggi was also under the welterweight limit at 10st 6lb 3oz, and they shared a few heated words before being ushered apart.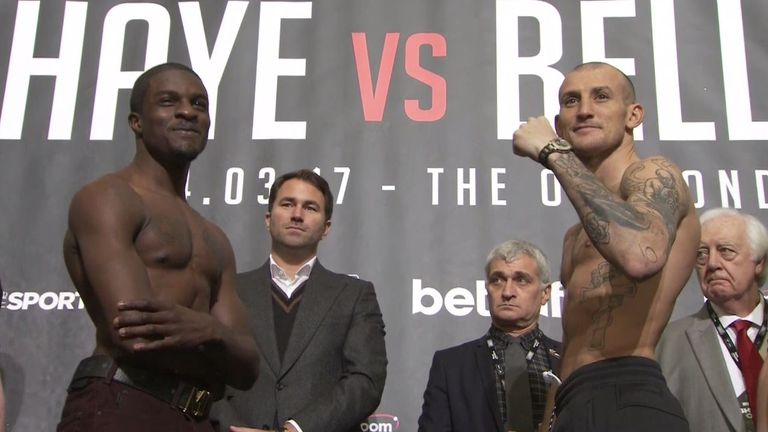 Ohara Davies also puts his unbeaten record at risk when he defends his WBC silver title against Derry Mathews.
'Two Tanks' was bang on the super-lightweight limit at 10st, with Mathews coming in lighter at 9st 13lb 5oz.
Watch David Haye vs Tony Bellew at The O2 on March 4, live on Sky Sports Box Office. Book the event online here or via your Sky remote.