Reece Bellotti knocks out Dai Davies in three rounds in British featherweight title eliminator
By Tim Hobbs
Last Updated: 18/03/17 7:28am
Reece Bellotti moved a step closer to a British featherweight title challenge after knocking out Dai Davies in three rounds on Friday night.
'Bomber', who like world heavyweight champion Anthony Joshua hails from Watford, underlined his class with a slick and sharp display, topping the NXTGEN night at York Hall.
The win took the 26-year-old to 9-0-KO8 to leave him waiting to see the outcome of current British featherweight champion Ryan Walsh's May defence against Marco McCullough - who out-pointed Davies back in 2011.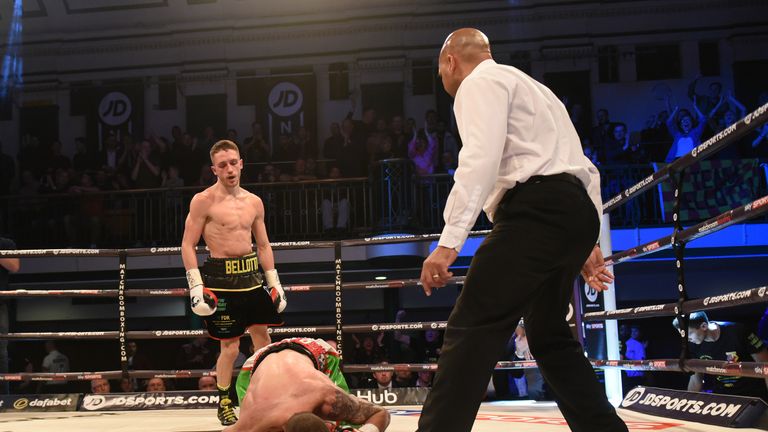 Bellotti didn't need that long and fired out a warning to the 126lbs scene, clipping his challenger with a short left hook before a ramrod right landed full-on and left him face down with 15 seconds left in round three.
Davies was unable to beat the count and although he had been in with some of the toughest British stars since turning professional back in 2004, the NXTGEN bill-topper suggested he and trainer Jim McDonnell will both be looking for the title test.
"It took me a couple of rounds to work him out and see what his game-plan was," he told Sky Sports.
"The way he went down I thought he would do well to get up. If Jim thinks I'm ready, I'm ready."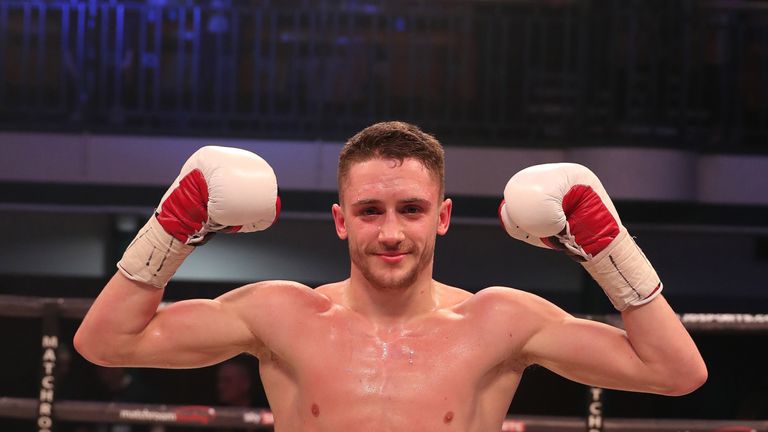 After a classic Southern Area clash between Craig Richards and Alan Higgins, Bellotti was instantly into his groove, the combinations flowing freely and landing, even if the experienced Davies initially managed to stay out of range, forcing the youngster to do all the pressing.
But it wasn't a problem for 'Bomber' and in the second his left caught Davies twice in succession, with three slick combinations keeping the Welshman on the ropes and starting to turn the pressure.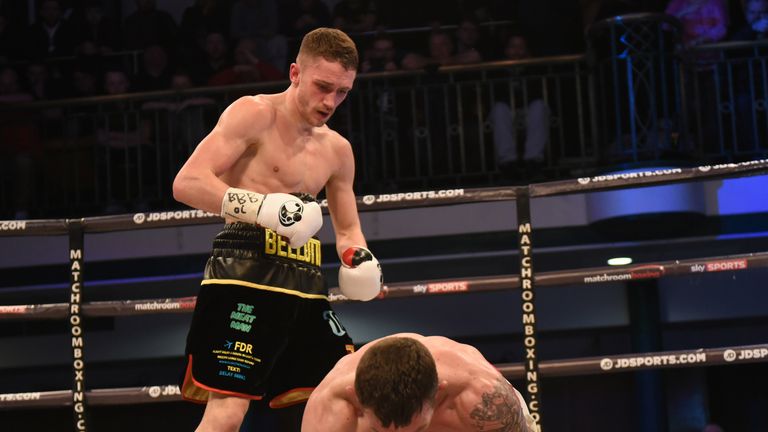 Davies had sent a couple of clever counter-shots in, but he soon found himself on the ropes and in the corners, unable to escape, with Bellotti equally accurate at close range and on the back foot.
Davies seemed to be suffering in the third round as Bellotti perfectly set up the brutal finishing shot that took his knockout ratio to an impressive 89 per cent.