Mayweather vs McGregor: Superfight is 'unbelievable' for mixed martial arts, says UFC welterweight Darren Till
By Michael Kelleher
Last Updated: 18/08/17 8:05am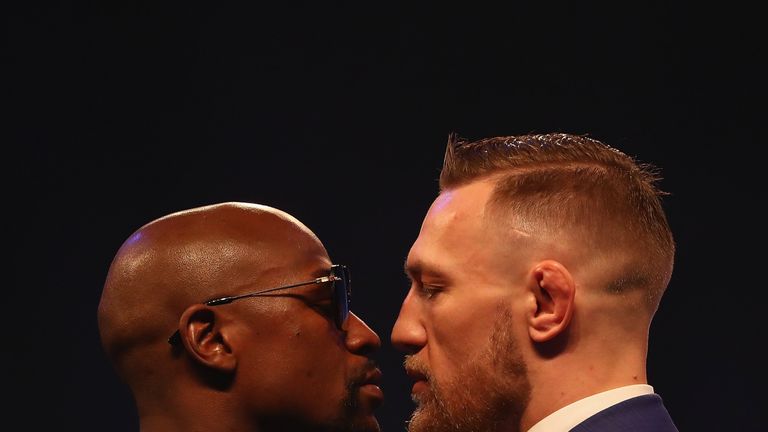 Conor McGregor's fight against Floyd Mayweather will help raise the profile of mixed martial arts all over the world, believes UFC welterweight Darren Till.
The Irishman will attempt to shock the world on August 26 when he competes in a boxing ring for the first time against five-weight world champion Mayweather, live on Sky Sports Box Office.
The fight is expected to net McGregor a payday unheard of in mixed martial arts but Till believes McGregor's fellow UFC fighters also stand to benefit.
"Obviously boxers are very highly-paid athletes. MMA fighters - we are not paid the same as boxers," Till told Sky Sports News.
"That is a great thing that can come from this. We can start getting the pay and the recognition that we deserve.
"Boxing, as McGregor keeps saying, is one form of fighting. It is just the hands.
"MMA is every form. It is also kicking, elbows, grappling and submissions. So, day in and day out, we work really hard.
"So for McGregor to be putting MMA in the spotlight like he is - it is just unbelievable."
McGregor is a large underdog heading into the fight but he is predicting Mayweather will be knocked out inside four rounds and earlier this week said the "disrespect and disregard for his skillset" has been hugely motivating.
Till says the world of mixed martial arts will be behind McGregor on fight night but he has a hard time envisioning him stopping Mayweather improving his record to 50-0.
"I really want McGregor to win but if I have to say my own opinion, I don't think he will win. I think Mayweather will win," Till said.
"He is a master of the sport of boxing. He has fought all the world champions and beaten them all.
"I feel like he will beat McGregor but I really want McGregor to win in my heart."
Watch Mayweather vs McGregor, from the T-Mobile Arena, Las Vegas, from midnight August 26, live on Sky Sports Box Office. Book the event online here.