Crawford vs Indongo: Dillian Whyte welcomes the crossover rivalry between MMA and boxing
By Matt Horan
Last Updated: 19/08/17 1:21pm
Dillian Whyte says the growing rivalry between boxing and MMA can only be a good thing and he would be open to a cross-code showdown for himself.
The Brixton heavyweight is currently out in Lincoln, Nebraska, as he prepares to take on Malcolm Tann on the undercard to Terence Crawford's super-lightweight blockbuster against Julius Indongo, to be shown live on Sky Sports this Sunday morning.
Whyte's American boxing debut comes just a week prior to a unique and eagerly-anticipated boxing match between Floyd Mayweather and UFC star Conor McGregor - live on Sky Sports Box Office on August 26 - which has set a trend of potential crossover bouts.
There have already been mooted talks of a cross-code clash between Tony Bellew and Michael Bisping and 'The Body Snatcher', who had a kickboxing career prior to boxing, would welcome a switch from the ring to the cage. Speaking exclusively to Sky Sports, the 29-year-old said: "For me, it's good, crossover in sports is always good and it gets that interest going.
"Muhammad Ali fought a wrestler years ago, so to test yourself in another discipline causes excitement.
"I could do it. I did kickboxing to stay out of trouble as a kid and then after that I got into boxing. I did alright. It was something to keep me out of trouble, because I liked fighting as a kid.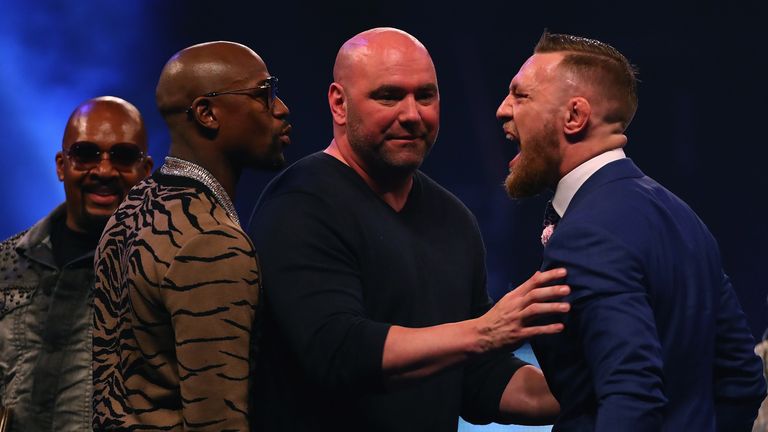 "I would fight the UFC heavyweight champion on the McGregor undercard next week if they wanted it, great champions have done it in the past.
"I would love to fight Brock Lesnar on the Conor McGregor undercard. I would have pulled out of this fight to fight him. I hate Brock Lesnar."
Watch Whyte vs Tann on the Crawford vs Indongo undercard from Lincoln, Nebraska, live from 2am, Sunday, August 20, on Sky Sports Arena.