Mayweather vs McGregor: Conor McGregor's most unorthodox shots won't shock Floyd Mayweather, Paul Smith tells Sky Sports News
Last Updated: 22/08/17 7:59am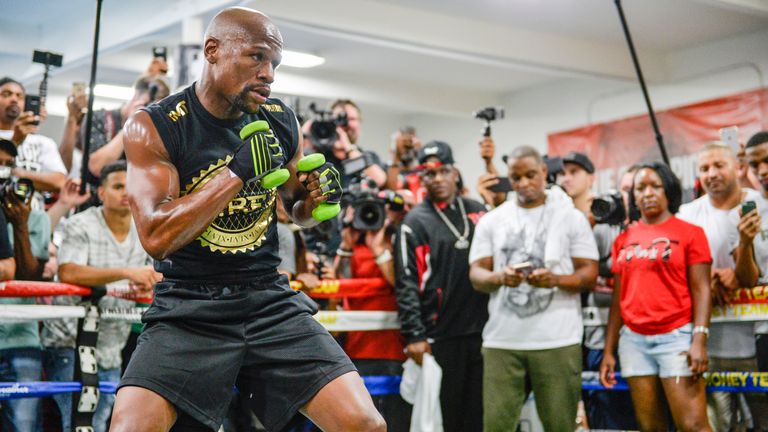 Conor McGregor's most unorthodox shots may not be enough to trouble Floyd Mayweather, according to Paul Smith.
McGregor's status as an unpredictable novice has been identified by some analysts as one reason he has a chance of toppling the most heralded boxer of his generation in Las Vegas this weekend, live on Sky Sports Box Office.
But three-time world title challenger Smith doubts whether the rules of boxing allow McGregor any manoeuvre Mayweather has not seen before during an unbeaten 49-fight professional career.
"McGregor's got two arms and two legs so he's got a chance like everybody," Smith told Sky Sports News. "But you have to box to the Marquess of Queensberry rules.
"You have to box. You can only come at him so many ways, and Mayweather will have seen it all before.
"If Conor stands off and starts moving left to right southpaw, Mayweather will just stand off and let him come at him. There's no fight unless you engage and when you engage...."
Mexican sensation Canelo Alvarez tried the aggressive approach against Mayweather when the pair met in 2013 only to come unstuck at close quarters on his way to a points defeat, while the American withstood Marcos Maidana's wilder shots over back-to-back meetings the following year.
Smith said: "We've seen clips of Canelo trying to lay hands on Floyd Mayweather, and you've seen the shots Mayweather was landing and the shots he was seeing to avoid - and Canelo is one of the top five pound-for-pound fighters in the world.
"Maidana's just a very aggressive and heavy-handed striker. [He threw] unorthodox shots, overhand bolo types. It's almost like you're bowling a cricket ball but, again, it's a boxing tactic.
"If McGregor's going to try that Floyd's seen it before, and Maidana's a former world champion, very experienced."
Second-guessing McGregor's approach is not an easy task, according to Smith, whose best estimate is that the Irishman will "stand off and try to land something stupidly unorthodox".
"But once he lands...Mayweather, I would have a lot of money, has been hit by harder hitters than Conor McGregor.
"I'm not putting the UFC side down, I just think this is happening in a boxing ring for one reason only: Mayweather wouldn't last a round in a cage and I think unfortunately it's going to be a similar scenario in a boxing ring for Conor McGregor."
Watch Mayweather vs McGregor, from the T-Mobile Arena, Las Vegas, from midnight August 26, live on Sky Sports Box Office. Book via your Sky remote or online here.