Mayweather vs McGregor: Boxing has helped MMA onto its biggest stage
Boxing and MMA have an awkward relationship but needed each other to create this spectacle
By James Dielhenn in Las Vegas
Last Updated: 23/08/17 5:45pm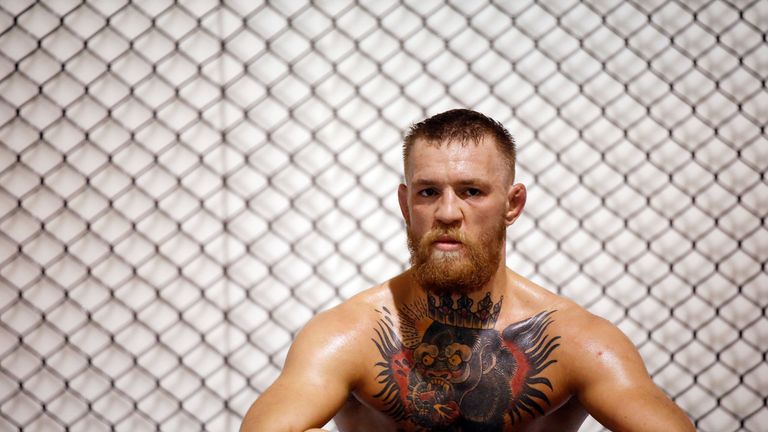 Mixed martial arts has long threatened to break out of the cage that once confined it, yet ironically it is boxing that has led the previously underground sport onto its biggest platform, writes James Dielhenn.
Among the waifs and strays on the Vegas Strip are fight fans, the familiar crowd that so frequently descend upon this bizarre city, although perhaps not in the numbers that are gathering this week. The boxing purists may have once looked down upon the MMA newbies but, due to Floyd Mayweather vs Conor McGregor, the martial artists are no longer the awkward younger sibling of the pugilists.
Two personality-driven sports have led us to this point, an extreme clash of ideologies and cultures that have met to create a unique spectacle. Mayweather, as proved at Tuesday's Grand Arrivals, could not have built this event without a man from a sport that he has historically sneered at.
A frothing McGregor arrived at the plaza in the shadows of the T-Mobile Arena, ready to fight Mayweather, his entourage, Paulie Malignaggi, you, me and whoever else wanted some. The fans lapped it up.
His arrival in the scorching afternoon sunshine was in stark contrast to Mayweather's earlier effort, and therein lies the intrigue to Saturday's fight. McGregor greeted everyone in attendance, loving their adulation. Those same fans barely caught a glimpse of Mayweather who was hidden inside a gaggle of henchmen and underneath an elaborate hat. Their attitudes were in total contrast.
McGregor has become bigger than the sport that created him, yet remains a devout representative of MMA. His insistence that MMA is a more visceral skill-set than boxing is fuelling the fight.
"It's very disrespectful to show disregard to a multiple-weight free-fighting champion," he told Sky Sports News last week. "They are close-minded. They are protective of their sport - which I can understand - but you've got to have an open mind. There are many ways to attack the human body - many shots, many movements, many skills to beat a man.
"In the MMA game you pay respect to all disciplines. Maybe an individual can't move his feet as gracefully as others, but in a certain position, he is the best in the world. I've learned not to disrespect any craft, or any fighting man. We will educate the boxing world."
They are protective of their sport - which I can understand - but you've got to have an open mind.
Conor McGregor
Yet perhaps MMA owes the boxing world for welcoming it in Las Vegas this week. Dan Hardy and Malignaggi have mingled on the Sky Sports sets, exchanging stories and tips from across their codes. Boxers are all threatening to jump into the cage, some more seriously than others. Such a cross-codes rivalry nearly spilled over on Tuesday when McGregor scuffled with members of Mayweather's team.
So who would win in a 'real fight'? It's a debate that will not end on Saturday, regardless of the result between Mayweather and McGregor. And nor should it. This fight has given MMA the platform it rightfully deserves alongside boxing on the lips of all sports fans.
Watch Mayweather vs McGregor, from the T-Mobile Arena, Las Vegas, from midnight August 26, live on Sky Sports Box Office. Book via your Sky remote or online here.