Mayweather vs McGregor: What did we learn from the weigh-in?
By James Dielhenn in Las Vegas
Last Updated: 27/08/17 1:21am
Floyd Mayweather stood bare-chested on the scales and declared "weight doesn't win fights," but it can certainly help, writes James Dielhenn.
He had made the declaration before, if you cast your mind back a decade. Ten years yet Mayweather was still competing in the richest fight of all time.
"Weight doesn't win fights!" Mayweather was 4lbs beneath the limit when he faced Oscar De La Hoya, who looked far larger at their weigh-in and during their fight, although ultimately it didn't matter. The same thing has happened again.
Conor McGregor fans banking on an old, washed-up version of Mayweather should consider the American's weight at 149.5lbs on Friday. He might easily have come in heavier. He has done so before.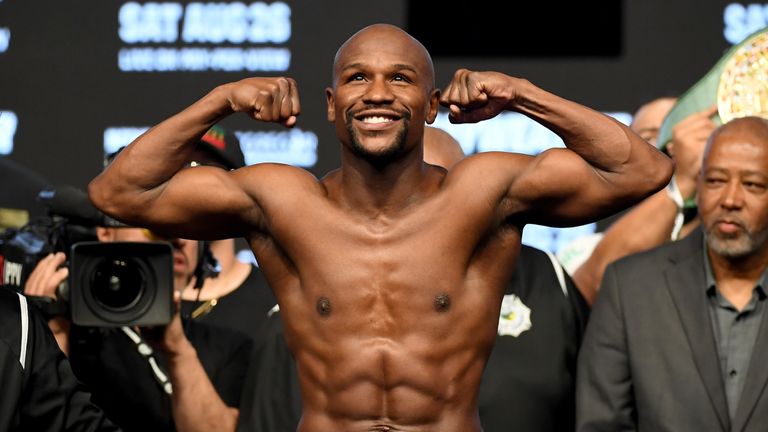 Mayweather's heaviest ever weight was 151lbs against Miguel Cotto (3lbs beneath the limit), five years ago. Those five years have seen Mayweather's body age into its fourth decade so it was reasonable to assume he might be at his heaviest against McGregor, particularly if you believe he has spent too much time in nightclubs during this manic week in Vegas.
"That's the worst shape I've seen him in. He looks out of shape," McGregor screeched during a typically fraught on-stage appearance, after weighing in himself at 153lbs. But a sleek, light Mayweather might not be what he expected, nor what he wants. Saul 'Canelo' Alvarez also found a Mayweather significantly below the weight limit, then couldn't find him with his fists.
The American's weight hints at a serious training camp, a disciplined diet and a likely ploy to be as small and nippy as possible. Speed has always been king, particularly for Mayweather whose crown will be reapplied on Saturday night if he breaks the all-time record for 50 straight wins without losing.
McGregor, for his part, looked gaunt on the scales but that is nothing new. The skeletal frame he displayed when fighting at featherweight (145lbs) in the UFC was truly shocking.
"I make weight. It's about sacrifices, dedication, it's focus and I make it," McGregor said. Mayweather fans in the front row were screaming that he was dehydrated and unnaturally thin. Perhaps they were just following their hero's week-long rumour-mongering that McGregor would unhealthily make the limit. Perhaps weight does win fights, after all.
Watch Mayweather vs McGregor, from the T-Mobile Arena, Las Vegas, from midnight August 26, live on Sky Sports Box Office. Book via your Sky remote or online here.