Mayweather vs McGregor: Amir Khan tells Conor McGregor to 'step out' if fight goes Floyd's way
By Stephen Turner
Last Updated: 26/08/17 8:34am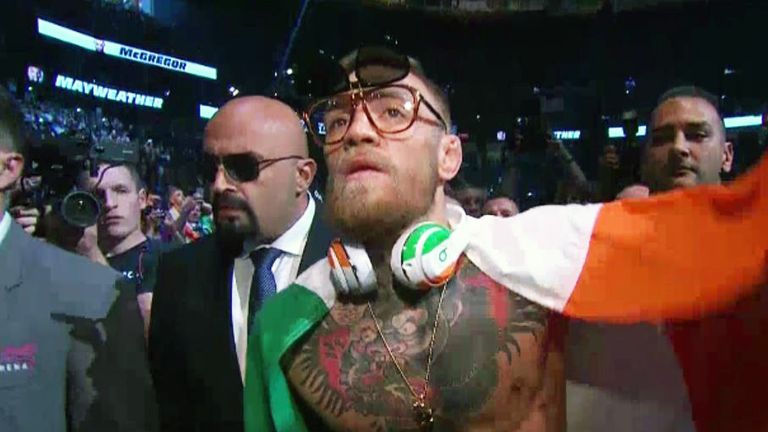 Amir Khan has told Conor McGregor to swallow his pride and "step out" if he finds Floyd Mayweather too much to handle in Las Vegas.
McGregor has crossed codes from MMA to earn the shot at Mayweather long craved by Khan, who spent years chasing the American great.
Khan believes "boxing will be over" if the self-proclaimed Best Ever cannot deal with a ring novice in Las Vegas, live on Sky Sports Box Office in the early hours of Sunday morning.
And the former world champion has urged McGregor to put self-preservation before stubbornness.
"It's like a tennis player trying to play badminton," Khan said. "So he should not show too much too balls in this fight. If he starts getting a beating - step out, man.
"He needs to think about himself in this fight, because if he gets seriously injured, he might not ever be the same fighter or he might not even fight again."
McGregor is poised to enter the ring as much as a stone heavier than his opponent, but the weight discrepancy has not stopped Mayweather predicting a career-ending night for the Irishman.
And Khan said: "If McGregor wins, boxing is over. Disaster, big time. It should be a warning to boxing. There are a lot of titles out there.
"It gives more people an opportunity for a title, but in UFC there is only one champion which makes it harder for them. The way boxing is going is fine, [But] it is a warning that you must step your game up.
"I can't see McGregor winning, though. It is going to be a good fight for the first couple of rounds but I see Mayweather getting a stoppage. This could be Mayweather's chance to finish his career on a high against a big name.
"He's fighting a guy who hasn't had a fight: people are forgetting that. They know his MMA career is good. It will be exciting for a couple of rounds then Mayweather will walk through him."