Mayweather vs McGregor: Conor McGregor to consider 'many options' after defeat
By Stephen Turner
Last Updated: 27/08/17 11:52am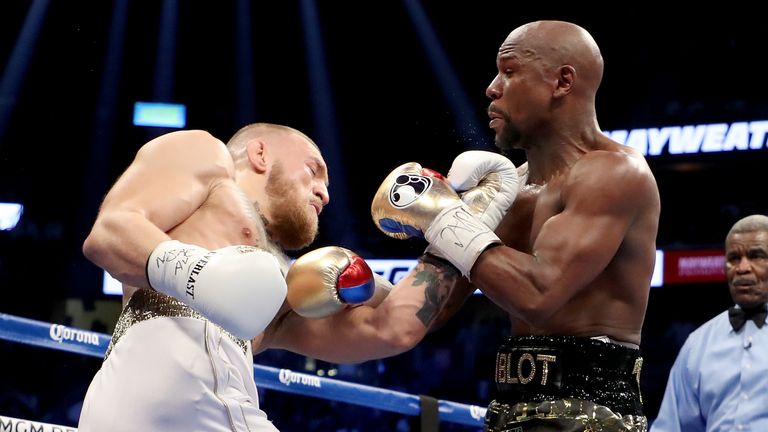 Conor McGregor said he would take time to consider his "many options" after his excursion into boxing ended in defeat to Floyd Mayweather.
McGregor had some success early on against a watchful Mayweather, but the MMA superstar ultimately proved no match in a ring for boxing's self-proclaimed Best Ever.
A halt was called in the 10th round in Las Vegas, despite the pleas of an exhausted McGregor to see the final bell, but the Irishman's performance was enough to earn the praise of ring royalty such as Lennox Lewis and George Foreman.
Asked at the post-fight press conference whether boxing on is an option, McGregor said: "I'm not sure what's next. I have multiple world titles in the UFC to think about as well as the boxing.
"I'm a student of the game and I've studied Floyd and it was an honour to share the ring with him. I will get back into my jiu-jitsu and freestyle wrestling training and we will see what's next. I have many options in the sport of MMA."
Many had predicted an early embarrassment for the boxing novice, but he said: "I'm a multiple-weight freestyle world champion and I was a little bit surprised at the disrespect I was shown. The disrespect for my skill took me back a little bit."
There was no disrespect between the two combatants at the end, Mayweather admitting he had been given more trouble than he anticipated.
And McGregor said of the American: "You're a composed individual. You didn't get rattled; you made three game changes during the fight and that's what a true champion does.
"I would have liked to see the end of the 10th and where it brought us, but he's one hell of a competitor.
"I thought I put him out there and hit him a few times but then he started reading it and he began parrying a lot. I enjoyed the fight; it was a great contest and I'll take a lot of stuff with me into my training."