Brook vs Rabchenko: David Allen reassures Eddie Hearn that he's more than ready for Lenroy Thomas
By Richard Damerell
Last Updated: 27/02/18 8:59am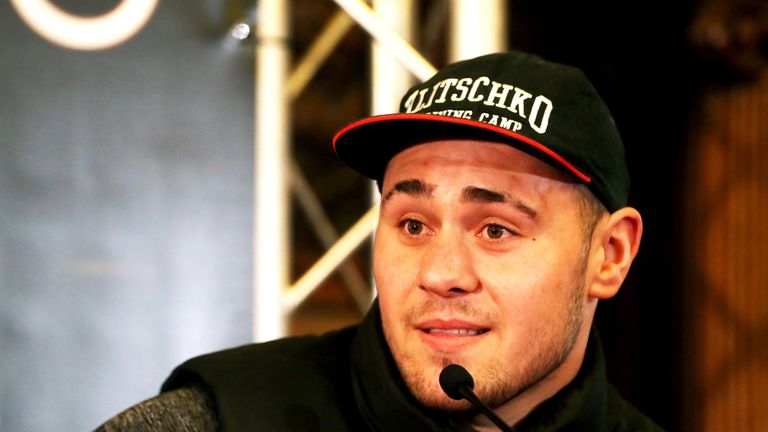 David Allen has reassured promoter Eddie Hearn he is more than ready for the Lenroy Thomas rematch after admitting victory was "thrown away" in the first fight.
The 'White Rhino' received strong words from Hearn after he chose to meet fans only hours before his points loss to Thomas last May and the Matchroom boss warned Allen he 'won't get another chance' if he suffers defeat again in Saturday's Commonwealth title fight, live on Sky Sports.
But Allen has responded by undergoing a stringent training camp, trimming his weight down to under 17 stone, and is confident his new-found dedication will be rewarded.
"I could be weighing in the lightest I have ever weighed since I was 19, 20 years-old," Allen exclusively told Sky Sports.
"I look very thin, ribs, my legs look slim. I can honestly say I have never ever been this fit, this fast, this strong and punching as much.
"This is as good as I can be, and if I get beat I'll have to get on my hands and knees and bow down to Lenroy Thomas, because he will be the better man.
"Last time he prepared correctly and I didn't, and he won. He beats me this time, I will be a very, very surprised little boy."
There will be no further distractions in fight week for Allen, who insists he cannot afford another setback after past losses to Dillian Whyte and Luis Ortiz.
"Mental preparation I think is key now, for a man like myself," he said. "Physically I'm there, so yeah I've got to live the life in fight week, because I've thrown good performances away on fight week by doing stupid things.
I've got to live the life in fight week, because I've thrown good performances away on fight week by doing stupid things.
David Allen
"I'll be home all week, I won't be staying at the hotel. I will do my thing, the professional thing this time, and just go home, eat, sleep, and rest, because if I don't beat Lenroy Thomas, there is no more big fight week."
And the Doncaster man hopes that Hearn will be offering him another high profile fight after he becomes Commonwealth champion.
"My message to Eddie Hearn is, 'when I beat Lenroy Thomas in fantastic fashion, which I will do, we're going to have to sit down and make big plans.'
"After this fight, I really see myself as a danger man in the heavyweight division.
"At the minute, I'm just seen as a tough kid, no real skills, out of shape. We'll see what happens on March 3, and me and Eddie will sit down and talk, and we've got a very exciting future together I hope."
Watch Brook vs Rabchenko from Sheffield, live on Saturday, March 3, on Sky Sports Main Event & Action, from 7.30pm.