Jaw surgery puts Ricky Burns' future in doubt following Ray Beltran fight
The career of Ricky Burns hangs in the balance after he underwent jaw surgery following his fight with Ray Beltran.
Last Updated: 08/09/13 11:27am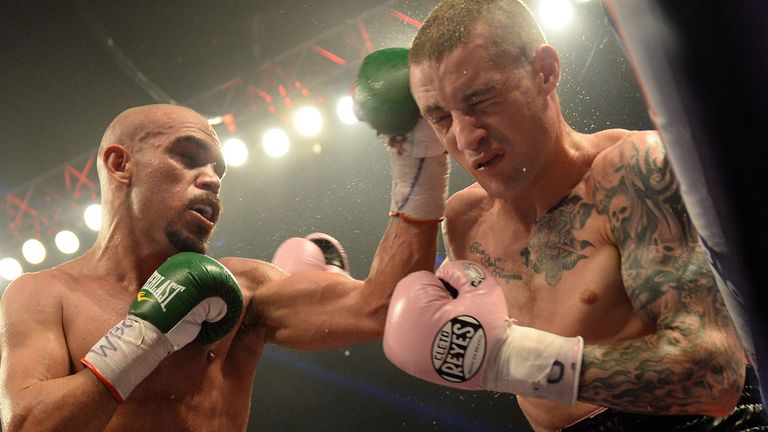 The Scot clung on to his WBO lightweight title despite being forced onto the canvas by the Mexican in the eighth round, but it was a punch in the second round that caused the damage.
Promoter Eddie Hearn was with Burns throughout the night in hospital and revealed on Sunday morning that a titanium plate had been inserted.
"The doctor confirmed he had a clean break in his jaw and was in some pain," Hearn told Sky Sports News.
"Now it's a waiting game. It will be uncomfortable but he's in good hands and we are hoping it will be successful so he can resume his career. I didn't realise the severity of the injury. Beltran told me he could hear Ricky squealing every time they went in for a clinch.
"There's a lot of controversy on the scoring. I appreciate you don't get extra points for being brave but the doctors said they had no idea how he carried on for 10 rounds with a break like that. These boxers show immense bravery and you wonder how he got through one round, let alone 10."
Burns admitted after the fight that his main focus had been to defend his damaged jaw, telling Sky Sports: "I knew it was close. I was trying to stick to my jab but I think he could see that my jaw had gone, he came in with swinging hooks."
A rematch seems possible but the immediate concern for Burns will be his health.
"I can't guarantee it will happen," Hearn added. "But I can't guarantee Ricky will ever box again. It's a major operation. We don't know how he will recover from that and the jaw is an integral part of a boxer's make-up.
Gut feeling
"Right now, my main concern after seeing him in hospital is Ricky Burns' health. His career will come second. My gut feeling is he will come back but it will be some time before he's ready again."
It seemed to many inside the SECC arena in Glasgow on Saturday night that Beltran had won the fight but one judge gave Burns the verdict by 115-112, another gave it to his opponent 115-113 with the third judge scoring it 114 each.
Hearn said: "Beltran probably did enough to win and my gut feeling on the bell was that Beltran got it. Whenever it's close the fighter usually asks you if they got it but Burns was crying with pain and he had no interest in the result. He said all he wanted to do was hang on."
Burns regretted not giving a better performance, saying: "The pain was unbelievable. I'm just so disappointed because it happened so early. I hope we can just get this jaw sorted and me and Raymundo can do it again."
Beltran was upset at the decision and suggested politics was the reason behind it.
The Mexian said: "If I got beat I got beat, I've been getting robbed every time. It is just so frustrating, there is so much sacrifice. We put ourselves on the line. But it is business."
On the prospect of a rematch, Beltran added: "I fight anybody but I want to fight in a fair place, I want to fight in America."