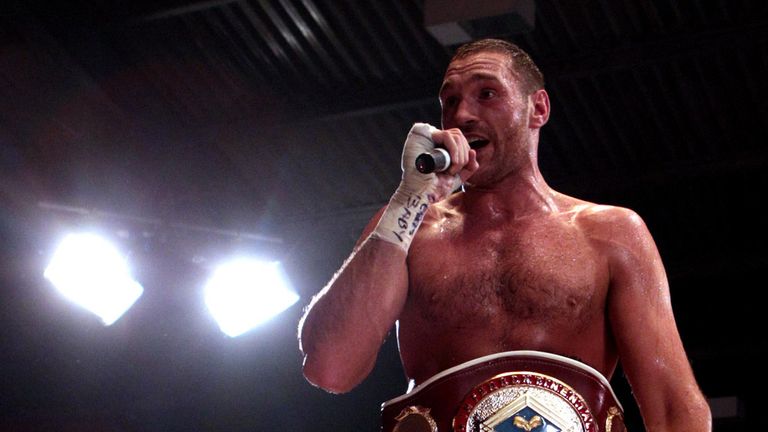 Tyson Fury weighed just a pound when he was born, and, as the story goes, died three times before winning his fight for life. His tenacity earned him the name Tyson - after the undisputed heavyweight champion of the time.
Fury was born to fight. His father 'Gypsy' John was a heavyweight and bare-knuckle fighter, uncle Peter also fought and is now his trainer. Together they shaped their protege and dreamed of one day winning the world title.
The young Tyson - proudly representing the travelling community - soon started to make a name for himself as an amateur and at 18 won a bronze medal at the world junior championships.
However, despite being higher in the rankings Fury lost out to David Price for a place on the Olympic team for Beijing in 2008, Fury complaining of discrimination. He had also represented Ireland at international level, but as far as the Games went it wasn't to be.
So, having just turned 18 with only 35 amateur fights under his belt, Fury joined the paid ranks to much fanfare. And the knockouts, which punctuated his amateur career, kept arriving.
He fought for the English title in only his eight bout, ridiculing John McDermott prior to a highly controversial points victory over the man he labelled 'McMuffin'.
Two fights later and the pair were back at it, only this time Fury - who himself had ballooned in weight - out-lasted McDermott at a boiling Brentwood Leisure Centre, knocking him down three times before it ended in the ninth.
It proved, if little else, that Fury had heart and belief to go along with his undoubted punching power. He would need to show more dedication to the sport though if he wanted to progress to the top.
With his father imprisoned, Fury turned to his uncle Peter and together they started putting the pieces together. Two more wins, on points, followed by a stoppage victory in early 2011 set the 6ft 9in giant on course for a clash with British and Commonwealth champion Dereck Chisora. With both men undefeated, something had to give.
Ironically, it was Chisora who entered the ring out of shape after losing heart with the sport following two cancelled fights with world champion Wladimir Klitschko. Despite giving up eight inches in height, the Londoner weighed-in the heavier man.
And it was Fury's superior fitness that got him through the fight - that and another display of hand speed and ability that had hitherto been overlooked by critics who claimed Fury was winning his fights with sheer brute strength.
With the belts, Fury suddenly had a bargaining chip but, after just one defence of the Commonwealth strap (in which he was dropped for the first time in his career by Neven Pajkic), ditched both belts rather than face former amateur foe Price, who quickly hoovered up the belts and cleaned up the domestic division.
But he couldn't tempt Fury into a fight the whole of the UK wanted to see - the Manchester-based Fury already looking to further his international title ambitions with wins over Americans Vinny Maddalone and Kevin Johnson, the latter earning him ranking points and respect for a more patient approach against a wily veteran.
Fury's willingness to move his career on at a rapid rate saw him next face two-time IBF cruiserweight champion Steve Cunningham in New York, who despite by no means being a big hitter floored his casual opponent with a massive overhand right in the second round.
But the Briton's huge size advantage and ability to get combinations off at close quarters wore on the American before a chopping right hook put Cunningham out for the count. It was a message to the world that Tyson Fury has become a heavyweight to reckon with.