Cricket Expert & Columnist
Michael Atherton: England should play strongest side in search of Windies whitewash
Last Updated: 09/03/17 9:38am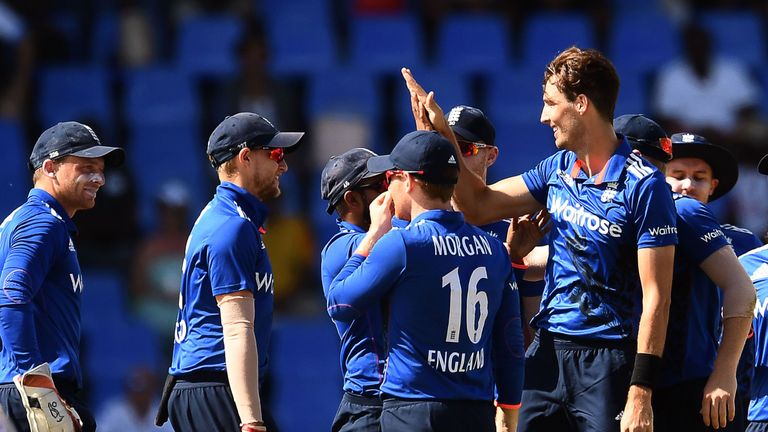 England shouldn't take their foot off the gas despite taking an unassailable 2-0 lead over West Indies with one match to go in the series, says Mike Atherton.
Eoin Morgan's side made it two wins from two in Antigua with a four-wicket success on Sunday after Joe Root (90no) and Chris Woakes (68no) shared an unbroken seventh-wicket stand of 102.
The sides now head to Barbados for Thursday's Sky Live third one-day international and former captain Atherton told Sky Sports that England should go all out for a whitewash.
"Providing everybody is fit, I'd just play the strongest side," he said.
"I know you could argue 'let's give Tom Curran a go' but I don't necessarily believe in just handing out caps for the sake of it.
"I think that if you need to broaden the experience in your squad and develop a bigger squad, there is an argument for it, but I think England have got a big enough squad.
"There are people like Mark Wood and David Willey to come back in if they get fit and people like Steven Finn might not even get in the Champions Trophy squad, so it's not as if they have to give experience to a new player."
Finn (2-38) became the third-fastest bowler to reach 100 ODI wickets - achieving the feat in 67 matches with a strike-rate of 34.48 - only headed by Stuart Broad and Darren Gough (62 matches apiece and strike rates of 30.08 and 33.88 respectively).
"It's a measure of England's strength that Finn may not be a certainty for a Champions Trophy place," reflected Atherton.
"You wouldn't say he's in England's best XI right now, he may not even get in the Champions Trophy squad and yet this is a guy with 100 ODI wickets.
"Finn is up there in terms of his strike-rate. I think he struggles a bit because of the impression he made early on. When he first came into the side, you thought 'this is the next great fast bowler for England.'
"He's had a pretty good career so far but I think sometimes we measure him against those early expectations and it hasn't been a smooth and straightforward journey for him since then.
"I'm not sure if he is necessarily a better bowler than when he started for England, he's more experienced. Has there been an obvious progression? You wouldn't necessarily say so.
"He's gone through issues with his run-up when he kept hitting the stumps and his confidence has come and gone a bit since then, so I wouldn't say he's necessarily a hugely improved bowler from the first model of a bowler we saw."
Woakes was not among the wickets but preceded his unbeaten fifty with economical figures of 0-26 off eight overs and Atherton says his dependability with ball and bat - not least after England lost five wickets for 37 runs - makes him a valuable asset to Morgan.
"He looks to me like the type of cricketer you'd love to have in your team as a captain because you don't have to worry about him," he reflected. "He's the sort of guy who is going to be completely professional, sort himself out, and be very, very consistent.
"There was quite a worrying passage of play watching England bat like that in the middle order because time and time again when the ball starts to grip in the surface and spinners start to bowl in tandem, England struggle.
"They didn't bat particularly well when Bishoo and Nurse were bowling, so they needed that depth after losing four quick wickets for 16. It proved to be crucial."
Watch the third and final ODI between West Indies and England live on Sky Sports 2 from 1pm on Thursday.