IPL: Most sixes? Most runs? Highest score? Here's the key numbers
You just cannot keep Chris Gayle out of the record books...
Last Updated: 21/04/16 4:11pm
Six is often the magic number in the Indian Premier League.
Chris Gayle is the IPL's six machine, bashing 38 maximums last year for Royal Challengers Bangalore as well as holding the records for the most sixes in a single season (59), the most in an innings (17) and the most since the event began in 2008 (230).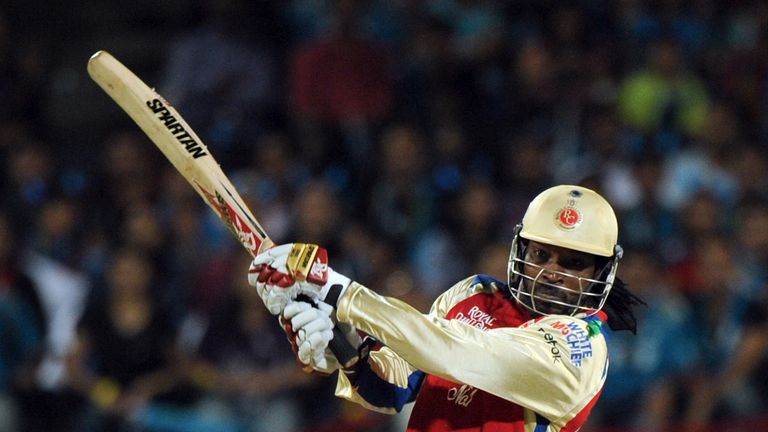 The IPL has produced plenty more interesting numbers, though. Here's the pick of them, in descending order...
1.6million - The amount in pounds Delhi Daredevils paid to acquire Yuvraj Singh in the 2015 IPL auction, making him the most expensive player in the competition's history for the second year running after Royal Challengers Bangalore parted with £1.4million to sign him in 2014.
3,699 - The record number of IPL runs scored by Suresh Raina in his 128 innings for Chennai Super Kings. The India batsman, who will play for newly-formed Gujarat Lions in 2016, has also notched the joint-most IPL scores over fifty (26) along with Kolkata's Gautam Gambhir; played in the most games (132); and taken the most catches (75).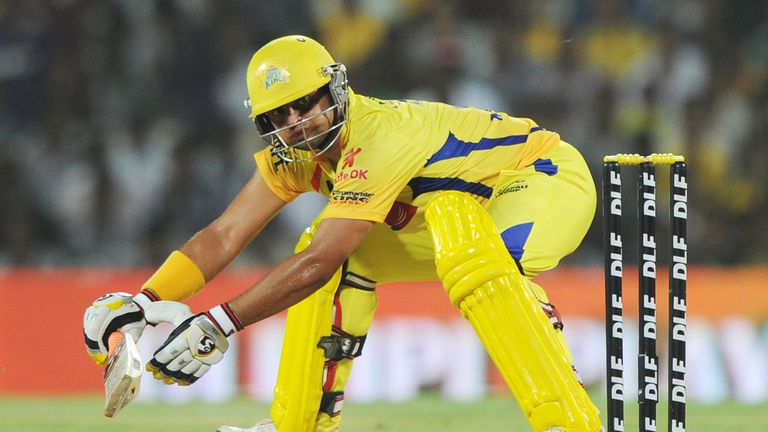 733 - The highest number of runs amassed in a single IPL season, a feat achieved by Michael Hussey in 2013 for Chennai Super Kings and by Chris Gayle in 2012 for Royal Challengers Bangalore. The 700-run mark has only been surpassed on one other occasion, by Gayle in 2013 (708 runs).
263 - The highest team score in IPL history, posted by Royal Challengers Bangalore versus the now-defunct Pune Warriors in March 2013. Gayle's 175no was the highlight as the Warriors attack, including Aaron Finch, whose one over of spin went for 29 runs, were treated with disdain.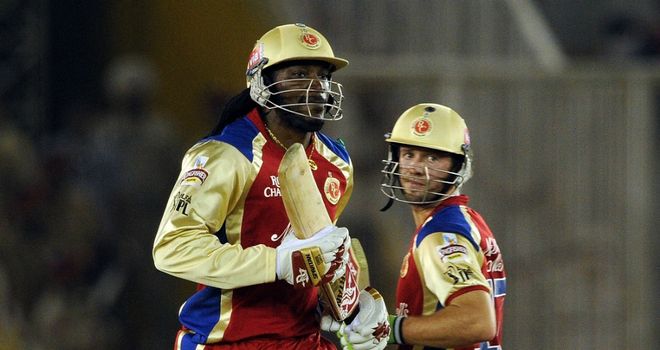 175 - Gayle's knock, which featured 17 sixes, 13 fours and gave him a strike rate of 265.15, is the best-ever in the IPL, trumping the 158 Brendon McCullum hit for Kolkata Knight Riders against Bangalore during the IPL's debut season and the 133 Gayle's Royal Challengers team-mate, AB de Villiers, smote against Mumbai in 2015.
143 - The number of wickets taken by Lasith Malinga for Mumbai. Amit Mishra (111), a nomad who has played for Delhi, Deccan and Sunrisers, has also taken over 100 scalps, with Harbhajan Singh (110), Piyush Chawla (109), and Dwayne Bravo (105) completing the feat in 2015. Vinay Kumar (98), Dale Steyn (92) and Ravichandran Ashwin (90) will hope to follow suit in 2016.
66 - The record amount of runs Ishant Sharma conceded in an IPL innings while playing for Sunrisers Hyderabad against Chennai in 2013. The seamer was walloped by Suresh Raina, Murali Vijay and Mike Hussey as he recorded an economy rate of 16.50 from four overs.
58 - The lowest team score in the IPL, compiled by Rajasthan versus Bangalore in Cape Town in 2009. Tyron Henderson, Ravindra Jadeja and Yusuf Pathan (all 11) top scored, as the Royals' eight other batsmen made single figures and Bangalore spinner Anil Kumble took 5-5 in 3.1 overs.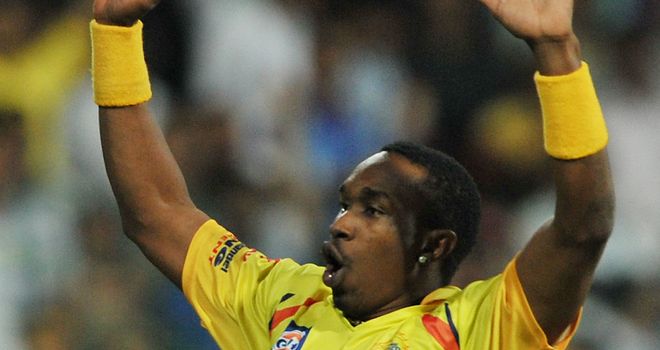 35 - The number of hundreds scored in the IPL. Chris Gayle has drilled five of them, while Adam Gilchrist, Virender Sehwag, AB de Villiers, Brendon McCullum, Murali Vijay, David Warner and Shane Watson have thumped two apiece. McCullum blasted the first, with four being amassed in 2015, by Gayle, Watson, McCullum and De Villiers.
32 - The record number of wickets Dwayne Bravo took in 2013 as Chennai Super Kings made the final. No other bowler has taken more than 30 scalps in a single IPL, though Mumbai's Malinga and Rajasthan's James Faulkner (both 28) came close in 2011 and 2013 respectively, while Bravo took 26 in 2015.
30 - The number of balls it took Gayle to reach three figures in his 175. Gayle's century remains the fastest recorded in all cricket, though De Villiers ran him close in early 2015 when he scored a 31-ball ton for South Africa in an ODI against West Indies in Johannesburg, a game Gayle played in.
15 - The number of deliveries it took Yusuf Pathan to score the quickest IPL fifty for Kolkata Knight Riders against Sunrisers Hyderabad in 2014. The right-hander, who also has a 37-ball IPL hundred to his name, finished with a staggering 72 from 22 balls - after being dropped on nought!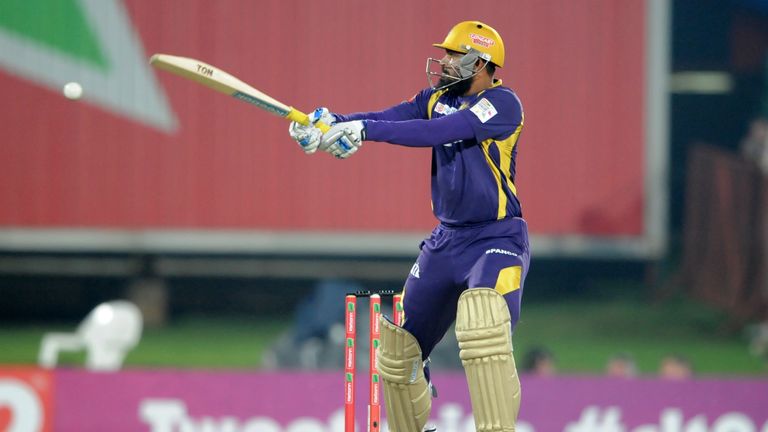 13 - The number of IPL hat-tricks. Spinner Amit Mishra has achieved the feat three times, for Delhi Daredevils in 2008, Deccan Chargers in 2011 and Sunrisers Hyderabad in 2013. Yuvraj Singh, meanwhile, took two hat-tricks for Kings XI in 2009, against Bangalore and Deccan.
10 - The amount of ducks picked up by Gambhir, Piyush Chawla and Harbhajan Singh, though Gambhir can console himself with the fact he has also scored 26 IPL fifties! Amit Mishra and Manish Pandey - the match-winner for Kolkata in the 2014 final against Kings XI with a 50-ball 94 - have notched 10 noughts.
6 - The record number of wickets taken in an innings, by Sohail Tanvir for Rajasthan Royals in 2008. The Pakistan left-armer tore through Chennai's top three, removing Parthiv Patel and Stephen Fleming for ducks, before polishing off the tail to record figures of 6-14 from four overs. Australian James Faulkner, though, is the only bowler with two five-fors.
5 - The number of teams to have won the IPL. Rajasthan took the inaugural crown in 2008, with Deccan earning the spoils a year later. Chennai then claimed back-to-back crowns in 2010 and 2011, while Kolkata won in 2012 and 2014 and Mumbai Indians prevailed in 2013 as well as last year, beating Chennai on both occasions.
Watch each and every match in the 2016 IPL live on Sky Sports, starting with the opener between reigning champions Mumbai and Indians and the MS Dhoni-captained Rising Pune Supergiants, from 3pm, Saturday, Sky Sports 3.