Bumble's blog: Making more of YB40 and preparing for Caribbean cruise
Tickets for a fiver? Happy hours? Bumble debates how to get bums on seats at YB40 games...
Last Updated: 13/09/13 1:53pm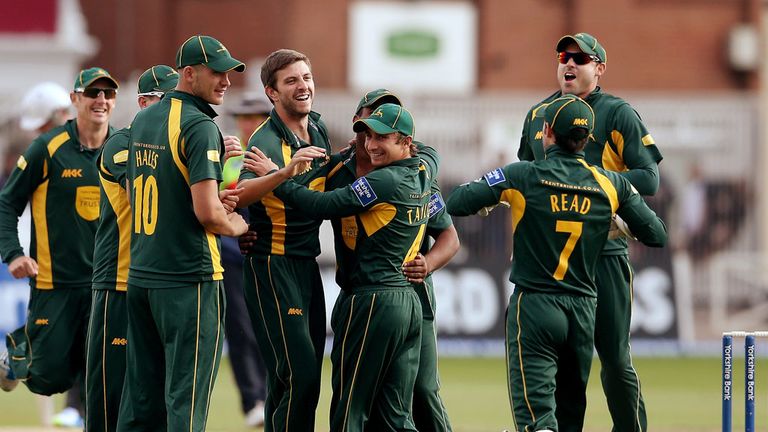 However, I've received some rather colourful texts from a Mr N. Hussain, who has been rather unsympathetic towards my plight.
I shan't reveal what he's been saying. This is a family blog.
It's been really disappointing to have two of the ODIs rained off. I hope we get some weather for the final two because I bet the likes of Chris Jordan and Michael Carberry are itching to have a go.
Of course, when this happens everyone suddenly complains about the schedule, but I can think of many times in September when it's been absolutely gorgeous. I've gone on holiday at this time of year and it's been great.
Remember, when we have early starts in April you always get people asking why we don't extend into September! You can't please everybody.
Quality over quantity?
The weather won't have helped the crowds for the YB40 semi-finals, which were quite small.
So as I said on Twitter this week, if this is perceived as the weaker competition then why not charge less? How about a fiver in? And if people are complaining it's too expensive once you're in the grounds then why not have a happy hour - or two?
The IPL is often very cheap and they put bums on seats. Let's get people through the door to have some fun at these 40-over games. A lot of people are complaining about the cost on Twitter and the clubs shouldn't take the public for fools.
I did a gentle survey on Twitter about the domestic one-day tournaments and hundreds of people came up with answers - but they're all different.
There's not one definitive solution. Some people think the format is marvellous and others say it's rubbish.
One thing I always liked was playing in a straight knock-out cup competition. In my playing days we had the Gillette Cup with the minor counties involved and they'd give you a scare every now and again. There'd be a build-up of interest from the quarter-finals through to the final.
I wonder if from a spectator viewpoint the modern-day competitions are a bit manufactured with all these matches, top teams going through, best runners-up and all of that. It's not very simple to understand, but in a straight knock-out cup you win or you're out. That's it.
I know exactly why they don't do it and that's because the counties want as many games as possible. Let's be clear, people often say there's too much cricket and blame the ECB - but the ECB is made of counties. And they want the revenue.
I've always said there should be quality over quantity. As I'm a racing fan I'll give you an analogy; you can ask a horse to run every day and it will happily do so. It'll be keen to run all the time.
But it won't win.
Ashar's a star
As mentioned in last week's blog, as President of Accrington CC I promised the players we'd have a BBQ if they won the Lancashire League - and we had a lovely time.
And it's lovely to see the professional, Ashar Zaidi, at this moment playing for the Sussex first team as a non-contract player. He's gone in at number eight and will bowl left-arm spin - but he's actually a batter who bowls. In fact, he just broke the Accrington batting record, which has stood for 54 years.
Hats off to Sussex for taking him because he's the wrong side of 30, but he's a fabulous player who has dedicated himself to his dream of playing first-class cricket. He's played for us for three years, but has also played for anybody else that would have him in that time.
I'm sure he plays cricket through the night because he carts his kit round and plays whenever he can. His dedication is 11/10, he's a terrific bloke and I reckon someone could get a good three years out of him. He's a cut above.
Of course, he didn't come to the BBQ. He was too busy playing for somebody else!
Ship ahoy!
Finally, I've been invited to host a Caribbean cruise.
After the Ashes, there are three one-dayers and three Twenty20 games out in the Caribbean and ITC Sports have asked me to host a cruise around the venues on a very swish boat called the Sea Dream. We're going to have some fun!
I'm absolutely thrilled and I've been brushing up on all my nautical terms. I've not got much experience of boats, but I plan to assist the driver. Left hand down a bit, right hand down a bit... it can't be that hard.
I'm also desperately seeking a parrot. Has anybody got one they can lend me for a couple of weeks? Preferably one that talks: "Pieces of eight" and all that...
And I hope I don't run into my mate in his pedalo while I'm out there!