Lizzie Armitstead blog: We were racing in open traffic and I was genuinely concerned for my safety
In the latest instalment of her blog, Lizzie Armitstead discusses the lack of safety at a recent race.
Last Updated: 20/09/13 5:05pm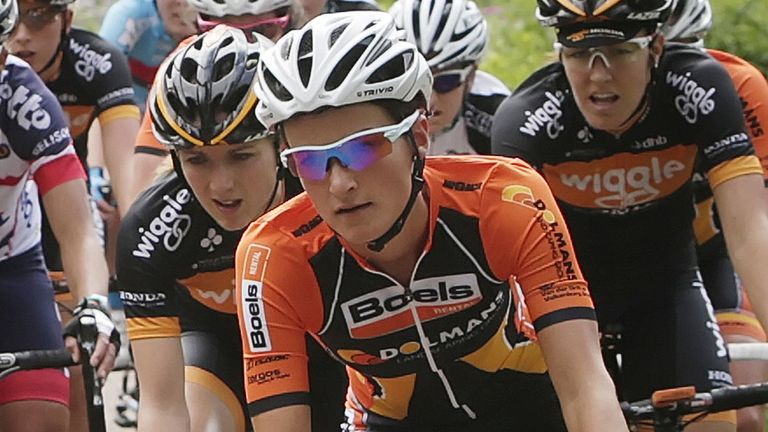 For those who are unaware, over half of the field refused to start the last of four stages of the Giro della Toscana in Italy in protest, principally at the fact that the roads we were racing on were not closed off to traffic, but also at a lack of policing on the course.
This race has got a long history, so it is always difficult to criticise an organiser that has been putting on a race for years and years, but at the same time there was a protest in 2005 for the same reasons, and nothing has changed.
At the end of the day, safety has to come first and we were racing in open traffic, which is obviously not acceptable. We had cars coming towards us in the middle of the race and there was just not enough police coverage.
I was genuinely frightened. In a race, you want to be able to commit to it. If you are going to attack, you want to be able to fly around a corner and know that there is not going to be a car coming at you, and I just couldn't do that.
It was only a matter of time before a really serious accident happened. Maybe some action would have been taken after that, but personally, I didn't want to wait that long. Our team, Boels - Dolmans, decided to pull out on the last day as a protest, along with many others.
It is all just really disappointing. The UCI categorises races and this was a hors-categorie race, which means it is the highest-category organisation of a race - it has the best hotels, the best organisation etc.
If that has the highest category of race and your wellbeing is a genuine concern, it just leaves you scratching your head. Am I really supposed to race in open traffic ten days before the world championships? It is disheartening.
I don't want to die
I am happy that most teams pulled out, but I am baffled by the girls who continued. In cycling, races are allocated points, which helps with a team's ranking and means they get invited to extra races. Maybe those girls who carried on were under pressure from their team managers or maybe they just wanted an easy result, but to me, there are more important things than cycling. I don't want to die for an easy win.
The sad thing is, this is not the first time I have experienced something like this. Earlier in the season there was the Tour of Languedoc, which is a stage race in France, and we arrived and had no information of the next hotel we were going to be staying in, there was no guarantee of police on the circuit and the race was delayed by a day.
Some teams decided to continue without their safety being guaranteed, but our team, again, tried to make a statement and didn't race.
I think our latest protest had a small effect, but we have had - as far as I am aware - no comeback from the UCI, no apology or promise that things will get better. But from a personal point of view, I am just happy to be safe.
UCI not bothered
What I wouldn't want is for women's cycling to be judged purely by this event. There are good races and this was an unusual thing to be faced with. There are plenty of races where I feel safe and comfortable, and I am happy for those organisers to continue to put races on.
The reaction from the UCI, on the other hand - or lack of - is not unusual. I know there is a presidential election coming up and I haven't read Pat McQuaid or Brian Cookson's manifestos for the election, so I am hopeful that things might change, but right now, they could do a lot more for women's cycling.
On a cheerier note, I am really looking forward to the worlds. I am racing in the team time trial on Sunday and then the road race the following weekend and am aiming for good results in both.
Hopefully I will perform well and have more positive things to write about in my next post!