Lewis Hamilton 'not fussed' about qualifying second in Russia
World champion confident he can make another flying start in Sochi
By Mike Wise in Sochi
Last Updated: 11/10/15 7:08am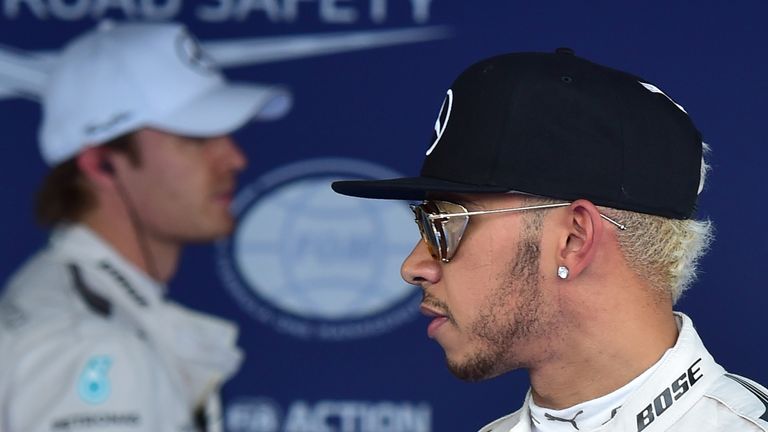 Lewis Hamilton says he's "not fussed" at being outqualified by Nico Rosberg for the second time in as many races as he hopes to get past his Mercedes team-mate once again at the start of the Russian GP.
As was the case at Suzuka a fortnight ago, it was Rosberg who held sway on Saturday, with the German claiming his third pole of the season. Yet he failed to capitalise in Japan, where Hamilton outmuscled his title rival on his way to a victory that extended his championship lead to 48 points.
Twelve months ago, it was Rosberg who made the better start from second on the grid in Sochi. But after accelerating past Hamilton on the long run to Turn Two - the second corner but the first for which cars brake - he locked up and was forced to pit.
It was a mistake Hamilton was quick to bring up after qualifying. "This is not such a bad race for P2," he said, shooting a glance at Rosberg - and the defending champion later played down the importance of P1 on the site of the 2014 Winter Olympic Park.
"I'm not really looking for it. What was it, 12 poles I've had this year? It's been pretty good. Suzuka felt pretty good because I was up on that next lap," he said.
"I would say definitely 13 out of those 15 [races] I've definitely had the pace and the other two not so much. I'm not so fussed about it."
Even so, with practice running this weekend limited as it was in Japan, Hamilton admitted that his car's set up isn't perfect. "At Suzuka, the balance we arrived at by qualifying was very good and it boded well for the race," he said. "Today, again, Nico mentioned that we had to guess going into qualifying, we did and it didn't feel optimal.
"I don't know how that'll be for tomorrow; I assume it won't be optimal. Again, everyone's in a similar position. I think Nico was a bit more comfortable in his car today and did a great job.
"But we'll see how the race goes tomorrow."
At one kilometre, the run to Turn Two is the longest run from the grid on the calendar. But even if Rosberg manages to stay in front this time, Hamilton reckons he might have something up his sleeve.
"It's very hard to follow here, so I think Turn Two is an opportunity for everyone," he said. "It's a long old straight, which is good, but also down into [Turn] 13.
"Nice long straights that enable people to get close. So I'm hoping that tomorrow it bodes well for racing. There are areas I need to look into this evening and tomorrow morning to see if I can capitalise."
On the challenge posed by the start at Sochi Autodrom, he added: "It's probably a little more difficult because you arrive at a higher speed than you do perhaps at other tracks. There are other tracks where we experience that, but I think this is the longest."
After his lock up last year, Rosberg went on to complete 52 of the race's 53 laps on one set of tyres - something which influenced Pirelli to bring softer compounds this time.
Many drivers struggled to get their tyres up to temperature on Saturday, suggesting another one-stop race. Even so, Mercedes team boss Toto Wolff admitted afterwards he was concerned about tyre wear on the long runs.
"We don't know how long the tyres last, we don't know what kind of strategy it is going to be," Hamilton added. "I can't imagine it is going to be the most exciting that is for sure."
Mercedes sealed the 2014 constructors' title in Russia and can do the same this year provided they outscore Ferrari by three points.
And it sounds as though the team have come ready to celebrate. "The t-shirts are upstairs," Wolff said. "We can pretend tomorrow that we haven't printed them and then suddenly everybody wears one.
"It's not a good omen to talk about t-shirts the day before a race, but eventually - hopefully - we are going to wear them."
Don't miss Sky Sports F1's live weekend-long coverage of the 2015 Russian Grand Prix. Our race-day show begins at 10.30am on Sunday, with lights out at 12 noon. Watch the Russian GP for £6.99 with NOW TV