Lewis Hamilton commiserates with Nico Rosberg after team-mate's Russian GP pain
"Nico's been incredibly unfortunate," concedes Hamilton after team-mate's title challenge all-but ended by throttle failure in Sochi
By James Galloway and Mike Wise in Sochi
Last Updated: 11/10/15 6:11pm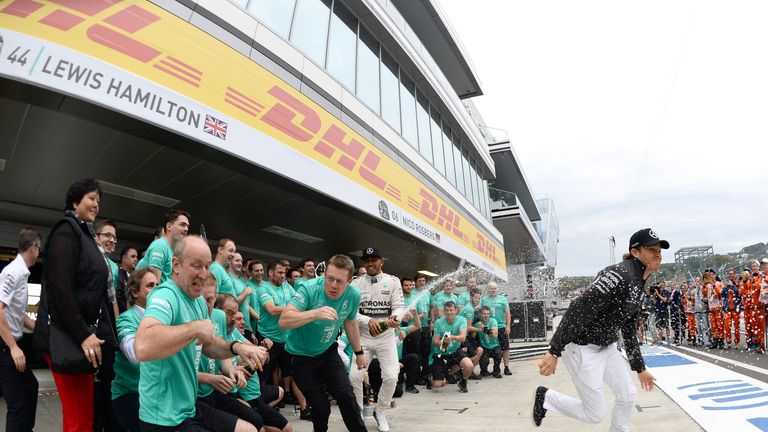 Lewis Hamilton has expressed sympathy for Nico Rosberg after his team-mate's hopes of winning the Russian Grand Prix - and keeping his title hopes alive - were scuppered by a mechanical failure.
Rosberg had led the early stages of Sunday's Sochi race from pole but his Mercedes car soon developed a problem with its throttle pedal which made navigating the twisty circuit, and slowing down for corners, increasingly difficult.
The problem led to Rosberg making a mistake at the start of lap seven when he ran wide, allowing Hamilton through, and within two laps he was headed for retirement in the pits. The Briton's subsequent victory means his points advantage over his team-mate has grown to 75 with just 100 left to play for.
Hamilton could wrap up this year's Drivers' Championship if he wins the United States GP in two weeks' time.
Rosberg has now twice dropped out of races this season for mechanical reasons - one more occasion than his team-mate - and a conciliatory Hamilton said afterwards: "Reliability is something that we've focused on a huge amount over the last year and a half and for whatever reason, the team...we are struggling or having a little bit more problems with it.
"Nico's been incredibly unfortunate to suffer the worst [of it]. I know that they'll be working as hard as they can to rectify it."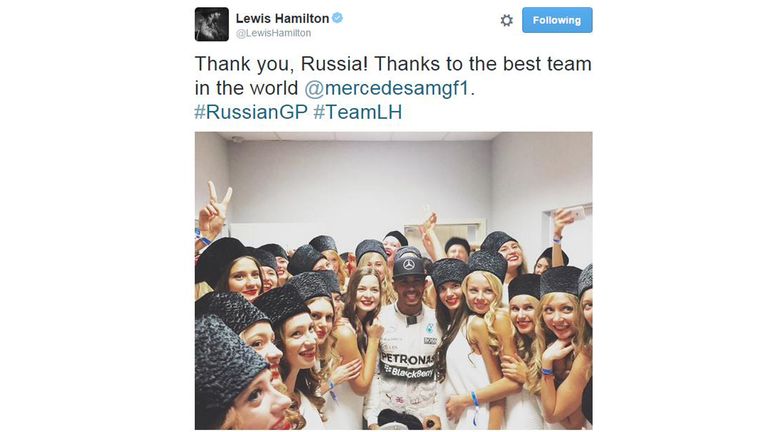 Mercedes recorded 11 consecutive two-car finishes at the start of the year, but have now suffered technical failures with one of their cars in three of the last four races.
Despite Hamilton's victory still ultimately being enough to clinch Mercedes their second successive Constructors' Championship, team boss Toto Wolff was left with mixed emotions post-race.
"It was a problem with the throttle mechanism that we need to analyse," said Wolff. "I'm gutted for him [Rosberg], but he's going to recover. And for Lewis I'm happy, he extended his lead in the championship and drove a great race as well," Wolff told reporters.
"The failure we had today was just a freak failure, but definitely if you push the limits of the performance of the car you're just finding out where the limits are."
Once Rosberg's race was over, Hamilton enjoyed what appeared a relatively serene run to his ninth victory of the year as he moved to the brink of his own back-to-back world title success. However, speaking to Sky Sports F1 afterwards, Hamilton revealed how his rear wing had suddenly started to stall in the closing stages.
"It was a little bit of a concern at the end, the rear was getting a little loose and I was trying to stay off the kerbs and not damage the car," he said. "Even though you are out front it is still a hard race. Staying focussed, staying in the zone, there are so many opportunities to make a mistake. With a one-stop you have to make sure you don't lock-up.
"They have so many switches for me to change and every time Sebastian [Vettel] upped the pace I had to make sure I could respond to that. I felt like it was a massive challenge throughout the race."
Hamilton, whose 42nd career win draws him alongside Vettel and ahead of childhood hero Ayrton Senna in the all-time standings, admitted he is trying his best to cherish Mercedes' current level of superiority in F1.
"Those last five laps just really taking it in, looking at the car, obviously driving the laps, but really just absorbing [everything]," the world champion added.
"I don't know how many times I'll be in that position so I really cherished the moment and feel really blessed. I love driving this car and love where we are at the moment."