F1 in 2016: What's the pecking order for the new Formula 1 season?
Conclusions from eight days of pre-season testing in Barcelona
By Pete Gill
Last Updated: 05/03/16 10:47am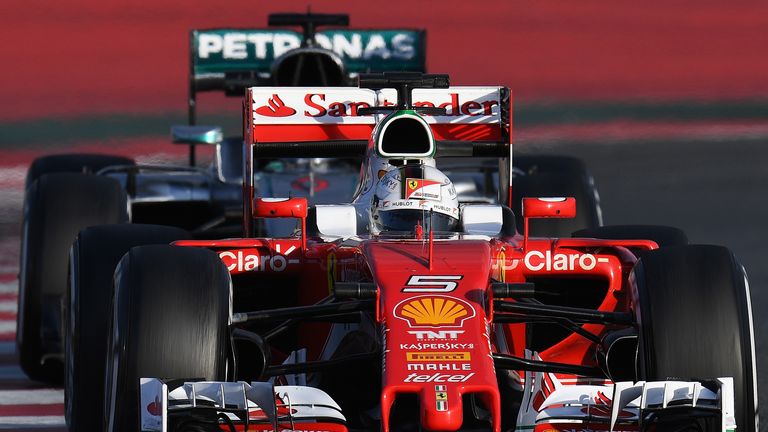 It could be very close between Ferrari and Mercedes
Winter timesheets are notoriously misleading and the warning to anyone basing their 2016 predictions on Ferrari's Kimi Raikkonen and Sebastian Vettel setting the two fastest laps in Barcelona is that Mercedes deliberately shunned setting quick times. 
Focusing on long runs, the world champions didn't use the ultrasoft or supersoft tyres at any stage this winter, depriving us of a like-for-like comparison.
But both teams did run the medium and soft compounds and, with all the usual caveats about not knowing fuel levels and car settings, their comparative lap times on those tyres make for interesting and - for those of us seeking a close battle at the sharp end - encouraging reading.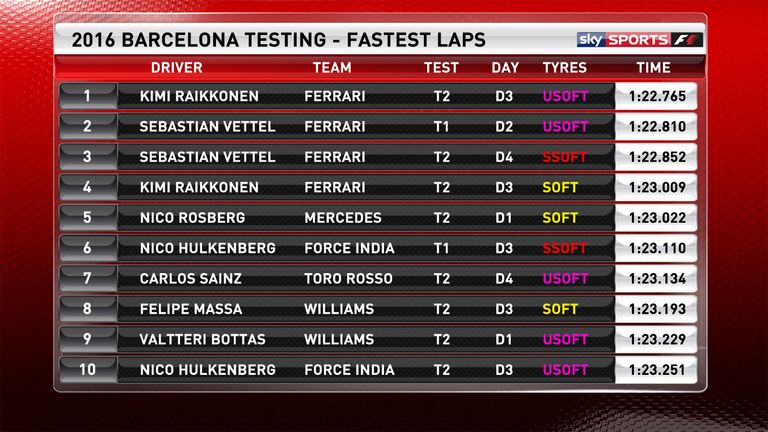 Mercedes' best time on softs was a lap of 1:23.022 by Nico Rosberg. Lewis Hamilton, curiously, failed to get within half a second of his team-mate's effort on the same rubber - although he was just as quick on the mediums. "I pushed the car here and there but Australia is when l will really get to open it up," said the world champion.
But of even greater interest was the lap set on Thursday by Raikkonen, also on the softs, of 1:23.009. Not only was it was a tenth up Vettel's best but it was fractionally quicker than Rosberg's for Mercedes.
That points to two things. First, Raikkonen may have his mojo back with the push-rod SF16-H. Second, Ferrari and Mercedes could be very close indeed. 
"We know it is close, but we are not sure if we are ahead or behind," said Rosberg at testing's conclusion.
The mitigation remains that Mercedes were focused on stamina rather than speed. For Ferrari, whose 2015 weakness in qualifying consistently exceeded half a second, the opposite was true. Mercedes were also significantly quicker on the mediums - Rosberg and Hamilton's laps of 1:24.126 and 1:24.133 were half a second up on Ferrari's fastest with Vettel registering a personal best of 1:24.611 and Raikkonen 1:24.770.
Yet the Scuderia will be heartened by their performance in Barcelona. Conceptually, the SF16-H is a radical, even revolutionary, upgrade on last year's. Even when still at the foot of its development curve, it looks up for a fight.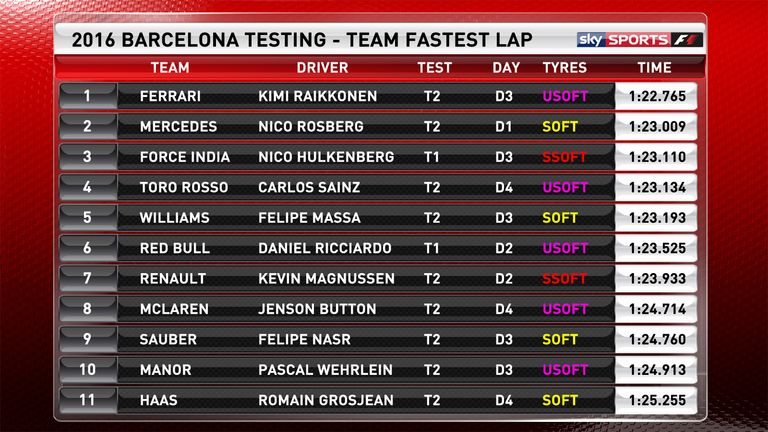 A packed upper midfield
After flying under the radar through the opening six days of pre-season testing, Williams suddenly emerged on Thursday as potential frontrunners when Felipe Massa delivered a lap of 1:23.193 on the softs - just a tenth or so down on the best of Ferrari and Mercedes.
Could they be in the mix? Maybe. But in general Williams appeared to be around half a second shy of the pacesetters - they only managed a best of 1:24.989 on the mediums - and Massa's lap on the softs was faster than team-mate Valtteri Bottas managed on the supersofts.
A very close fight with Force India to be the best of the rest looks more likely: less than a tenth separated the two teams on supersofts and ultrasofts. "We are as prepared as we could be," concluded an optimistic Nico Hulkenberg after only finishing behind Raikkonen, Vettel and Rosberg in the timesheets.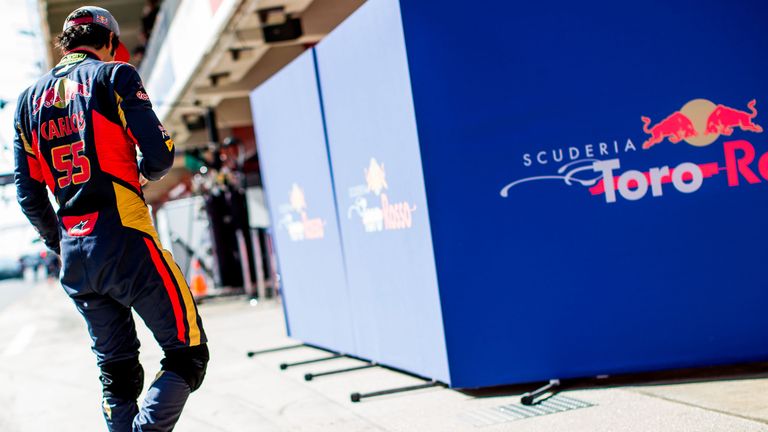 Toro Rosso could start ahead of Big Brother
Christian Horner's claim Toro Rosso's switch from Renault power to a year-old Ferrari engine is worth eight tenths per lap has been played down by Red Bull's junior outfit.
But the prospect of Big Brother being beaten by Toro Rosso is a real one - especially at the start of the season when Red Bull will be awaiting further updates for their Tag Heuer-branded Renault engines and the lack of development on Toro Rosso's 2015-spec Ferrari units begins to bite. "Definitely our advantage should be in the beginning," conceded Max Verstappen.
The STR11 looks a beauty - and quick: the 1:23.134 lap Carlos Sainz threw in on the final day was only four tenths slower than the Ferrari benchmark.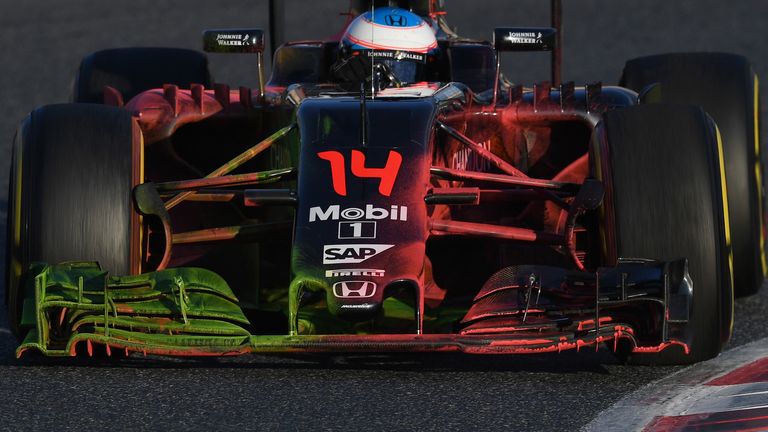 McLaren-Honda have reached the midfield
At long last, McLaren have a solid foundation on which to build. The MP4-31 ran reliably in Barcelona, completing more laps in the second test than the team managed in the entirety of pre-2015 winter testing. Progress, then, but what about pace?
Jenson Button's ultrasofts lap of 1:24.714 put McLaren eighth in the team-by-team charts while Fernando Alonso's softs-shod 1:24.735 was, tyre corrected, faster than anything Renault produced. But McLaren still appear two seconds shy of Mercedes and Ferrari. "The step forward in reliability at least is huge," concluded Alonso pointedly.
The car itself is sound - in the twisty, tricky final sector at the Circuit de Catalunya, the MP4-31 was a match for the W07. On the straights, however, the new Honda engine appears conspicuously short of power. Alonso was nearly 20kmh down on the fastest Mercedes-powered car through the speed traps even when running the softer compounds. "At least this year we are with a better base but performance-wise there is still a lot to unlock," concluded the Spaniard. 
McLaren have reached the midfield - but, for now, only the midfield.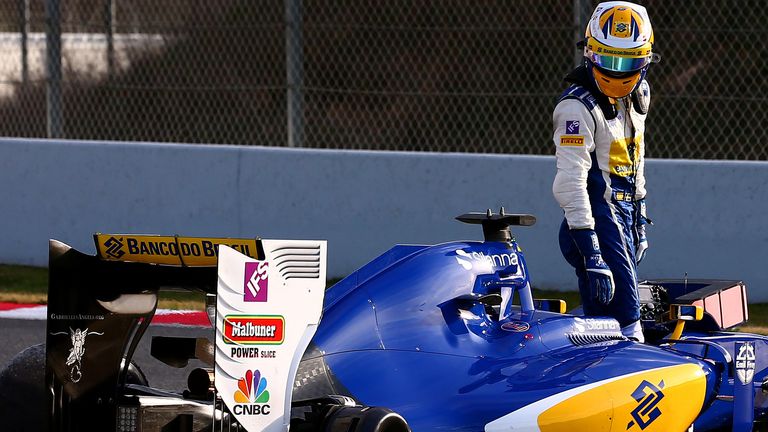 Haas, Sauber and Manor at the back
After impressing throughout the first test, newcomers Haas suffered what ought to be now known as the Difficult Second Test on week two. After a turbo failure resulted in the team sitting out a full day's running, a brake-by-wire malfunction saw Romain Grosjean beach the VF-16 on two separate occasions on Thursday. Even with the hands-on support of Ferrari, teething problems for the debutants were inevitable. But they will arrive in Melbourne desperately short of track time and in danger of starting out their F1 tenure from the bottom rung.
If the winter timesheets are any guide, it will be mighty close. Tyre corrected, Grosjean's test best lap of 1:25.255 would put the newcomers only a tenth or two ahead of Manor and the 1:24.913 recorded on ultrasofts by Pascal Wehrlein. 
Fears that Sauber, so long the paradigm for independent outfits, could be rock bottom in 2016 after the late launch of their new car were partially assuaged by the 1:24.760 Felipe Nasr put in on the penultimate day during a qualifying simulation. But with little further development expected in the short term for the C35, Sauber will be first in Haas' sights when the season starts.
At both ends of the grid, it looks it could be very tight. 
So what do you think the pecking order is ahead of the season start in Australia? Have your say in the comment section below. The first race of the 2016 F1 season, the Australian GP, is exclusively live on Sky Sports F1. The race in Melbourne starts at 5am on Sunday March 20.