Valtteri Bottas ready for 'difficult year' against Lewis Hamilton at Mercedes
Finn admits he has 'a lot of things to prove' to earn long-term seat
By Jonathan Green
Last Updated: 30/03/17 1:27pm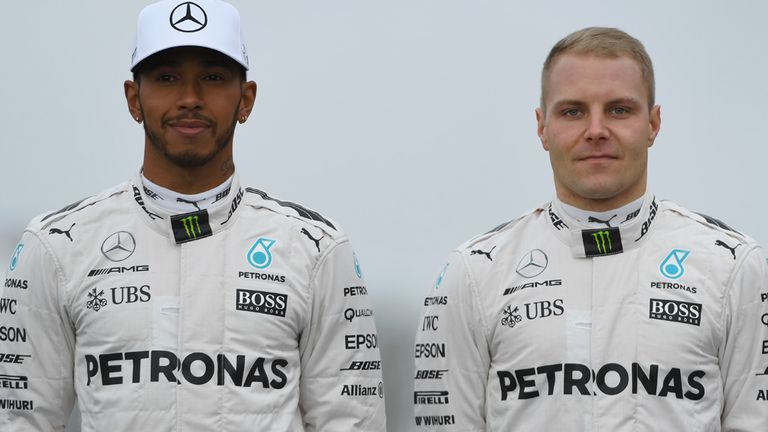 Valtteri Bottas admits he faces a "difficult year" as Lewis Hamilton's team-mate but is ready for the challenge facing him at Mercedes.
Bottas replaces Nico Rosberg at Mercedes in 2017 following the German's shock decision to retire from Formula 1 just five days after winning last year's drivers' title.
Bottas has yet to win in his 77 grands prix starts, finishing on the podium nine times, while Hamilton has won 53 of his 188 races and is a three-time world champion.
However, the Finn set Mercedes' fastest time of winter testing - a 1:19.310 in Test Two - and insists he can challenge for regular wins ahead of this weekend's season-opener in Australia.
"It's going to be a difficult year against Lewis," Bottas told The Times. "He's a great driver and a champion and I haven't won a race so in theory the odds are for him. But I know what I'm capable of in a winning car."
Former Williams driver Bottas has signed a one-year contract with Mercedes and team boss Toto Wolff told Sky Sports in January that the Brackley outfit were keeping their "options open" for 2018.
Multiple world champions Sebastian Vettel and Fernando Alonso are both out of contract at the end of the season while Mercedes junior drivers Esteban Ocon and Pascal Wehrlein are continuing their development at Force India and Sauber respectively.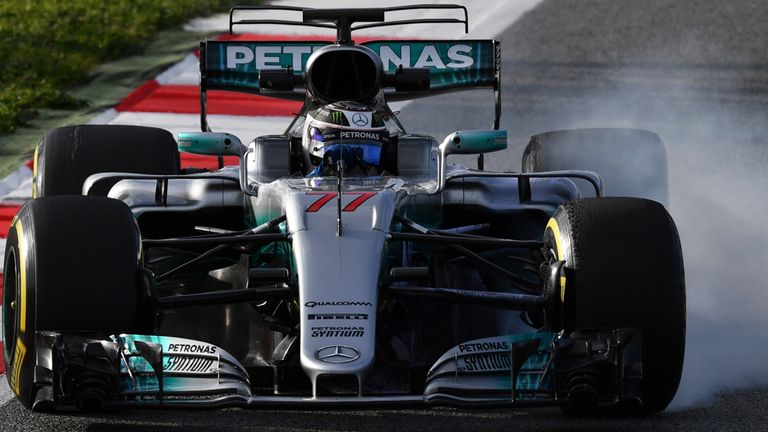 Now in a championship-contending car, the success of Bottas' season is likely to be judged on his results against Hamilton and the 27-year-old is determined to seize his chance.
"I know this is a special opportunity and I have a lot of things to prove to secure my place for the long term," he added.
"That's how it goes. I'm fine with it. It's a massive opportunity for me this season to prove myself. I'm only here to win. That's the only thing."
Bottas also says his working relationship with Hamilton has so far been constructive.
Hamilton criticised the use of data-sharing last month, claiming it was "unfair" that a team-mate should be able to analyse his braking points and driving line to improve their own performance. The Brit later clarified that his comments were not aimed at Mercedes or Bottas.
Bottas said: "We have both been keen on sharing data. There are no issues with that. We have been very open, both ways. Our meetings have been very productive."
Watch the 2017 F1 season on Sky Sports F1 - and in Ultra HD for the first time! Get Sky F1 for the new season!
Sky customers can now upgrade to Sky Sports and get 12 months for just £18 per month. Upgrade now!