Singapore GP 2017, Qualifying: Sebastian Vettel secures crucial pole with Lewis Hamilton fifth
Vettel smashes track record for Ferrari, Verstappen on front row ahead of Red Bull team-mate Ricciardo; But Hamilton down in fifth and 0.6s off the pace; Both McLarens in top 10
By Matt Morlidge
Last Updated: 30/09/17 8:41am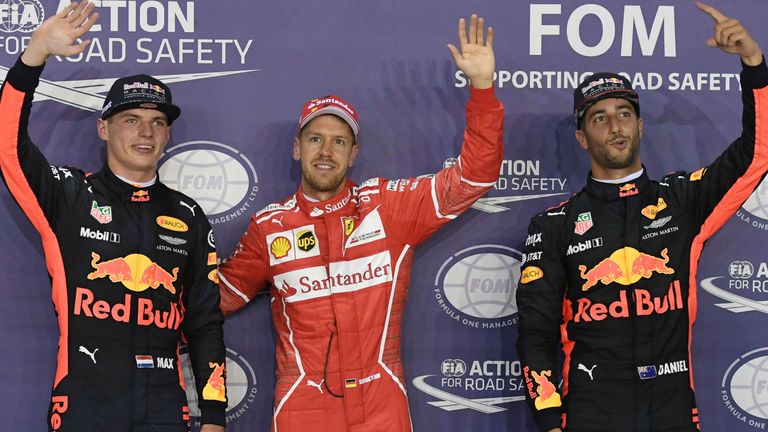 Sebastian Vettel sealed a stunning pole position at the Singapore GP as Ferrari improved at the end of a scintillating qualifying session to hold off Red Bull.
And perhaps crucially, Vettel's title rival and championship leader Lewis Hamilton will start all the way down in fifth as Mercedes continued to struggle under the lights.
Vettel's 1:39.491 smashed the Marina Bay track record and came as a slight surprise, as Max Verstappen and Red Bull had held a comfortable advantage before Q3.
But Verstappen was beaten by three tenths of a second and will start on the front row ahead of team-mate Daniel Ricciardo, with Kimi Raikkonen in the other Ferrari fourth.
"The car was amazing," said an elated and clearly emotional Vettel, a four-time Singapore GP winner. "It's an amazing track when you feel the car was coming together. I knew we had it in us but we had to get there."
"That was one of those mega pole positions you see from a great champion," added Sky F1's Damon Hill.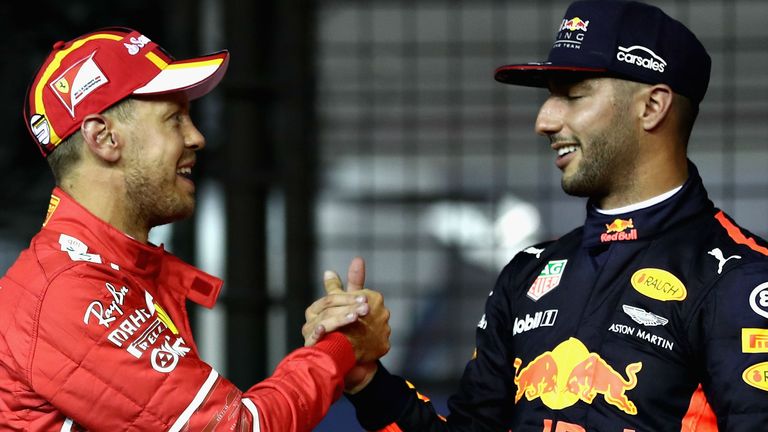 But it was a nightmare session for Mercedes with Hamilton more than half a second off the pace, with Valtteri Bottas even further back in sixth.
Four cars will separate Hamilton from Vettel on the grid in Sunday's race, held at a tight circuit where overtaking is notoriously difficult.
A day after their split from Honda was finally confirmed, McLaren got both cars into Q3 for only the third time this season, with Fernando Alonso eighth and Stoffel Vandoorne a place back.
Nico Hulkenberg was the 'best of the rest' in seventh, continuing his qualifying domination over Jolyon Palmer as his soon-to-be-axed Renault team-mate was knocked out in Q2.
Neither Force India could make it out of Q2 either, while both Williams were knocked out of Q1 for the fourth time in six Grands Prix on a disappointing day for Mercedes power.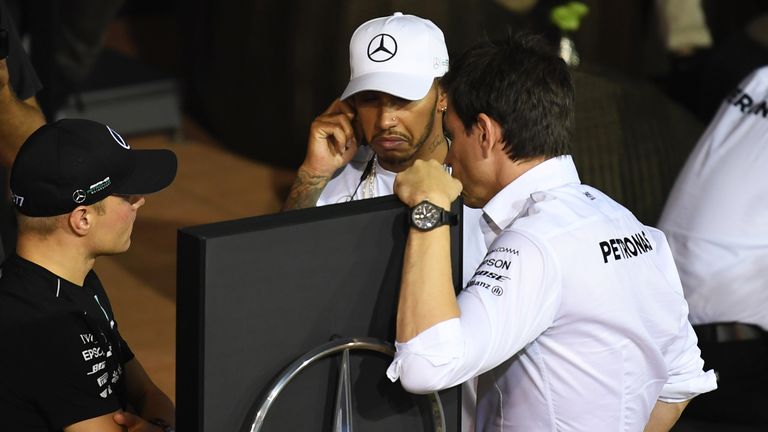 What happened to Mercedes?
Mercedes had acknowledged that Singapore would not suit their W08's package well before Formula 1's premier night race, but a third-row lock-out is a repeat of their qualifying result here in 2015 and their worst performance since then.
While both Verstappen and Ricciardo were ruing their final laps and felt aggrieved not to have grabbed pole, Hamilton was never really in the hunt. And Bottas was well over a second off the pace.
"We knew coming here it would be difficult," said Hamilton. "Every year it's been difficult for us generally. We knew today would be tough but I didn't anticipate Ferrari would be as strong as they were."
"It's what we expected," conceded Silver Arrows chief Toto Wolff. "You always hope for better, but it's probably where realistically we are in Singapore."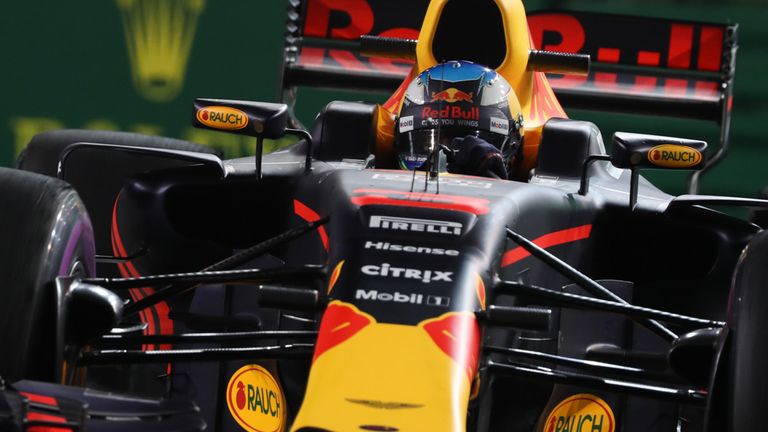 Ferrari v Red Bull on Sunday?
Solace for Red Bull after leading every practice and qualifying session before the end of Q3 was that their race pace looked to be considerably better than Ferrari's on Friday.
But as Verstappen, who was looking to become F1's youngest ever pole-sitter, admitted: "During the race it will be difficult to pass him [Vettel] so we will have to see in the first lap."
Team principal Christian Horner was a little more optimistic, adding that Red Bull have "nothing to lose" behind Vettel, who can claim the lead in the Drivers' Championship once again with victory on Sunday.
"We've been quickest in every session," said Horner. "And then the one that really counts, in those last stages - the drivers extracted everything from the car and we just don't have that last little bit.
"We're happy with a front-row start and third as well. The race pace we had yesterday puts us in good stead for tomorrow.
"If we can get a good start, we can hopefully give them a hard time. We have nothing to lose, Seb has a championship to think about."
Singapore Qualifying Results
| | | |
| --- | --- | --- |
| Driver | Team | Time |
| 1) Sebastian Vettel | Ferrari | 1:39.491 |
| 2) Max Verstappen | Red Bull | +0.323s |
| 3) Daniel Ricciardo | Red Bull | +0.349s |
| 4) Kimi Raikkonen | Ferrari | +0.578s |
| 5) Lewis Hamilton | Mercedes | +0.635s |
| 6) Valtteri Bottas | Mercedes | +1.319s |
| 7) Nico Hulkenberg | Renault | +1.522s |
| 8) Fernando Alonso | McLaren | +1.688s |
| 9) Stoffel Vandoorne | McLaren | +1.907s |
| 10) Carlos Sainz | Toro Rosso | +2.565s |
| Knocked out in Q2 | | |
| 11) Jolyon Palmer | Renault | 1:42.107 |
| 12) Sergio Perez | Force India | 1:42.246 |
| 13) Daniil Kvyat | Toro Rosso | 1:42.338 |
| 14) Esteban Ocon | Force India | 1:42.760 |
| 15) Romain Grosjean | Haas | 1:43.883 |
| Knocked out in Q1 | | |
| 16) Kevin Magnussen | Haas | 1:43.756 |
| 17) Felipe Massa | Williams | 1:44.014 |
| 18) Lance Stroll | Williams | 1:44.728 |
| 19) Pascal Wehrlein | Sauber | 1:45.059 |
| 20) Marcus Ericsson | Sauber | 1:45.570 |