The complicated history of Formula 1's historical facts and stats
By William Esler
Last Updated: 11/04/14 12:47pm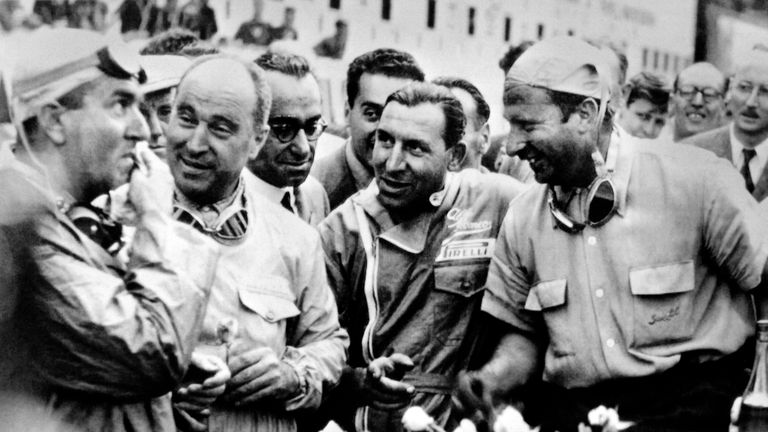 Our goal, which sounded deceptively straightforward!, was to compile the results of every grand prix staged as a round of the World Championship.
However, we soon realised that the task was anything but straightforward.
Was compiling the results of every F1 race of all time a difficult, time-consuming and complicated task? To paraphrase Sebastian Vettel - 'Yes, yes and yes again.'
The further back through F1's history you go, the more complicated race results and points scoring becomes with shared drives, dropped scores and privateers scoring points for constructors at selected races - to name just a few of the problems encountered.
The first major decision to take was how to display the data. For example, take Stirling Moss's victory at Monaco in 1961 driving a Lotus and he duly picked up nine points for the win, with Lotus collecting the constructors' points. However, the Lotus was a privately-entered car by Rob Walker Racing and Moss was not part of the works Team Lotus line-up, therefore displaying Lotus beside his name would not technically be correct, despite Team Lotus taking the constructors' points.
Follow us so far?!
After plenty of head-scratching, we decided the best course would be to display each driver with the name of their entry rather than the make of their chassis. Without doing this, races such as the inaugural Italian GP in 1950 would show nine Maserati cars in the results, despite the works team only fielding two cars. This also made it easier to show that drivers had not moved teams, but simply changed chassis during the season - using Moss as an example again, he drove both a Cooper and a Lotus for Rob Walker Racing in 1960. This also allowed us to display drivers as team-mates even if their team were running two different makes of car - Camoradi International ran Masten Gregory in a Cooper in 1961, but his team-mate in four of those races, Ian Burgess, was driving a Lotus.
Privateers scoring points for constructors' - in some cases meaning the actual works cars points weren't counted - meant calculating points automatically by adding together the scores of the drivers from each team was not an option, leading to some complicated maths of who scored what where. Just to add to the confusion, in 1961 the winning driver scored nine points, yet the winning constructor would only get eight points.
Further points complications included the Indianapolis 500 counting towards the Drivers' Championship, but not the Constructors' Championship, F2 cars being allowed into certain German GP, but not scoring points and second drivers of teams that entered only one car at the start of the season who were ineligible for points, yet the points for their finishing position were not redistributed. This affected Jo Gartner (Osella) and Gerhard Berger (ATS) who finished fifth and sixth at the 1984 Italian Grand Prix, and Yannick Dalmas (Larrousse) who finished fifth at the 1987 Australian Grand Prix.
Shared drives provided another headache with drivers scoring points for both cars, apart from in 1956 and 1957 when only the highest-placed car scored points. The total points scored were then divided equally between the two drivers, no matter how many laps they had completed in the car. The rules were changed again in 1958 when drivers sharing a car scored no points, but the points were not redistributed.
A bonus point was awarded for the fastest lap of the race during the opening ten years of the F1 World Championship, which in itself seems like a simple enough addition and one some would like to see return the current racing. However, at the 1954 British Grand Prix seven drivers recorded the same time at Silverstone meaning each was given a seventh of a point!
Dropped scores were another headache and this was further complicated between 1979 and 1990 when the drivers continued to drop scores, but all scores counted towards the Constructors' Championship, including the dropped scores.
In 1988, for example, Alain Prost scored 105 points to Ayrton Senna's 94, but the Brazilian was World Champion by three points when dropped scores were taken into account. Senna's score became 90 and Prost's 87.
Another issue was which teams to group together and which teams to separate into different entities - even if they were a manufacturer team. Take the Renault team with which Fernando Alonso won the 2005 and 2006 titles - can they really be linked with the Renault team of the 1970s and 1980s, when their history traces back to the Toleman team which raced against the initial Renault outfit? For that reason we have separated Renault's records into Renault 1977-1985 and Renault 2002-2011.
Once all those issues have been solved and decisions taken the data had to be put into spreadsheets so that it could be imported into the website. Each sheet had to be carefully created with the same results in the same column each time otherwise the data would have been corrupted. By the end of the process we had almost started to see every day life in spreadsheet format!
We hope you enjoy your one-stop shop for F1 history and more features will be added to the section over the coming months. As always with such a vast collection of data, there will be anomalies, so if you spot one lets us know by emailing f1feedback@bskyb.com.