Lewis Hamilton Q&A: The Mercedes driver on finishing fourth in the United States GP
New chassis was "a night-and-day difference" says Lewis
By Sky Sports Online
Last Updated: 18/11/13 12:15pm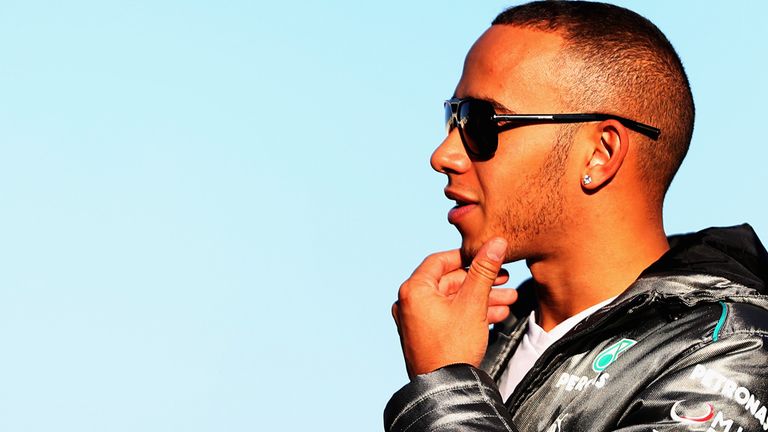 How do you feel at the end of that race?
Lewis Hamilton: "Really happy, really, really happy - I feel like I won the race!"
Why do you feel so happy about the result?
LH: "I got fourth and I went forwards - it's the first time I've gone forward since Hungary!
"It was a good feeling to get a good start, I then had to manage the tyres the way I needed to, the tyres didn't die at the end and if I had lost out to Fernando [Alonso] that would have...I just didn't want to let the team down."
I'm happy with 4th in Austin. There was no way I was letting Fernando past at the end! Now onto Brazil to secure 2nd for the team! #LHF1

- Lewis Hamilton (@LewisHamilton) November 18, 2013
Tyre preservation was critical in what seemed to be quite a defensive race. How did you find it?
LH: "It was definitely tough but it was manageable. I was really just trying to manage the gap to [Nico] Hulkenberg and forgetting about the guys in front. If ever he tried to gain a tenth then on the next lap I had to gain two-tenths. So I was just trying to keep the gap, keeping out of the DRS, and I could see Fernando catching him and then when Fernando got past I knew I had to step it up a notch - which I did. It's just good to have an answer to him. When you see them make that step, it's just good to have an answer to it. So really happy."
One weekend to go. Happy to becoming to the end of the season?
LH: "I'm looking forward to the winter but we still have a job to do [in Brazil] and it will definitely be a good feeling if we finish second [in the Constructors' Championship]. It would be huge for the team. That's what I will be work towards."
How much would second place in the Constructors' Championship mean to Mercedes?
LH: "To be the second-best team over the whole season, leapfrogging McLaren, Ferrari and Lotus, would be huge for the guys back in the factory. It's not like the team is working harder this year than before, it's just that they weren't seeing the results they deserved before. And hopefully this will also help them in the development of the car for next year."
Would there be any kudos for you in finishing third in the Drivers' Championship?
LH: "No."
After a couple of difficult races, did Sunday's race feel like a bit of a breakthrough?
LH: "This weekend? I wouldn't say there wasn't a big breakthrough but the car was massively different this weekend. I'm pretty sure that the damage we had in the last race is really what made our race so bad [Mercedes changed Hamilton's car for Austin after detecting a crack in his previous chassis]. The car was a night and day difference and it was nice to have a better car. We don't have the pace of the Red Bulls and Lotuses but we had pace over all the others."