It's a big year for...Alonso and Raikkonen
Why there can only be one victor at Ferrari during the 2014 season
By Pete Gill
Last Updated: 11/03/14 10:29am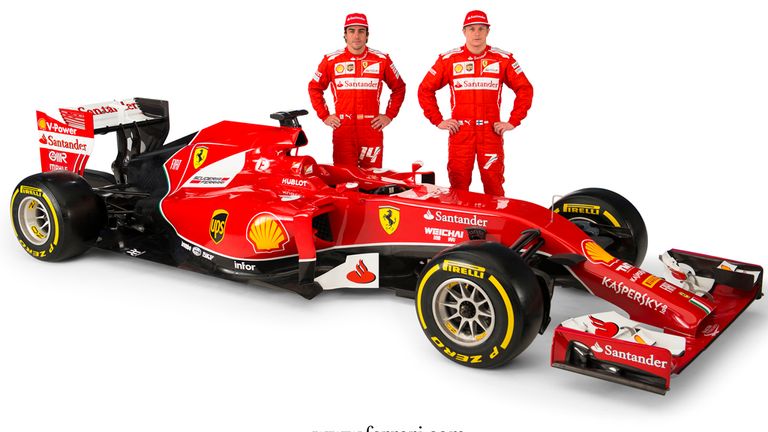 Up for grabs: number one status at the pre-eminent marque in F1, the defeat of another World Championship rival, and the first definitive, single-swooping reshaping of the F1 pecking order at its pinnacle since Lewis Hamilton claimed superstar status alongside Alonso in 2007.
And like all the best duels, there can only be one winner. A reputation-enhancing outcome for both protagonists is, with a stretch of the imagination, conceivable - a tight battle determined by the slenderest of fortunate margins with the victor claiming the 2014 title, and so on - but the best bet is that the year will conclude with definitive evidence that either Fernando or Kimi ought to be ranked over and above the other.
Naturally, the Alonso aficionados are convinced their man will prevail. Likewise, Kimi's army of admirers are adamant the Finn will win out. Most pertinently, there are plenty of seasoned F1 observers who are leaping onto the nearest fence to declare it's too close to call. No wonder: both Kimi and Fernando are of the absolute highest order and their pairing is Ferrari's first all-champion line-up in over 50 years. This is unknown territory for them and us.
What we do know is that Alonso has a couple of critical advantages on his side. He has the high ground of familiarity with his machinery - consider Hamilton's year-long difficulties with the braking system on his Mercedes to appreciate the challenge an incoming driver immediately faces - and surrounds. Yet Ferrari is a known entity to the returning Raikkonen, 'fazed' does not exist in his personal dictionary and the Finn is conveniently familiar with mastering unfamiliar machinery.
It's also eminently arguable the situation will be more familiar to Kimi than it will to Fernando. Having been insulated from the aggravation of internal competition in his previous four years at Ferrari alongside the subservient and dutiful Felipe Massa, the Spaniard is unaccustomed to sharing number one status - and, judging by 2007, the last year in which he experienced the inconveniences and tribulations of equality, shared status is not something he enjoys.
Which leaves all bets off and the stage set with compelling uncertainty. The story will, of course, go flat if the F14 T proves to be a dud - a very real possibility in view of the team's recent travails, but apparently unlikely in view of Ferrari's reasonably encouraging displays in winter testing.
In any case, regardless of the quality of their machinery, the motivation of beating the other will, surely, produce fireworks throughout the year, both on and off the track. "Putting together Alonso and Raikkonen could be dangerous," admitted Ferrari President Luca di Montezemolo in January. Amen to that.
Implosion will be Ferrari's primary fear. Yet after four successive years of Red Bull title doubles, a new partnership - and a new type of partnership - was the logical, essential reaction. Given that the worst possible outcome would be a repeat of what Ferrari have suffered since 2008, when they last won the Constructors' Championship, the team have nothing to lose - or at least nothing more than they have lost for half a decade.
Alonso and Raikkonen, though, have plenty to lose - and plenty to gain, too. Either way, their reputations will never be the same again after 2014.
@SkySportsPete