Sky Sports exclusive: Sam Michael Q&A on McLaren's 2014 driver decision
Sporting Director on why they are replacing Perez with Magnussen
By Sky Sports Online
Last Updated: 18/11/13 4:42pm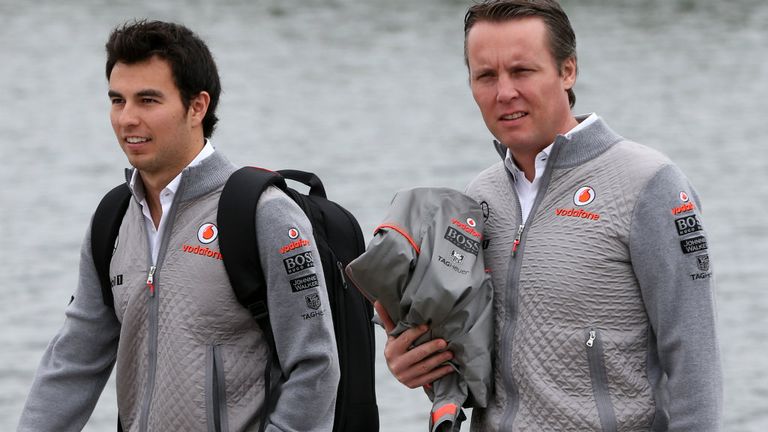 With so many questions swirling as to the reasons for the decision to drop Perez after just one season - and in turn to promote an untried 21-year-old into one of the most habitually coveted seats in F1 - Sky Sports News' Craig Slater caught up with McLaren's Sporting Director Sam Michael to find out more...
Craig Slater: Sergio Perez out, Kevin Magnussen in. Sergio was able to announce his departure on Wednesday and it was a dignified exit. I asked him what reasons was he given by McLaren for being released, he said 'you better ask them'. So were there compelling reasons?
Sam Michael: "They're things that a team makes an assessment of internally. We take all the data we've got from all track running and all the input of the engineering and the systems that we have inside McLaren - every team's the same - then you make the call. It's the same on any decision you take; the same sort of calls are made on all your staff. You are continually assessing how you can add and improve things and drivers are no different.
"So the company took a view that it was time for a change and it doesn't in any way diminish the fact that we have not produced a good enough car this year. They are two separate issues and as a proper engineering-led company you have to be able to separate those two things and make your decisions accordingly.
"Checo's a great guy, he's very much brought into everything we've done at McLaren and we wish him all the very best for the future. The maturity with which he's taking everything on board and getting on with his career is commendable. He's a great young man and he's under pressure now and to respond the way that he has is very pleasing to see. I'm sure that for himself that will put him in very good stead for 2014."
CS: I do have to ask though, the idea was that he was going to be on a multi-year deal, McLaren were going to mould him. There were maybe the options of Nico Hulkenberg and Paul Di Resta. Do you regret hiring Sergio in the first place?
SM: "No, I don't. He's performed for the team and scored points this year and developed as a driver within our system. The other two drivers that you mentioned are the same as any drivers that we could mention in the pitlane: we assess whatever is in front of us.
"We have a very enviable position with young drivers in Kevin Magnussen and Stoffel Vandoorne so we were in such a great position to have that talent available to us. Normally you search for many years to have just one young driver, just as McLaren did with Lewis Hamilton when they brought him in as a rookie. To have two guys of the calibre of Magnussen and Vandoorne in our stable of young drivers is a very nice position to be in and those two drivers themselves are putting themselves on the map.
"Kevin's in front in terms of his development as a career so it was quite a straightforward choice to look to him if we were going to change drivers."
CS: If it doesn't go right with Kevin Magnussen, will you feel you might have missed out on a Hulkenberg - and is this issue about him being too big something which has barred his way into McLaren?
SM: "I think you are putting too much emphasis on Nico himself. To be honest, I rate Nico - I was involved in his lower-category career and the start of his Formula 1 career. He's a great driver, but our focus has been internally with Kevin and that's where we've decided to go next year.
"When you mention football players who are 26 and 27 and are proven quantities, if you actually look at the grid, we already have a World Champion in one of our cars. Then you have the choice of trying to get another World Champion, and that's not possible at the moment, so then you have the choice of going down a route which you think will create another World Champion.
"You have to remember that on all of our Young Driver Programmes, they are there to produce World Champions. They are not there to produce also-rans because, quite frankly, McLaren has the buying ability to go and buy anyone we want on the grid in that situation. So therefore if you look at our programme critically, we believe that Kevin can be a World Champion - the same way that we believe Vandoorne can be and anyone who comes in behind him. If we don't, they don't stay on our programme - it's as brutal as that."