Graeme Lowdon says Monaco points will 'make an enormous difference' to Marussia
Backmarker team hoping to race Sauber on a regular basis
By William Esler
Last Updated: 28/05/14 10:51am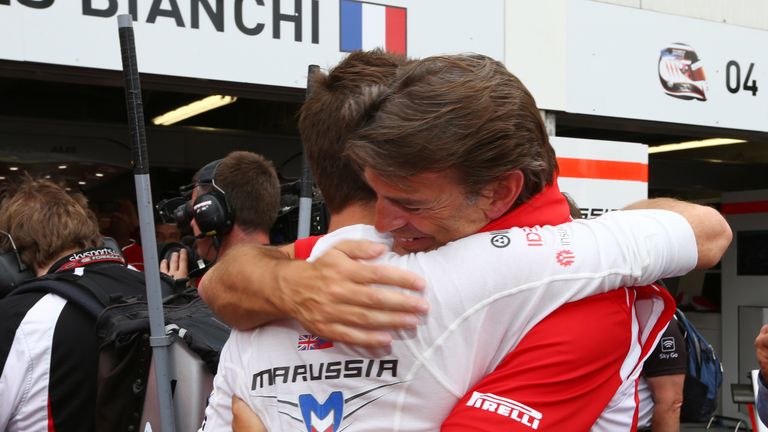 At their 83rd attempt, the minnows finally achieved a top-ten finish with Jules Bianchi's ninth place at the Monaco GP moving them clear of perennial rivals Caterham and above Sauber in the Constructors' Championship.
With only the top-ten constructors' receiving prize money, the two points picked up should be enough to ensure Marussia stay ahead of Caterham - who are yet to score a point in their history - even if they are overhauled by Sauber, who have a much larger budget.
"It does make an enormous difference - I can't go into the details of the price structure because that is rightly confidential between all the teams and the commercial rights holder - but the way it is structured there are enormous step changes that can happen and that can be both beneficial and a threat if you lose a large amount of income," Lowdon, Marussia's Sporting Director, told Sky Sports Online.
"But if you gain it then it is good, but we know only too well that you have to wait for the flag to fall on the final race before you know where you will end up in the championship - we were hopeful of a top-ten finish in 2012 and with a few laps left we missed out. So it can make an enormous difference.
"We are not counting our chickens at all, we know we need to keep pushing hard, but a result like we had in Monaco certainly helps in our objective of finishing in the top ten."
However, don't think that Marussia are necessarily ruling out staying in ninth spot. Sauber's F1 history might date back over 20 years and include a race-winning partnership with BMW, but Lowdon says his team should "keep looking forward".
"If we can free up some resources we have some really good ideas for how to make this car go quicker and if we can do that it would be really great to race Sauber," he said. "They are a fantastic team, I have a huge amount of respect for them; they are a pure racing team and it would be great to race them regularly.
"It is what we are all there for so that would be a really nice thing. But equally we know that it is a very difficult game to develop your car in-season and in particular with very limited resources. We will certainly be pushing hard, but the key objective is to just try and maintain our position in the top ten."
For a team that had never finished higher than 12th and whose drivers finished 18th and 19th and the preceding Spanish GP, the leap to eighth at the chequered flag (ninth after a penalty was applied) was sudden and perhaps skewed by the unique nature of the Monte Carlo track.
Lowdon is realistic enough to admit that Marussia do not have a regular top-ten car in the MR03, but feels they have made major progress.
"I would say we have certainly closed the gap," he said. "I think we made some big steps forward in Barcelona (at the two-day test) - we made some small but important developments all over the car both mechanically and aerodynamically.
"Monaco is quite a unique circuit and I was really quite pleased with the early runs in Practice One on the Thursday because it looked as if we had maintained that speed. But then through a mixture of weather in Practice Two and yellow flags and traffic, we never really showed it so we were a little bit disappointed after qualifying as I thought we had a Q2 car on that circuit. But we just didn't get the rub of the green and the chance to show it.
"Canada is equally as unique a track and we don't have the resources to build a Canada-only car, so I think Canada will be a huge challenge for us. But there are circuits during the rest of the season where hopefully we can try and build on the pace we are finding and it would be great if we could really get in amongst the pack and do a little bit of racing."
Marussia's points joy looked set to turn to heartbreak in the closing stages in Monaco when Bianchi was issued with a second five-second stop/go penalty. The Frenchman had originally been penalised for starting out of position on the grid, but as he served the penalty whilst the Safety Car was deployed, he was given the time sanction for a second time.
Lowdon admits the team are still unclear on what the exact rule is and hope to have it clarified ahead of the Canadian GP.
"We did effectively serve it twice and we will talk to the FIA about it because I think we did stumble across an area where we could interpret the rules in a few different ways," he said.
"Basically, the way we saw it was that there was an incident at the start with the location of Jules, Max [Chilton] and [Esteban] Gutierrez on the grid so there was a five-second stop/go penalty given.
"That is a new penalty for this year and the idea is that that penalty takes place before the guys start work on a pit-stop and if you don't take that pit-stop five seconds gets added to your time at the end of the race.
"But if you do take a pit-stop, the rules say that if you don't actually apply that penalty then you can be excluded. We had our pit-stop window, Max had stopped the lap before and we had to stop Jules on that lap, but the Safety Car came out through an incident that we weren't connected to at all.
"So our view was, 'Do we serve the penalty even though there is a Safety Car and then risk losing time in the pits or do we not serve it and potentially risk exclusion?' It wasn't straightforward and we chose to serve the penalty - we could have raced [Kamui] Kobayashi in the pit-stops if we hadn't served the penalty so it wasn't as if it was done with no effect on us.
"Jules then went back out and we became under investigation again for serving it under the Safety Car and another five-second stop/go was given and as we didn't stop again effectively we served it twice. It is an area where some of the wording can be read in a few different ways so we will clarify it with Charlie [Whiting] ahead of the next race."