Reflecting on Suzuka: Difficult choices for Lotus and Mark Webber
Sky F1's Martin Brundle reviews the Japanese GP and considers the difficult tactical dilemmas Lotus and Mark Webber faced
Last Updated: 15/10/13 12:50pm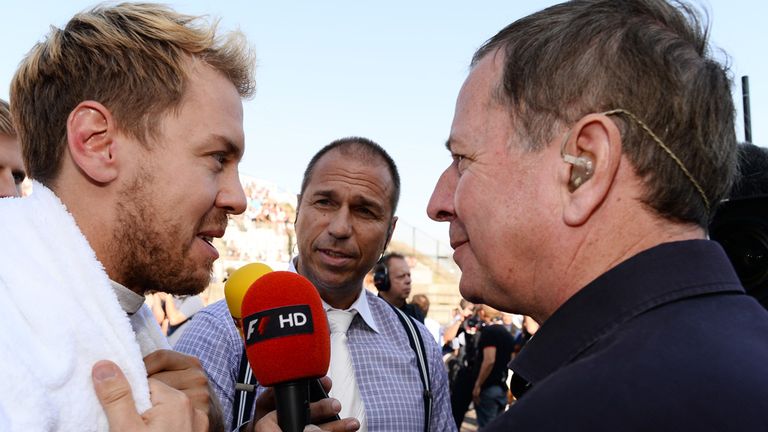 A great qualifying slot in fourth gave him a launch from the less favoured right side of the grid to leapfrog both slow-starting Red Bulls and the subsequently squeezed Lewis Hamilton to take the lead.
Hamilton had lined his Mercedes up pointing down the right hand side of polesitter Mark Webber which limited his options by 50%, and so it proved to be. Webber was almost certain to head right to cover off his team-mate. Nonetheless Lewis was still unlucky to collect an instant puncture.
The regulations dictate that front-wing aero parts have controlled radii and thicknesses so as to minimise this issue but the Pirellis seem prone to cut sidewalls, as Sergio Perez also discovered. However, his puncture occurred in a scrap with Nico Rosberg's Mercedes just before the pitlane entry whereas Hamilton had to complete virtually a whole lap with inevitable bodywork damage, thereby forcing the first retirement of his Mercedes career.
This leaves Max Chilton as the only driver to have finished all 15 races so far this season, a creditable achievement to add to his impressive qualifying effort on this drivers' circuit whilst keeping the car out of the unyielding Suzuka barriers.
One team boss said to me that he felt Lotus had done a poor job of strategically heading off Red Bull to maintain the lead and seal victory, but like them I'm not sure what they could have done any better given they were fighting two faster cars. They must have felt as if they were playing that impromptu gambling game on the pavement where you have to guess which of the three upturned cups contains the ball, especially when Red Bull split their strategies giving Webber the three-stopper because he apparently doesn't caress his Pirellis quite so well.
Had Mark have cleared Grosjean more quickly in the closing stages, and his best chance was when he very first arrived on the Lotus gearbox, then he may have had a shot at Vettel.
Reflecting after the race few felt that in reality he would have had significantly greater speed or tyre life to steal the victory. Privately, Mark was less sure about the three stopper being necessary than the press releases suggest.
Fernando Alonso once again brought the Ferrari home in a reasonable position ensuring that he becomes the highest ever points scorer in F1, for what that's really worth given the scoring system these days. More significantly the team are one race away from matching McLaren's run of 64 consecutive team point-scoring races.
They continue to have the reliability and the drivers are largely staying out of trouble but the car is not fast enough, which Alonso is not shy of saying. James Allison needs to be quickly introducing some Lotus style grip and pace on his arrival and the new Ferrari 2014 'power pack', formerly known as an engine, needs to be very strong because I can't help but feel Alonso is casting his eye around the dance floor for a new partner.
Overall I enjoyed the crazy Korean GP more than Suzuka this year but once again we had to look down the running order for the desperate wheel-to-wheel action. This was typified by the two Williams almost getting together on the final corner while fighting over 16th place. Maldonado was a touch brutal on that one and I suspect the team debrief was pretty icy. It really is super competitive in the midfield and one glitch can mean a no points as Sergio Perez and Daniel Ricciardo found out.
Ricciardo's drive-through penalty was for completing a pass and maintaining position by running off the road in 130R. He couldn't hand the place back because his victim Adrian Sutil pitted immediately after. I thought the penalty was fair enough, with ever increasing run offs and smooth kerbs this has to policed heavily, especially with this most contentious area. It's no different to the ref's whistle in soccer or rugby, it's always open to interpretation and personal viewpoints and experiences. Two of the three were the same stewards for Korea and Japan but we really need consistency over the whole year for the fans, drivers and teams alike.
Charles Pic's drive-through penalty issued pre-race seemed slightly bizarre at first but how else can you penalise cars which are starting at the back anyway? And running a pitlane red light is a serious issue. We also had the situation where Adrian Sutil's five-place grid penalty for changing a crashed gearbox left him behind Van de Garde and Bianchi on the grid, who were given ten place grid penalties earlier. In fact Bianchi's ten-place grid drop saw him actually moving forward one place in the end.
The penalty system is refined again for 2014 with more options including adding time to a race result rather than losing an effectively race destroying 20+ seconds for a drive through.
I hope Vettel sews up the title in India so that we can get the inevitable out of the way and then focus on the various team and driver battles through the field. It would be great to see Mark Webber on the top step before he becomes an F1 'pensioner' too. We are going to miss his open and frank approach - although Red Bull won't.
MB