What we're watching is special but return to America fails to deliver a special GP
Sky Sports F1's Martin Brundle reflects on Sunday's GP at Austin
Last Updated: 19/11/13 9:00am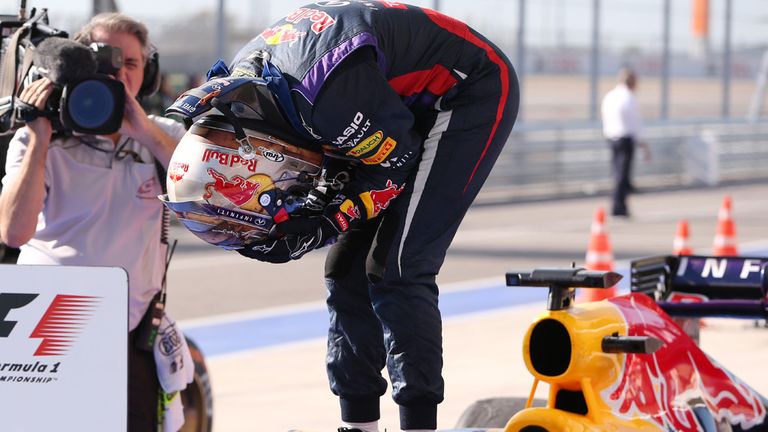 In a way I'm surprised to say that because there were a number of bold overtakes, a few of which I would have liked on my CV that's for sure. Actually they were more like lunges at the end of the two DRS zones into turns one and twelve. The drivers on the receiving end did very well to see them coming. It's especially difficult to judge an assailant's proximity when you can't be sure how much extra KERS energy he has been able to apply along with his letterbox DRS rear-wing open. This is compounded somewhat if he's turned into Dan Dare on the brakes and created a situation where only you can avoid the contact. Nico Hulkenberg will be annoyed with himself for not making such a move stick on Alonso on the last lap. As good as he is, the Hulk was out manoeuvred by the Ferrari god there.
Valtteri Bottas made a brave move around the outside of turn two stick beautifully to cement a weekend which fully confirmed the potential we all believed was there. Alongside Felipe Massa in a Merc-powered Williams next year, he could be in for a decent ride. And let's be honest, it couldn't be much worse than this year.
F1 needs Williams back on form and those points of Bottas were most welcome I'm sure. Conversely I was very disappointed with Pastor Maldonado's attack on the team although he had tempered that by Sunday. It's not smart either even when you're leaving a team because all the others become nervous of you too. I guess it's born of a confidence that sponsorship money will rule the day.
Romain Grosjean is an interesting case. I remember watching him on lap one in Austin last year and noticing that if Michael Schumacher hadn't moved over it would have been yet another first lap contact to which Grosjean was so prone. He's fully sorted that out now and has mastered the close combat action so much better. It's as if he's opened up his peripheral vision, and now his prodigious speed is given the full race to show itself. Points in nine of the last ten races and consistent podium appearances are the reward.
Lotus now declare him as one of the top-four drivers and that's hard to argue with. It's not so long ago they must have thought about replacing him, and a good reminder to us all that drivers are learning their trade under an intense spotlight in races while there is virtually no testing. In the utterly ruthless and dismissive world of F1 it seems everybody may have to be a little more patient while drivers get fully up to speed in a new environment. I imagine Sergio Perez would agree wholeheartedly, especially after another very solid drive in Austin.
Another aspect of the race was that quality combos like Button/McLaren (albeit after a grid penalty) and Rosberg/Mercedes had to drive like crazy just to secure a point or two. It was very competitive and the midfield gave us great action yet again. If that kind of racing was for the lead it would be awesome....
The tyres were a surprise and a disappointment. With degradation on both compounds a mere 0.02 seconds per lap an easy one-stopper with maximum attack seemed on the cards. In reality all we heard were radio messages asking the drivers to slow down again to protect the tyres. Wildly varying track temperatures were the culprit so the tyres clearly need a wider operating window. With the amount of torque next year's motors will have this could be an even bigger issue. For better racing we need a more linear tyre the drivers can really lean on without trashing them, or otherwise a significant difference in speed and durability of the two compounds.
Once again Vettel was half a second per lap clear of the field, and still cruising at that. He is so at one with that car when you watch him out on track I can only assume that he now has a Red Bull part number. We are watching something very special in the history of motorsport, of that I have no doubt. It's just that's it's not very interesting, so thank goodness we have a massive reset for 2014. Even the emotional Seb on the slowing down lap reminded his great team to savour these moments.
Let's hope for a typically wild Brazilian GP on Sunday.
MB