It's a big year for...Pastor Maldonado
Will Pastor's move from Williams to Lotus turn him into a multiple race winner? Or will the "best move ever" prove anything but after Lotus' winter woes?
By William Esler
Last Updated: 10/03/14 2:41pm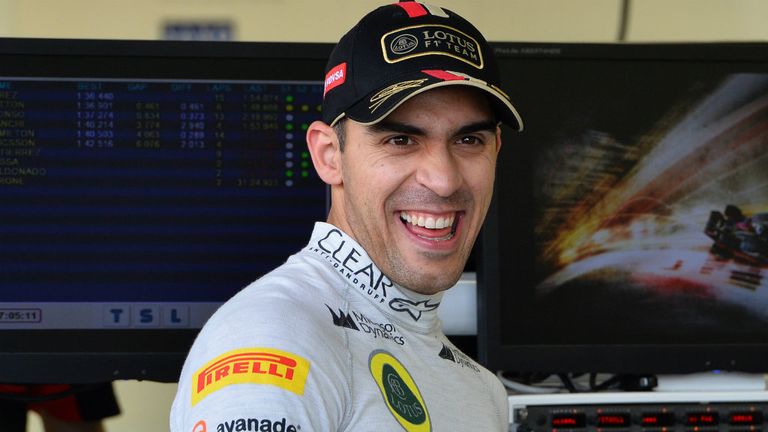 'Cashtor Maldonado,' 'Crashtor Maldonado' - call him what you will, but there is no denying the guy is one of the quickest around when his head is in the right place. You don't secure Williams' first F1 victory in a decade or claim the GP2 title - beating Sergio Perez, Jules Bianchi, Giedo van der Garde and Max Chilton amongst others - without some natural talent.
But the problem with Pastor is not his raw pace, but his temperament. Maldonado has, by common consent, a fiery character and is prone to suffering 'a rush of blood to the head' - leading to actions on and off track which have tarnished his reputation amongst fans and field alike.
Bluntly, he has been involved in multiple unsavory incidents on the circuit. In 2005 he crashed into two cars under red flag conditions during a Formula Renault 3.5 race at Zolder, leaving two marshals attending the original accident with a lucky escape. Next time out at Monaco, Maldonado hit a marshal during practice after he failed to slow for yellow flags and was handed a nine-race ban. Obeying flags proved to be an issue for the Venezuelan even in his GP2 title-winning campaign as he ignored black and orange flags for a dangerous front-wing in Hungary and was disqualified.
His F1 career has also been checkered - an ill-timed lunge on Sergio Perez at Silverstone when a calmer driver may have waited for a better opportunity shows a lack of patience in race conditions. But that hot-headedness has also appeared with an uglier face with Maldonado accused of using his car as a weapon to exact 'revenge' on Perez during final practice in Monaco after being held up by the Mexican, whilst Lewis Hamilton also found himself in the barriers after tangling with the Venezuelan in Valencia.
But perhaps most dubiously of all, in November he accused Williams of sabotaging his car to ensure he finished behind Valtteri Bottas at the U.S. GP - a terrible assertion that drew universal condemnation.
Lotus may have managed to tame the wild ways of Grosjean, but can they achieve the same with F1's other 'bad boy'? Losing Eric Boullier to McLaren could be critical as the Frenchman's man-management of his compatriot in his joint role of Team Principal and as Grosjean's manager appeared to be a key factor in the Frenchman starting to fulfill his potential. Whether Gerard Lopez can turn Maldonado around remains to be seen.
And then's there's the question of how Maldonado reacts if Lotus are off the pace - or slower than Williams! The Enstone-based team's financial problems have been well documented and their desperation for the oil dollars the Venezuelan brings with him was clear for all to see at the end of 2013. The team have lost a number of key staff - notably Boullier and James Allison - over the last year and badly struggled for mileage with their new car in testing, whilst Williams look in good shape with their new Mercedes power unit.
Maldonado made it clear he felt he was too good to be at Williams - when asked during testing if he was regretting the move, the Venezuelan described it as "the best move ever" - so how will he react if the E22 languishes in the midfield and Felipe Massa and Bottas challenge for podiums instead? He's certainly going to be under a lot of pressure to justify both his transfer and "best move ever" claim if the E22 struggle while Williams prosper.
A final obstacle to overcome for Maldonado is arguably the biggest of the lot - he wasn't the man they wanted in the driving seat.
During the Indian GP weekend last October, Boullier told Sky Sports News that Nico Hulkenberg was the man he wanted to replace Kimi Raikkonen: "I would love to [sign Hulkenberg]. This is the recommendation that I gave to my board." When it was revealed Raikkonen would miss the final two races of the season, it was Hulkenberg Lotus tried to bring in from Sauber - not Maldonado.
Thus, it seems it is only his oil dollars that put Maldonado in the Lotus this year and he will have a lot of work to do to shake of the 'pay driver' tag in 2014. It's not a battle his reputation can afford to lose.
@WilliamEslerF1