Keeping order at Mercedes: What Lowe's message meant and Merc's clever strategy
Sky F1's Mark Hughes on why it was so important for Lewis Hamilton to stay ahead of Nico Rosberg on Lap 19 of the Bahrain GP and why Merc wanted to give their drivers two bites at the cherry...
By Mark Hughes
Last Updated: 28/04/15 12:17pm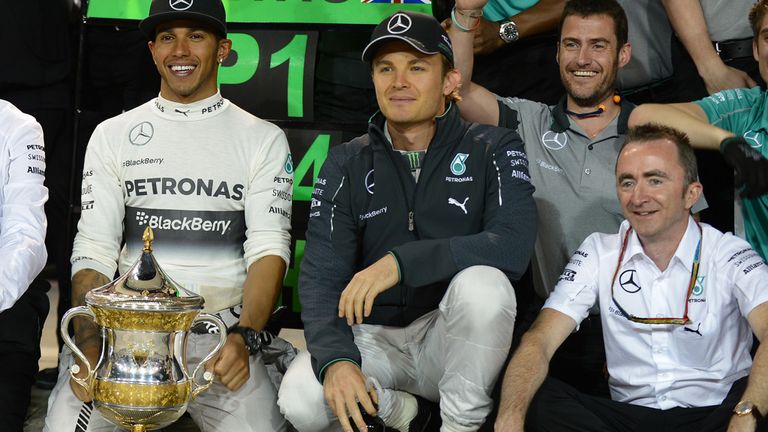 There were no team orders at Mercedes in Bahrain.
Paddy Lowe's instruction to 'make sure we bring both cars home' to both Lewis Hamilton and Nico Rosberg as the race was about to restart with 10 laps to go was interpreted by some to be a coded instruction to hold position.
It was nothing of the sort and meant only what it said. The two hardly drove as if to team orders and afterwards both Lowe and team boss Toto Wolff confirmed they were totally happy with the behaviour of both drivers during their thrilling dice for the victory.
However, the matter of minimising the risk of contact between two drivers who could effectively already be locked in combat for the 2014 world title had been considered pre-race, and a team strategy plan was conceived that was outlined to each of them.
With such an advantage over the others and with an all-Mercedes front row for the first time this year, it always looked likely that Rosberg and Hamilton would be fighting only each other and not the others, even by the time of the first planned pit stops.
There were basically two possible strategies at Bahrain - a three-stop or a two - hence the radio references to 'Plan A' and 'Plan B'. The two-stop was the preferred option, with the three-stop there just in case tyre degradation proved heavier than expected. The cars have tyre slip sensors and load sensors that allow teams to know how much energy they are taking from the tyres. Each tyre only has so much energy available and so the teams can monitor if drivers are on-schedule to make the required stint length for any given strategy.
Once it was known that they were on schedule for Plan A (a two-stop strategy), the Mercedes drivers knew that the planned first stop was going to be on lap 19. Only then would a difference in strategy between them play out. It had been agreed that whoever was ahead on the road at that time would get the advantage of the first stop - as is normal in these situations. Stopping earlier boosts your initial time advantage over your rival as you are enjoying the new tyre grip while your rival is still on old tyres.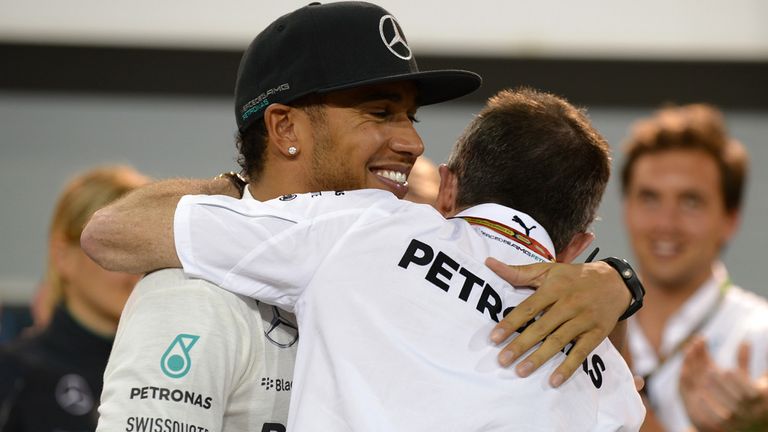 However, in order not for the race to be essentially over at this point the driver who was behind would be given a set of the slower prime tyres for the middle stint, putting him on the faster option tyres for the final stint when the leading driver would be on the primes. It was a strategy designed to give whoever was running behind another bite at the cherry - and to not have the competition between them switched off as early as the first stops.
There was another benefit from a team point of view too: during the middle stint, the cars would likely move away from each other (only to come back later in the third stint). Otherwise there was every chance the two cars could be right next to each other for every lap of the race, increasing the chances of drama.
The initial challenge of Rosberg on Hamilton's lead came on lap 18. Once he'd been beaten off the line by Hamilton, Rosberg was simply sitting just far enough behind to look after his tyres and to try to conserve fuel for later. If in the third stint he could combine the faster tyres with more engine power (because he had saved more fuel earlier), then he'd have a greater chance of passing Lewis then. But to Nico's surprise he found that even when driving conservatively like this in the first stint, he was still within striking distance of Hamilton as the first stops approached. That's why he launched his attack on lap 18: "Yes, I was trying to invert the strategy," Rosberg admitted post-race.
If Rosberg could just get ahead of Hamilton about three-quarters of the way through lap 19 (when the call would be made of which of them was to pit first), then he could control things from the front, leaving Lewis having to try the alternative 'primes in the middle stint' strategy. Hamilton's tenacity in fending off his team-mate for those two laps wasn't just wheel-to-wheel instinctive racing: they both knew they were fighting for the prime strategy.
Of course the late Safety Car turned things dramatically in Rosberg's favour. It meant upon the restart he'd be on the faster tyres and the time deficit through running the slower tyres in the middle stint had been wiped out. All Hamilton had left in his favour was track positioning - a card he would be certain to be playing very hard.
Theoretically, it had all the makings of trouble. Hence Paddy's radio call. No conspiracy necessary.
MH
Revealed: How Mercedes' packaging of their turbo engine has given them the edge in 2014