Bahrain delivers a thriller in the nick of time
Sky F1's Martin Brundle on why Bahrain was one of the best races he has ever seen and the 'scary' advantage of the Mercedes W05
By Martin Brundle
Last Updated: 08/04/14 6:23pm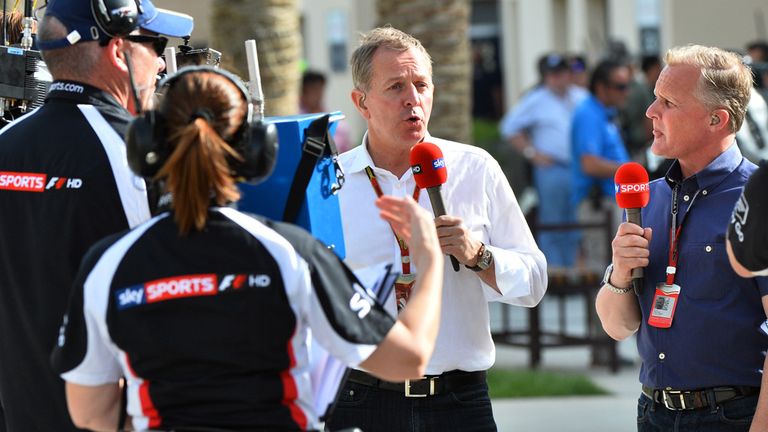 Monday morning's backpages described Sunday's grand prix as the 'duel of the century' and while I'm not sure I'd rank it as high as that, it is definitely well inside the top ten of races I've been lucky enough to see. This was a great race - and, as far as the sport was concerned, very timely. While Malaysia wasn't a classic, and Australia wasn't much of a contest, this was a race we will be talking about for many, many years.
Elements of the spectacle which unfolded in the race had been brewing. I tweeted on the morning of the race that we were set for two big fights, the first between Lewis Hamilton and Nico Rosberg for the victory and the second to be the 'best of the rest', and that's exactly what we saw with great racing all the way through the field and from the Mercedes pair out front.
The race was the perfect storm. We had tyres with slight degradation but which still had linearity and an element of control over, we had DRS which was good enough to bring the cars together but not good enough to make overtaking easy, and we had cars which were a handful throughout as well as being very difficult through different phases of the grand prix. Everything came together for a race which was riveting from start to finish.
After the race on Sky F1, I called it a Noah's Ark race because of the number of team-mate duels we saw out on track - along with a little bit of whinging on the team radios! - and at times it was impossible to know where to look. It seemed to be kicking off everywhere with battle raging between the two Mercedes, Red Bulls, Williams, Ferraris and Force Indias.
The highlight, though, was the fight for victory. At the end, when Lewis was running on the slower medium tyres and his lead had been wiped out by the Safety Car, it seemed like it was just a matter of time before he lost out to Nico. But somehow he managed to keep it all together. They came close to touching on a couple of occasions but never once did you think it was going to end in a crash.
Looking back, the critical time in the race was on Lap 19 when Hamilton repassed Rosberg after briefly losing the lead. That meant Hamilton kept the high ground for the optimum pit-strategy and track position ahead of his team-mate. It was a great duel and will have reinforced what both of them already knew about each other: they are both very fast and very strong. Lewis won't underestimate Nico, but when push came to shove, he just wanted it a tiny bit more.
When I was asked immediately after the race to name my driver of the day, my instinctive reaction was to identify Daniel Ricciardo. I'll stick with that. Through no fault of his own, Daniel has endured a miserable start to the year but on Sunday he did an incredible job to go from 13th on the grid to fourth. Along the way he made some sweet moves and topped it off by nailing his World Champion team-mate with ten laps to go. It was an outstanding performance from the Red Bull driver.
As Hamilton and Rosberg slugged it out for the win, we finally got to see what the Mercedes W05 is really capable of and, for the rest, the answer was scary. Over the last 11 laps when the car was let off the leash, the Mercedes was lapping around two seconds faster than everyone else. But it was also interesting to see how much pace Red Bull had during the final stages when there was no longer any need to worry about saving fuel and Ricciardo passed Nico Hulkenberg before nearly chasing down Sergio Perez for the final podium spot. That suggests to me that the Renault is lacking efficiency rather than being down on power.
As for the drivers, I'm sure they are missing the scalextric-like downforce levels they've been enjoying for the last couple of years. But some of the action they produced this week, especially through Turns Four and Five, was simply breathtaking. After watching them from trackside and appreciating the work they are having to do behind the wheel now, I suspect we will look back in a few years' time and revere them for driving through this era.
MB