Conclusions from the 2014 Spanish GP
Why Merc's domination is more palatable than Red Bull's, Lewis thinks smart, no words for Kimi and no options for Fernando
By Pete Gill
Last Updated: 13/05/14 8:35am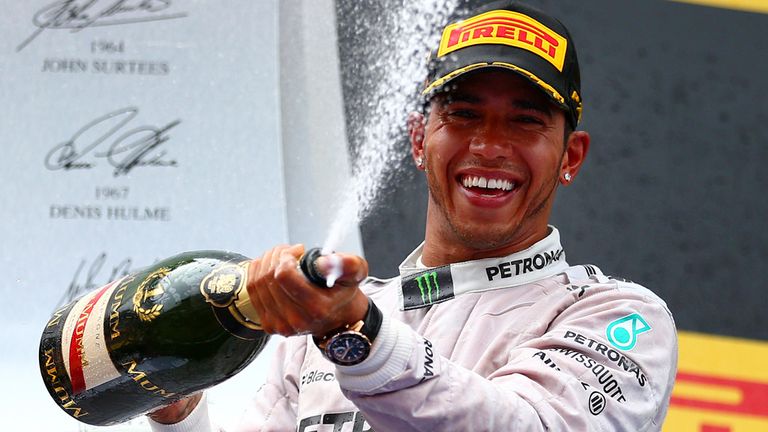 2014 still winning from Mercedes' domination
Such is the extent of Mercedes' merciless domination at the start of 2014 that they are in danger of making the Red Bull years seem a close-run thing in sobering retrospect.
Not since 1992, when Williams started the year with five successive pole/victory doubles, and 1988, when McLaren claimed victory in 15 of the 16 events, has the sport witnessed such relentless superiority made victorious. Williams' record will most probably fall in two weeks' time; it's by no means unfeasible that McLaren's near full-house will be bettered by absolute perfection between now and November.
The relieving mitigation against any accusation of tedium through repetition is that Mercedes possess two drivers eminently capable of winning races and pushing the other to the line. With all due respect to Mark Webber, the same could not be said with any conviction of Red Bull in yesteryear. The flip-side difference is that Red Bull were never as unerringly dominant as this; five successive poles for Mercedes, five successive victories, with every car up to the sixth-placed Fernando Alonso lapped on Sunday. They are racing in a different series to the rest.
Just as well, then, that Mercedes have adopted a strategy of divide and conquer, encouraging their two drivers to race to the limit and in effect splitting their garage into two rival camps.
Only in qualifying at Bahrain has the approach rebounded, but even there the twin mistakes of Hamilton and Rosberg were of no consequence. Otherwise, it's been consistently sublime and consistently entertaining.
In the final reckoning, Mercedes' domination feels far more palatable than Red Bull's because by bringing out the best from their two drivers, they've produced the best racing of the year.
Hamilton out-thinks his pit crew
First and foremost, Lewis Hamilton's terse and tetchy radio calls during Sunday's race can be considered a measure of the pressure he was feeling, understandably so as Rosberg hounded him to the chequered flag with just 0.6 seconds separating the two Mercedes at the conclusion. It can also be considered a reflection, perhaps, of the pressure Hamilton is feeling this year to win the World Championship. He has the car to do so; he also has no excuses if he doesn't.
The mistake, however, would be to overlook the substance of Hamilton's messages because of their style. On every count, Hamilton was absolutely right. His pit-stop was slow, he was brought in too early (both Mercedes cars, contrary to expectation and logic, only suffered tyre graining with the hard tyres and not the mediums) for his final stop, his lead over Rosberg was precarious, and he was right to overrule the team's intention to give him three turns of front-wing adjustment. Otherwise his crippling final-stint understeer may have proved fatal as Rosberg belatedly closed in.
A non-thinking driver indeed...
Rosberg has lost that winning feel
As Rosberg says he hates losing to Hamilton, his current pain must be close to agony. In nine head-to-head duels this year over the Saturday and Sunday of a race weekend, with one non-result when Hamilton retired on race day in Melbourne, Rosberg has beaten his team-mate just once.
On occasion, most notably on the Sundays in Malaysia and China, Rosberg has been thrashed. Yet the overall scoreline does not tell the full picture because in both Bahrain and Spain the German has seemingly had superior race-day pace over Hamilton. The reason he has lost out is because he lost out into the first corner.
Notwithstanding Lewis' points-scoring misfortune in Australia, on such slender margins of track position does Hamilton's current championship lead depend. If Rosberg is to end the pain, the cure starts on a Saturday and off the line a day later - and that will never be more true than in Monaco next week where track position will likely be nine-tenths of the winning law.
McLaren hit a new low
Statistically, with two podiums in the bank after eighteen months without a top-three finish, 2014 already marks an improvement for McLaren. Yet by every other reckoning, this year feels far worse. One bad season can be forgiven and forgotten as a mere blip. But not a second. McLaren's fall already has all the makings of a spiral of decline.
Ron Dennis' team have never needed him more.
Alonso runs out of options
A penny for Fernando Alonso's thoughts on Kimi Raikkonen being left speechless after the Spanish GP because if there is one person who could be excused for running out of words to say about Ferrari's ongoing mediocrity then it's the Spaniard. Been there, said that. Raikkonen? He's only been back for five races, not five years.
Try as he might insist that he has no interest in joining Mercedes, Alonso's patience with the Scuderia must be close to breaking point. Yet, when all is said and done, Alonso looks stuck. There's no room at the inn at Red Bull. Mercedes will want at least one German driver in their team and are hardly likely to consider pairing Alonso with Hamilton given their past history. Lotus? Forget it.
Which leaves only staying at Ferrari or returning to McLaren as a viable option to a driver who, barring an anti-age breakthrough, probably only has one more deal left in his F1 career. And choosing between Ferrari and McLaren at present is a bit like opting between jumping into a swamp or a quagmire.
And Kimi thinks he has problems...
Force back with Sergio
Out of the limelight, an intriguing intra-team battle is emerging at Force India. While Nico Hulkenberg maintained his run of scoring points in every race this season in Spain, he was beaten to the line, for the second time in three grands prix, by team-mate Sergio Perez. The Mexican, after a torrid start to the year, is beginning to find his groove again and, given the struggles of Kevin Magnussen, may already regard his ousting from McLaren as a blessing in disguise.
Winning runs are like London buses
After eight different victors at the start of 2012, 2013 was rounded off with nine wins in a row for Sebastian Vettel, while 2014 has commenced with five consecutive wins for Mercedes, with the last four exclusively claimed by Hamilton. All this and just three winners - Vettel, Hamilton and Nico Rosberg - over the last twelve months. Strange times whenever you look at it.
And Barca delivers in twos...
Notice the synchronization when the chequered flag fell in Barcelona? Up at the front, there were two Mercedes, followed by two Red Bulls. Behind them came a single Williams, and then two Ferraris, a single Lotus, and then two more double acts in the colours of Force India and McLaren. Barcelona is a Noah's Ark type of circuit - which is why it so rarely delivers a memorable race.
Pastor fails to deliver
Given that he pays to sit in the Lotus, you'd think that Pastor would take better care of it. Three times this season, the South American has failed to register a timed lap in Q1, with Marcus Ericsson's Saturday defeat of Kamui Kobayashi another black mark against Maldonado's diminished and diminishing reputation. Of the 22 drivers in the field, only Maldonado is yet to score a qualy defeat over his team-mate this term. Even with bountiful backing, Pastor isn't paying his way.
PG